Microsoft reportedly working on Skype Teams service as a competitor to Slack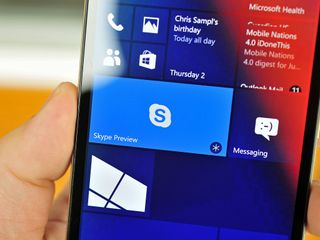 Microsoft is reportedly working on a new messaging service under the Skype brand. The product is Skype Teams, and it seems to be targeting businesses who already use the popular Slack service.
As posted by MSPoweruser, Skype Teams will share many of Slack's features, such as the ability to chat in several "channels" within one team, along with direct messaging between two people on a team, sharing files and notes between team members and channels, and even sharing things like emojis, GIfs from Giphy and more "fun" images. It will also reportedly be able to do things Slack cannot currently do, such as video calls in channels and in private:
Skype Teams is reportedly designed to be used with Office 365, and it may be available first for those subscribers before expanding to more users. The report claims that Microsoft plans to launch Skype Teams clients for Windows, iOS and Android.
Keep in mind that these details have not yet been confirmed by Microsoft so take them with a grain of salt. Also, it's possible the company could decide to change aspects of this project before its public release, or cancel it entirely. The story does point out a rumor from earlier this year that claimed Qi Lu, Microsoft's Executive Vice President, Applications and Services Group, made a proposal for the company to purchase Slack, but that idea was reportedly dismissed by CEO Satya Nadella and Microsoft co-founder Bill Gates — the latter of which was said to be in favor of adding features to Skype to better compete with Slack.
there is going to have to be a massive change in skype for people to start using it, with all the other message apps around

It's quite widely used as it is, in particular commercially.

They might share the Brand now but Skype is different to Skype for Business. S4B is renamed Lync... Lync has always been reliable and good, Its the Consumer Skype thats the issue. Skype is going nowhere. Its a miracle that they have hold on to 400 million users since last 8 years... In the meanwhile other messaging clients have come up and have gained more than a billion users...

When This launches. Slack is pretty much dead. Skype is the bigger brand here.

Nope. Anyone can use slack. This looks like it may require a (business) office 365 account. Lol. Good luck with that. Not many big companies pay that sort of licensing for their staff. Ours doesn't.

Yours is quite possibly a minority then. Office 365 is not at all expensive. Exchange alone would be worth $20 a month per user, but you get the desktop Office suite and so much more.

I think Skype did have a massive change. Their mobile apps and UWP app is pretty impressive. Even the desktop app is great. On the backend side of things Skype is much better now that it transitioned over to a cloud platform instead of their peer to peer thing. So its much more stable and quick now. ​But I think people preceive it as being the same old Skype. If they did this last year then it would be exploding right now. But they did it this year and a lot of people are tired of it now. Right when it gets good... =(

Skype is by far not ready for prime time. They first have to get rod if their identity crisis and finally stop splitting accounts into messenger and skype. It can't be that I have two accounts for the same person! That is annoying af. I thought this was the reason they merged MSN Messenger into Skype? Too keep them from competing? It is a mess ...

@Scabrat; That is a major point and one that I forgot they did which ties it into Azure making it faster and stabilizing. I stayed away from Skype because I am use to that peer to peer which I never liked. Just based on your comment I'm going to give it a try after years of not bothering with it.

Isn't this what yammer is for?

Yammer is similar, but I think this Skype groups would dovetail with Office 365 groups very well.

Not really. Yammer is more of a corporate social network for connecting with people and exchanging ideas. You can press it into service as a project or team-based collaboration tool but that's not really it's strength. Posted from my Nexus 5X

Yammer integration wtih Outlook Groups is currently in the works though. Hopefully it won't be confusing to have 3 similar products. The Outlook groups app gets constant updates on windows phone but the Yammer app is in sad shape.

Don't worry. It won't be on Windows Mobile anyway; at least not before 2018, when the indian guy has pulled the plug on Windows Mobile already.

How do you get off skype preview? It doesn't work grrr

You cant send video messages, when you click on 'loud speaker' the sound actually switches off instead of on.

They need to keep improving the current skype it still lack some basic features ' like clearing conversation and photo upload directly from camera roll.

Not if it's the same team working on both apps. They're consuming their work time to create a new service when they could simply add features to the other one

This app always duplicates my comments

Personally want a new Skype for Business client for Windows 10 Mobile (An app that worked with Continuum would have been great for the Elite X3 Launch) before these new products unless a single client will handle the new features and the S4B messaging features. One of the things with Office 365 and things like new products being added is at times it can get fragmented like having multiple ways of creating groups. If this led to it being consolidated that would be welcome

Slack investors might get nervous pretty soon. A few hundred million $ spent and no exit on sight.

As always with skype......in the pipeline or coming soon.

Actually, for once... they seem AHEAD of the game... if you read the notes, it has much better implementation and features that Slack has been lacking for a long time.

Only on Windows Mobile.
The iOS and Android versions have everything included from the beginning...

lol replace Slack with Sk...sorry I'll be right back, just got a connect request from HoneyPotHottie.69 on Skype....

Skype for Business not Skype. They are totally different offerings. Nadella just needed to mess up Lync branding for some reason.

They should rebrand whatever this thing is as Lync.

I doubt this is only for Skype for Business... maybe at first... but given that Slack is for non-businesses too, I'm sure they'll will aim for that too. I can see them putting this for commercial and education customers first since they are the primary users of this type of service.

The problem is that they've overextended the Skype name. There's now Skype, Skype Preview, Skype for Business, Skype Teams (coming soon), and Skype Qik (RIP). It confuses customers. They need to simplify that, and for genuinely different products, they should rebrand them using names they killed off before, like Lync or Yammer, rather than having sixty Skype variations.

Yammer is still pushed in the Office teams YouTube videos etc. But I wonder how this new Skype product will affect it's future. They do have a habit of introducing multiple overlapping features and products and It would be nicer if things were consolidated better. I'm all for change and improvement but it sometimes ends up where the different overlapping services all have one or two unique things that you wish were all in a single feature. Still waiting for new Skype for Business clients, what's out there now isn't great especially on W10M where the WP8 app has not been able to give Me reliable notifications for a while now (Desktop is okay)

@Dan Harris, the unfortunate reality is that you can't squeeze everything into one super-product. There are too many competing needs among the huge base that Microsoft is trying to serve. That's why you have Yammer, SharePoint, Skype for Business and Office 365 Groups all co-existing. Each one has slightly different primary functions, though their secondary functions overlap.

@coip, I agree if the products will all remain that they should have kept Lync rather than just have different Skype names. However, I think the plan with "Skype for Business" as a distinct messaging platform from "Skype" is to merge them into 1, at least on the client side, so that with a single Skype client you can talk to members of your team on the same Exchange Server (currently Skype for Business) and regular consumer Skype Clients. I assume they would allow the Exchange admin to turn off the ability for clients to also connect to external parties and whether any Skype with a valid username and password can connect to the private server (or company account on Office 365). If that's not the direction they're going, then yeah, what was the point in the name change?

@coip To be fair, Skype and Skype for Business are separate products and relatively few people outside of business or this site are aware of the latter. And fewer still were aware of Skype Qik, which hasn't been in operation for several months.

We can not share more than one photo at one time

What do I use? Skype app or Skype Preview? Both look different.

none lol they should of kept the message app worked great for few weeks

Skype preview is much better.

Skype Preview, unless you run into specific problems. On Windows 10 Mobile, I think it's the only option (someone please correct me if that's wrong). Skype Preview is by far the best Skype client yet in terms of features, but on some systems it apparently has some compatibility issues still.

Look at this MS releasing fully new features build at next weekhttps://m.youtube.com/watch?v=ML1LLFoSDZo

Great...we will tear it apart and restart again...

Yeah, downvote me. Because what I said isn't accurate. Hahaha

No, what you said just doesn't make sense.

Yeah...because they dont keep breaking these services/apps down and starting over. They never do that.

I don't understand the need for these different flavors of Skype. I mean, I understand for money. These additional features could just be add ons to one version of Skype. Why the need for Skype this and Skype that? Just get one working first.

They'll create separate apps for different purposes then at some point announce how they are going to put them all together then start removing features with no explanation. Ridiculous strategy.

Honestly! I'm begining to think this is how they operate. Remember Skype Qik? What was the point of that? Just bring the features users have been requesting through the feedback and start there. It is great that Microsoft goes after the corporate market, it worked for them for years. But My Skype expirence has been on a downfall since Microsoft bought the company. I still want to love it, but use different apps now because of the lack of features with friends on different versions(not everyone runs Preview or even WIndows 10), or even the message delay or not receiving messages. Because this Skype Team is meant for business, I can bet it will be released and ready before we even see Skype come out of preview.

I would like to see them do what they have (mostly) done with OneDrive: sign in to the same app with multiple accounts. I get that's harder with Skype since there's a lot more differences in features, plus they started out as different products, but we can send to Skype consumer accounts from Skype for Business which suggests the protocols are sufficiently shared, so continuing to merge them with extra features unlocked if you have a Business account would be great.

It's not different flavours, it's just another product... Skype is the product family (everything communication related goes under Skype... just like everything gaming goes under Xbox, all convertible devices goes under Surface, all productivity services goes under Office, etc.). Skype Teams is just a new service in the Skype family that integrates with Skype and Office.

I understand these are different products, but for what reason? Why another type of Skype? This isn't Office, there does not need to be a Skype, Skype for Business, Skype Meetings, and now Skype Teams. It is just butchering a brand. Rememebr MSN messenger? A free chat client full of sharing capabilites which worked out fine. Then Microsoft buys Skype and the communication break down begins. Bunch of new "communications come out, get renamed, features here then not. The teams really have to get a plan together and execute. I know I can't be alone in the sour taste in my mouth now when I talk about Skype. We all just want a solid product that works. There are tons of other ones out there that do. Now is not the time to play let's try this out and see how things go. Just seems like the focus is off. idk

I agree they introduce new products where enhancing an existing one could work just as well. I'm honestly impressed with the consumer skype teams work on the Skype UWP Preview so far but the Skype for Business team are not even talking about a UWP client, which is a shame with the HP Elite X3 recently launching with no Skype for Business client in continuum

Instead of this, how about unf***ing the mess that is currently Skype and make it as simple to use and as friendly as Facetime. And how about combining SKype with Skype for business so I don't have to run two versions side by side. Make Skype great THEN go after the competitors. Just my two pennies...

Hoping the mobile clients could converge some how otherwise we may never see a UWP Skype for Business app

I assume that's the plan, but a real shame if it's not.

Nice. But still sad no Discord app.

Skype on my phone is nearly unusable now. I use it to make international calls and try as I might I had to finally use the desktop app to complete my calls. I use skype everyday in my business and could not work without it, but it often leaves so much to be desired.

I've never quite seen enough of an appeal to Slack to justify a separate account and separate app to monitor, but maybe if similar functionality was built into Skype for Business that we use anyway, that would be a different story.

I've been using Slack and to be honest the experience of non threaded conversation has been a major let down for me. Also the UX isn't to my liking, still feel like its in Beta phase

Yeah, I started a slack group with my friends for video games. But after about 2 months its dead. Its not that people arent playing video games. Its that slack didnt meet our needs. Between, Blizzard chat, Steam chat, discord, fbook messanger, and skype slack is out of the loop. But we use it for work and its ok... Mainly because nothing else is better I think.

So how does this tie in to their Yammer offering, which seems quite 'Slack-like' already? We've just switched over to Office 365, but we're going to be continuing to use Slack for the time being because it does nice things like code formatting and integration with GitHub Enterprise, Mura.ly and other services. To get people to switch they would need to at least show that those things were on the road map, if not already there in version 1.

Yammer is more like a Social Network though. But I can see what you mean. You could probably do most of the Yammer things with Skype Teams.

@ Ingiomar Martina Yeah, you could do some Yammer-y things with Skype Teams; you could also do some Slack-y things with Skype; or some Skype-y things with SharePoint; or some SharePoint-y things with Office 365 Groups. It's up to the organization to figure out *exactly* what their needs are then use one or more of these services appropriately. A big organization could easily use all of them to great effect.

@ MrChris 2000 I think Skype Teams might actually be closer to Office 365 Groups than to Yammer.

This will be awesome. Also can't wait for the new Outlook.

What about the myriad tools that Microsoft already had for this sort of thing, including Yammer, SharePoint, Outlook Groups, and Skype for Business persistent chat rooms? It seems like any one of these needs to become the dominant team tools platform, and the others need to be consolidated under it.

Don't forget groupme and now planner...

@ gregsedwards Except that these all do slighly different things. We used all of them concurrently at work and each one was great for its intended purpose, but would start to fall apart when asked to do too many things. In a large organization there is just too much diversity to expect one tool to do everything.

They all do slightly different things is the problem. Simplifying and consolidating the offerings should be the goals, not just throwing more separate and slightly different products out there. They seem to think consumers and businesses have such unique needs. If an enterprise level of Office 365 is the differentiating variable, then consumers includes families, small non-profit organizations, SOHO businesses, event planning, etc. In my case, I'm trying to use GroupMe for low budget film and web series communication as well as communicate with the team that runs a film festival. We could use OneDrive integration and certainly the threaded conversations. These people work together, but not under one corporate umbrella. They are not all going to upgrade their Office level just to communicate in an app. Simplify it and make something that is Rooms/Teams/GroupMe/Groups and stop segregating business as this unique subset of users. If there are, in fact, enterprise only features, make that a paid upgrade of the same product. Large organizations use single products all the time, if they are well made. You can have a single accounting product that handled payables, receivables, payroll, etc. There is no inherent need to make them all individual products. A communication tool like this should be made to perform and scale.

Skype is currently a mess. Hopefully they can sort it out.

I wonder what this will mean for GroupMe which is owned by Skype, this will basically replace what it offers and then some. It's probably the GroupMe team that's building this to be honest.

They'll likely leave GroupMe as a watered down consumer version because only enterprise needs productivity in the Nadella paradigm.

Wow. Did they notice that instead of spending 8 Billion $, they could throw 4 into marketing and with the other 4 Billions they could feed 2'000 sublimely paid developers for 5 years instead? They own Skype since 5 years, and that unguided team didn't even realize that communication will evolve. And MS without any ideas and strategy did not the slightest to push them and give them directions. How would an Outlook-Skype integrated communication machine look today if they even had the slightest spark of fantasy in all the 5 years? What a failure. Let's now hope for the future.

I'm a Slack user and a Skype user. One of Slack's biggest weaknesses for business is on the admin side. It's a serious pain to do anything related to setting up or controlling large teams to use Slack. Removing users and protecting security is also a problem. Slack's fundamental design approach makes this very hard for them to fix (you can see in their blogs how they have tried to wrestle with this and yet still have nothing to show for their efforts). This is one area where I would think Microsoft is likely to start out far ahead of Slack. Another team communication app that gets it right in the back-end (did I just write that?) is HipChat, but it is pretty poor on the front-end with not a very nice UX and no UWP app (two functional third party clients exist for Windows Phone that I know of, but they are both seriously buggy, at least on Windows 10). Lack of a Windows Phone app for HipChat is what drove us back to Slack, but if there were a well-integrated Skype solution, we'd jump to that in a heartbeat. Threaded conversations and integration with Skype would be fantastic improvements on the client end that are obviously not there today with Slack. I'd also like to see this serve as part of the bridge to finally merge Skype and Skype for Business into a single client, even if the back-end servers remain completely different, with an ability to allow public access to selected rooms/channels on the "... for Business" servers for certain approved users with regular external Skype accounts. What Slack (and HipChat) do that Skype may not have at the start is good bot support for third party services like GitHub and JIRA for automated posting to the selected channel when something of note happens on one of those attached services. Curious to see how this plays out.

They need to make the UWP Skype app fully functional first.

Nothing about UWP is fully functional. It was a bad idea from the start.

Have largely ditched Skype for Facetime, due to Skype's ridiculous amount of spam advertising. I *still* get requests to connect from unknown users that ends up being spamware. It's past time Microsoft buttoned that up, if it's going to be a legit enterprise platform.

So you exclusively communicate with Apple users?

Want to see messaging everywhere back first, then groups

I'll bet you $100 it won't be available on win 10 mobile. At least not during release. Coming soon (r)* * registered MS trademark
Windows Central Newsletter
Get the best of Windows Central in in your inbox, every day!
Thank you for signing up to Windows Central. You will receive a verification email shortly.
There was a problem. Please refresh the page and try again.