Microsoft retiring Skype for Business, Microsoft Teams, and Yammer for Windows phone
Starting May 20, a trio of Microsoft's business messaging apps for Windows phone will no longer be available or supported.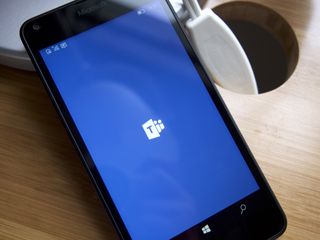 If you're still using Skype for Business, Microsoft Teams, or Yammer with a Windows phone, you'll want to start finding an alternative soon. Microsoft has announced (opens in new tab) that all three Windows phone apps will be retired on May 20, only leaving users the option of using them in a web browser or switching platforms (via MSPU).
From Microsoft:
While the apps may continue to work if you already have them installed, the lack of future updates virtually guarantees that you'll encounter issues down the road.
Given the state of Windows 10 Mobile, this move isn't entirely surprising. And while using the services in a mobile browser may work for some, moving to Android or iOS, where the native apps are consistently updated with new features, would provide a better experience.
The move comes as Microsoft is also in the process of migrating Skype for Business users to Microsoft Teams.
Dan Thorp-Lancaster is the Editor in Chief for Windows Central. He began working with Windows Central as a news writer in 2014 and is obsessed with tech of all sorts. You can follow Dan on Twitter @DthorpL and Instagram @heyitsdtl. Got a hot tip? Send it to daniel.thorp-lancaster@futurenet.com.
Yammer could be interesting if they even bothered to work on it for 15 minutes a year.

I read it first as retiring it period not just for windows 10 mobile and I was like, finally they realized its trash. Nope.

Yeah got me hyped for nothing

I wonder what phone Satya uses.

One that is (A) supported and (B) has a future.

😏You already know what phone he uses.

It really doesn't matter what phone he uses in his personal life.

iphone X Microsoft Edition

Satya uses an iPhone, Bill Gates uses Android.

Satya Nadella will be whipping out an "Andromeda" "Surface Journal" (?!) always connected folding tablet PC-phone out of his trousers before the year is out, if Panos Panay has his way, and even if he stays with iPhone, I don't care, I'll be whipping surface phone out rudely.

Ha ha ha...Mark, dream on. surface phone...that is pretty well a galaxy note with MS launcher on it at this point.

Imessage and facetime. Like any sensible human being.

Great! I have a Lumia 950 that I still use as my primary device (well, actually, my Surface 3 has become my primary device), and even I say shut down everything for Windows Phone, and focus your precious resources on Andromeda, and making Andromeda a highly capable primary mobile device for those who may see it fit.
........
👆🏽 THIS IS LOGIC!

Wouldn't those apps work on Andromeda as well? Isn't that the point of UWP? If Microsoft was serious about Andromeda, wouldn't they be strengthening the ecosystem now, especially the communication services, not killing them? ☝️This is logic

Vision loss must be a side effect of your trolling disease... Let me show you again, and this time if you don't understand then we'll just chalk up your ignorance to genetics.
"Great! I have a Lumia 950 that I still use as my primary device (well, actually, my Surface 3 has become my primary device), and even I say shut down everything for Windows Phone, and focus your precious resources on Andromeda, and making Andromeda a highly capable primary mobile device for those who may see it fit.
........
👆🏽 THIS IS LOGIC!"""
.............................
"Retiring for Windows Phone" means for Widows Phone only, Forest... MS is not retiring the services as a whole, rather not targeting WP specifically... Now, your point is irrelevant, and just stupid. Damn, at least read before you troll. ****, man. Always have to check your ass. When will you learn?

Go ahead, troll again..... We know you're gonna come back with more ignorance.

Strengthening the ecosystem would be the right move, not dropping support for their apps that could be leveraged on their new mobile device. Where are the Microsoft PWAs too? If that is the future of the platform, why isn't Microsoft leading by example? Looks more like Microsoft doesn't believe it either. Actions speak louder than words. Andromeda will be DOA with this level of "support", just like every Windows phone ever made. They still haven't learned.

S.T.F.U.... Give it a rest. No, please Shut up permanently.

Sorry for pointing out Microsoft's obvious inadequacies. If you really wanted them to do better, you would hold them accountable for these terrible decisions. At this rate, they soon won't have a relevant platform at all.

Walmart has pacifiers for sale Rodney, you seemed to have lost your with all the crying and ******** you are doing.

@bleached, how is improving the app for Windows, iOS, and Android, but dropping support for Windows Phone, showing lack of support for the app ecosystem? Unarguably, it's a lack of support for Windows Phone, but they included that acknowledgement in their own announcement. Andromeda will run the regular Windows version, not the Windows Phone version. Therefore, to the extent there are limited resources, this concentrates those limited resources better to develop for Andromeda and strengthening the ecosystem. If your point is that a commitment to their mobile ecosystem would have been via UWP, then none of these apps are UWP for different reasons: 1. Skype for Business (Lync) has been obsoleted and not received feature updates in years. It predates UWP. It's available in the Store as Windows 8 and Windows Phone 8 app. This is going away to be replaced by Teams. 2. Teams is not UWP because Microsoft wanted to keep it controlled and installable only through Office 365 business accounts, so the PC version is a desktop app. This will likely be added to the Store when they're ready for a broader rollout of Teams. 3. Yammer -- no idea, never used it, but I suspect similar to 1 or 2 above (probably 1, as I believe they're slowing phasing it out to move everything to Teams).

With W10M behind on APIs, I guess you are right. It wouldn't make sense to create UWP apps compatible with W10M.

True. MS has a long track record of developing great technologies, then letting them die off, without ever really trying to market them. If Andromeda is to have a chance of being our next hope for Windows phones, MS really needs to develop a consistent approach to services and data (universal apps, PWAs, or something new) that will work across platforms and form factors, and then market it to both consumers and enterprise. It will not be easy, it will take time and $$$, and this is where MS typically gives up before it has even had a chance to succeed.

I shure hope that changes soon.

It's my understanding that MS is working on some PWAs. I believe the reason there is no Teams UWP is because they're going straight to PWA with that. As far as these three apps are concerned, I believe that Teams was the only one that was an .appx (UWP app). I don't think Yammer ever received an update to convert it from an .xap (Windows Phone) app. Based on the feel of Skype for Business on W10M, I suspect it's much the same. And as far as UWP is concerned, keep in mind that support for it doesn't arrive until the next update (1803 or whatever they end up calling it). So it makes some sense that they don't have any out there yet.

Hope you know an app built for Andromeda ARM should work on w10m without any modifications? This report means there'll be no Skype for business on Andromeda too.

Rodney, The ***** here is you, pathetic fanboy refusing to see the reality. Honestly, I would be happy to see MS launch that Andromeda device only to see them FAIL again and laugh in your freakin' fanboy face.

S4B isn't UWP, and it probably never will be since it is going to be phased into Teams anyway. It's old-school Windows Phone 8.1 style. Teams and Yammer are newer but aren't UWP either, I don't think - neither show up in the Store on desktop at least. They probably will be as a PWA soon - which Mobile doesn't support without much larger efforts, but I would assume Andromeda will.

I can thumbs up 👍🏽 that, because I'm all about PWAs!
Seriously, Andromeda is technically "desktop" on a realistic level, meaning that it is full blown Windows.... That's why IF Andromeda comes to light it will be great, because there will be support again for those who choose to use a Windows Mobile device.

If everything becomes PWA, why use Windows at all? PWA strengthens Chromebooks and other platforms more than Windows. There is a reason Google is pushing PWA...

You really are slow.. How does PWA strengthen other platforms more than Windows? It's infact the other way around, and anyone with a drop of sense knows this, but obviously not you SMDH.
...........
Why use Windows at all??? A stupid question.
1. If it strengthens other platforms it strengthens Windows as well.
2. It puts all systems on a "level" playing field.
3. Because Windows is already Windows, and whatever people today use it for it's in high usage for that reason, and will be even more useful. 🙄🙄🙄🙄
4. Ummm Options? At that point why not use Windows? Why not use Chrome, iOS, and others? Who the **** cares? Just choose which platform that suits you best, and move the **** on. As a matter of fact, you can do that now, which brings up the question why are you still here complaining about nothing??
.......
Why in the world would you care if someone chose to use Windows, or whatever? How does that affect you?

They certainly didn't say they are developing UWP versions. They definitely mentioned Android and iOS though. It at least doesn't sound like they are very dedicated to UWP.

@bleached I support you on this.
Nothing stops Microsoft from supporting W10M version of their apps since they're built as UWP.
An app meant for Andromeda should be able to support w10m as both run on ARM.

If you knew about those apps you'd know they were in fact NOT UWP apps MS never released UWP versions unfortunately. I for one say good riddens to those apps they had a lot of missing features even before the W10m EOS. I wish they would make a true UWP sfb app it would be nice not like the clunky client they have now.

Yeah i would point at your own written text too with that emoticon and call it no logic.

And, that wouldn't make it logic?.. If you're talking to me explain why you disagree... I'll give it honest respect if you have a valid opinion.

So, they continue to support, but won't work on new features. How does that statement cover removing features? This is not about new features, it's about continuing to support the old ones. They say they will support them whilst removing them in the same breath? So, the usual meaning of 'support' from MS then, meaning 'destroy by any means necessary'? If only MS would stop actively 'supporting' Windows Mobile in this manner, at least until the new device comes out, it would be far better off. At this stage it would be better if MS just stopped fiddling and kept their distance.

I believe "support" usually means security patches. I tend to think "life support" is a better analogy than "dead." It does not necessarily mean new features. My W10M continues to get security patches. I just don't expect any particular apps to improve.

I'm not talking about getting new features though. It's the way they 'support' old features by simply deleting them that gets my goat. It would be better if they 'supported' them by doing nothing at all and just left things alone. Every time MS says they will 'support' something we all hold our collective breath these days because it usually means that something held dear is for the chop. Microsoft really needs to publish some sort of code book so we have at least some chance at understanding the drivel they pump out in lieu of customer interaction.

Let's hope they stay useful long enough to get into Pixel 3 range. Although we don't really use Teams or Yammer anyway (yet, I'm working on convincing people onto Teams), so it's really just S4B that I rely on.

Congrats on writing a phone article without the word "dead" proud of you guys

If Andromeda and/or PWA's are really going to be a "thing" for Microsoft going forward, then they are doing a terrible job with these announcements. And I quote: "While Microsoft continues to support Windows 10 Mobile, we are not focused on building new features for the system. We will continue to invest in the Skype for Business, Microsoft Teams, and Yammer mobile apps for iOS and Android, and also in desktop apps for Windows and Mac." No mention at all of UWP or PWA versions. Very irritating....

Why would they. Those apps are on desktop, iOS and Android. There is no need to start over since people already use them and they get updated every month. Also there are many many non Windows 10 users in companies that use these programs so UWP does not make sense. They said they where working on making teams a fully PWA app in the future instead of the current electron wrapper.

Microsoft mentions that you can still access Teams through the mobile browser on Windows 10 Mobile, but opening teams.microsoft.com in Edge in W10M says 'Browser Unsupported, please download app' 🙄

Where did they mention that? As far as I can tell they only said Yammer would work trough a browser.

Yes, I also discovered this. I wonder how MS will get around that? Seems we are forced to use desktop version only.

I am loving this. The more Apps removed from my Lumia, the less work I have to do out of the office.

I saw your comment on OnMSFT Mikado. I too use Teams for working outside of the office. I guess I can't now.

If anyone needed any more proof that Microsoft is done with Windows Phone, like me, it doesn't get any more clear than this. Retiring fist party apps for your own platform but continuing development on rival alternatives makes a statement that "maintenance mode" didn't.. it makes Microsoft throwing in the towel on mobile impossible to deny any longer. The shutdown of groove and other consumer services wounded me fatally, but this is the final nail in my hopes for a true Android/iOS competitor from Microsoft. Here is Microsoft openly telling you too use other platforms if you really want their premium app experience. Doesn't get any more real than that.

I would do, but I'm still waiting for MS to release their next mobile platform.

They already have....it's called apps for IOS and android. That is MS's mobile strategy. like it or lump it.

I'm waiting for the relaunch after the next launch. That's when they'll really mean it.

Bub, you mean the retrench, after the relaunch after the next launch. They will totally have it down then!

Yeah, they threw us fans under the bus.

Congrats Mr.Nadella on killing the first party services before 3rd parties let their own slowly disappear. Pretty pissed now as I need to use Skype for Business every day. Argh.

That guy is adamant and autocratic. Right now, there is nothing that anyone could do besides waiting for him to retire or get fired.

OH, btw, DTL...It was time to jump ship 2 years ago buddy!

I still think that Windows Phone / Mobile was the best out of the three big ones. I have an Idol 4s for Windows as a backup phone and finally found an Android phone that will be worth using for 2 years, a Essential Phone. Oh well, it stinks but, I have not so much moved on as having been shoved out of the door with the door slammed shut behind me.

Essential phone with Microsoft launcher is a dandy phone. Good choice.

Sigh, how come MS have to prove time and again that they don't give a rats ass about their customers. Chromebook and pixel2, here I come.

Good choice adbolleman. I am close to ditching the PCs and going to the pixelbook as well.

The author needs to be careful in use of specific capitalization, as that makes a difference to Windows. "If you're still using Skype for Business, Microsoft Teams, or Yammer with a Windows phone..." appears to refer to all users of phones running a Windows OS, where the announcement only refers to Windows Phone (note the capital P), which is a specific family of Windows OS: Windows Phone 7/8, while Windows 10 Mobile (also a Windows phone OS, lower case p) is stated as still being supported. Microsoft is horrible at naming conventions, which is one cause for confusion when they made statements in the past like they would discontinue Windows Phones, when they just changed the name.

I don't get why you downvoted. It's exactly what it says in announcement. I don't use any of those apps. I just installed to see what those are. Skype for Bussines and Yammer are old silverlight apps for WP8 or earlier versions. And Teams is just web wrapper. Silverlight apps are abandoned long time ago. I don't see whay anyone suprised by this. It's nothing to do with WM10.

Microsoft made its decision to stop developing & supporting the product that would have guaranteed more W10 penetration in the mobile market. Sure Windows 10 Mobile had its limitations. But to alienate all of the diehard fans among us was so unnecessary and it could have been prevented. It's almost as if the more that W10 phone fans wrote in support of the OS, the more that MS was determined to kill it.
A third mobile platform was a good idea yesterday and it will be tomorrow.
Too bad that MS's CEO can't see it.....but maybe he really does.

how do people feel about using these business apps? I tried to get my team to use Yammer / Lync (pre-Skype, Teams) and didn't really take hold.

:))) Pathetic Microcrap as always...

hopefully skype for business keeps working on WP 8.1 though.

I saw this yesterday and immediately complained. We use Windows 10 Mobile in the enterprise and absolutely need these apps. We pay for a subscription to both Skype4biz and Teams. Take these apps away and they kill half our use cases. Who else can I complain to...

Nobody, Just move to iphone or android, download said apps and MOVE ON WITH YOUR LIFE.

Except we have a fleet of these in use because Microsoft and hp said they were going to be supported for at least a couple more years.

And is there a way I can install these after may20 if I decide to reset my phone?

James, you won't be able to install them after May 20th. I use Teams daily and having it on my W10M phone was useful. I don't really want to go out and buy an Android phone because of this. It would have been better to just leave it 'as is'. That means, it can still be downloaded and installed but it never gets any updates, and they can focus on updating it for iOS and Android.

Exactly. Why remove it if it works. Doesn't cost anything.

The real question is... is Andromeda real? If it's not, then each announcement like this is more salt in our wounds, and it may be time to face the age old question "should I stay or should I go?" Made up my mind that the day I truly abandon the hope of MS in mobile I'll be abandoning the entire MS ecosystem... PCs, gaming devices, OS's, programming languages, cloud, everything. Simply don't believe an ecosystem without a play in mobile is a viable ecosystem in the modern world as it stands nor in the future. And I certainly don't believe MS has any future in cloud and AI without a real mobile presence, more than just iOS and Android versions of Office 365. I mean true "intelligent edge" devices running Windows and light PWA apps augmented with strong UWP and even Win32 apps. Not ready to abandon them yet. Even though Nadella almost everything he possibly could to force that decision. Don't know when I'll make that final call. But I'll definitely reevaluate at the end of the year 2018 sans Andromeda or at a minimum an official announcement. And crickets still by spring 2019 would almost certainly force the hand. What a crying shame though. Just hope Andromeda is real.

Jp144, do you still believe in the easter bunny and stanta?

:0) believing in Nadella is getting harder and harder, will say that. But I really do think it's Andromeda or bust. No play in mobile = no play in the cloud, AI, AR, etc etc. perusing the Google IO schedule proves it. Their mobile dominance is driving developer innovation in all the areas MS claims they would like to have a future in. hopefully he wises up and is only 1/2 as smart as he likes to sound!

Just so you know, Edge on W10M doesn't work with Teams in a browser. It is unsupported. Well done MS!
Windows Central Newsletter
Get the best of Windows Central in in your inbox, every day!
Thank you for signing up to Windows Central. You will receive a verification email shortly.
There was a problem. Please refresh the page and try again.