Microsoft reveals GLAS, a gorgeous Cortana-powered thermostat
By Dan Thorp-Lancaster published
Move over smart speakers, this Cortana-powered thermostat is where it's at.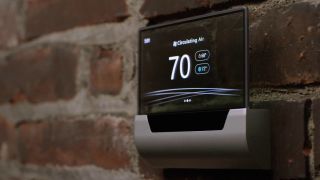 Microsoft has revealed a partnership with Johnson Controls to build a thermostat that also happens to feature Cortana. The company showed off the futuristic looking thermostat, appropriately called GLAS, in a new YouTube video (via The Verge). Check it out below:
With its translucent screen and touch controls, GLAS looks pretty impressive. Beyond aesthetics, Microsoft explains the thermostat is capable of monitoring air quality and detecting when you're in the room, all the while intelligently changing settings to compensate. All of this runs on Windows IoT Core featuring Cortana integration, allowing for voice activation and control.
The video is relatively short and doesn't provide any information on when GLAS might be available for purchase, nor what it would cost. It comes, however, at a time when Microsoft is seeking to expand Cortana to more IoT products. The most visible example so far has been the Amazon Echo-like Harman Kardon Invoke, but Microsoft has also revealed plans to bring Cortana to refrigerators and other appliances with screens over time.
Dan Thorp-Lancaster is the Editor in Chief for Windows Central. He began working with Windows Central as a news writer in 2014 and is obsessed with tech of all sorts. You can follow Dan on Twitter @DthorpL and Instagram @heyitsdtl. Got a hot tip? Send it to daniel.thorp-lancaster@futurenet.com.
The problem is nobody will know about it.

Oh I believe atleast JCI will market it, no hopes from MS anyways.

Well, products like this aren't exactly dependent on TV level marketing, but a stand in Home Depot wouldn't hurt... I just hate to see things like this, and Band, disappear into obscurity.

It should also come to Totem, Rona, and Canadian Tire if it's going to sell well in Canada.

Microsoft asks, where's canada. I still think my deivces are set to US just to get Cortana to work.....

Really? If they won't target Canada properly the rest of us have no chance lol. Did you guys also getting Cortana Wunderlist integration on the exact day they announced that To-Do will replace it soon? 😂

Given Microsoft's attention span (RE: Microsoft Band, Windows phone et al) buying one of these would be foolharedy. After about 18 months, support would disappear and so would the product.

Definitely a problem, as usual with MS in recent years bar the Surface Pro. This is potentially better than some other smart thermostats if you have full Cortana capabilities from it, but question will be how long can you use it before it loses support because nobody bought it due to not knowing it even existed? Feels like they are taking two steps forwards and one step backwards. We are at the point where their only play is PC again for at least the next year or two. Whilst HoloLens is great technology, not many people are building real world consumer and business applications whilst Apples ARKit has an extremely low barrier to entry and people are developing for it with passion. MS showed their hand too early perhaps with consumer hardware still a long way off. You can be sure all these ARKit apps will work with any AR Hardware Apple come out with on day 1 giving them a huge library of business and consumer apps in the store. Can't help but feel they've been outfoxed a bit here due to their solution having a high barrier for entry, and such a slow roll out. MR on PCs is great but again they pushed this as a huge feature of Creators Update and you still can't freely buy the headsets with FCU a few months away. Even when they DO launch there's a tiny audience for developers to target. Apple are using their smartphone dominance to their advantage, everybody talks about the next big thing but they didn't stop to think maybe the existing thing (smartphones) would be a huge springboard into the next one

P.S I mean on terms of their products and services they sell to the public and some business users. I love what they are doing with the Bing Cognitive APIs but in my comment above I'm talking about them staying relevant outside of development

To sum it up MS is a company that's HAS great at ideas, and concepts, but horrible at marketing, adoption, execution, awareness, perception, popularity, and being in the public eye as far as consumer products are concerned... Basically, the only four things that are tangible from MS to consumers are Xbox, Windows, Surface, and PC's.. Not even WP anymore.. While that's an impressive lineup, and there's literally more, what's pathetic is the amount of other great ideas MS doesn't make big, most of which the average consumer never will know existed... Just think of how perception of MS products would change if the average consumer knew what we know, and MS actually delivered on all these "concepts",,,, instead of giving the industry ideas they will actually act on, and sell... SMDH.

Agree 100% It's frustrating as a fan and somebody who sees how great their technology is at times but is let down by other factors.

Exactly... IMO, MS has more, and better, than GoogApple combined... More on paper🤦🏽🤦🏽🤦🏽🤦🏽

It feels like Mobile matters less than ever now based on their recent statements. W10M won't even get the new XAML controls, so devs who want to use them must target 16xxx minimum and exclude phones completely to be able to do that (for the OOTB controls that are new like the new Navigation control) Look at the supported platform icons in the store now, with Mobile being sent to the slaughter house PC is the only one that matters more so than ever. Xbox having apps is cool but I think the take up of them is tiny, it's their focus on games that's making Xbox more popular again and I don't think people are using Apps heavily. HoloLens and Hub have no consumer audience so apps for those are mostly niche internal apps more than anything. So if PC is the only one that seems to matter now they are basically back to fighting to stay relevant - combining the stores is a good idea when you have multiple platforms people are actually using. Even with low user numbers strangling W10M on the 15xxx branch, forcing us to exclude mobile if we want to take advantage of much improved controls is a lame move

Based on what you're saying,, the only way for MS to have a relevant mobile device is if Jason is right... It has to be an Ultra mobile PC with telephony, have WOA, and Cshell... That, MS has yet to confirm ISN'T what they are planning... Basically, yesterdays WOA article still hasn't ruled out the possibility of a Surface Ultramoble running WOA...

It has to be that, hopefully they have something viable they are working on. They have said "we will continue to support Windows Phone" in that mixer webcast but at the same time are enticing developers to use great new controls that instantly exclude Mobile. A Dev shouldn't start using these right away anyway as PCs take a while to update but if you want to use them you have to target the 16xxx builds as a minimum, the controls don't exist in 15xxx builds. You can probably work around it and have a separate build for mobile but who wants to build a whole new navigation page model just for phones. It takes to from "you can deploy to mobile for free" to "if you want to support mobile don't use the convenient controls or put in extra work instead" I know most apps need SOME work to look right on Mobile but I am always impressed with how well things do scale out of the box.

Imagine if they did push out a W10M build with CShell (but not WoA) and actually got feedback for the next 12 months from Insiders, they could make great strides with CShell which would feed into a future "Surface phone"

That's a possibility, because Zacs device has it... And, it's there for a reason.

You both are speaking my language.

The language of do something proactive instead of letting good products, and ideas, go to waste?
Because, that's the language we're speaking...

Back to staying relavent. Hmmmm. Who said this is what will happen if they abandon the mobile market? That's write. And the excuse appologists jumped all over that idea. Well here we are...

Everything you mentioned is a real issue. This thermostat looks pretty impressive. It would be a shame for MS to not push top hardware and appliance retailers to sale this. Lowes, Home Depot, Ace Hardware and others to sell this. Especially, at home and Garden conventions.
On the other end, and I know many get tired of hearing this, I would love to see an ultra-mobile PC that utilizes a transparent screen. Although, that may not be possible for mobile purposes and have it small and thin enough to be used as such. Not to mention, battery may be a factor for a device like that

Where I live the Nest thermostat had a huge marketing push with Reliant Energy (a local energy provider)... I'm talking tons of TV ads voiced by Matthew McConaughey....
......
Would be nice to see MS, and JC, actually try to get these in homes with similar efforts.

Would that be Texas? That market is quite a bit different, but just a little east, my local regulated utility (which I actually work for) is trying to get regulators to let them actually distribute free smart thermostats to customers. Apparently these things work so well at controlling energy usage, if they can curtail enough of the peak summertime load with them it is like building additional generation.

That would be!! DRUUUUUUUUUUUUMMMMMMMMMMMMMMMMMM ROOOOOOOOOOOOOOLLLLLLLLLLLLL..... WAIT FOR IT!!!!!
TTTTTTEEEEEEEXXXXXXAAAAASSSSSSSSS🎆🎃🎈🎆🎃🎈🎆🎃🎈🎉🎉🎉🎉🎉🎉🎉🎊🎊🎊🎊🎭🎗🎠 🤓🤓🤓🤓🤓🌈🌈🌈🌈🌈🌈🎈🎈🎈🎈🎈🎈⛽⛽⛽⛽⛽⛽⛽⛽⛽⛽⛽⛽⛽⛽⛽⛽⛽⛽⛽⛽⛽⛽⛽⛽⛽⛽ 🥓🥓🥓🥓🥓😲😲😲😲😲😲😲😲😲😲😲😲😲😍😍😍😍😍😍💜💜💜💜💜💜💜💜
how'd you guess❓😐

As I said, I work in the industry, so we hear things. Plus seeing made a many Reliant billboards in Houston recently doesn't hurt. =P Plus you may have said it a few times in the past.

When you don't know where the heck to put your tech you put it in a thermostat. I really don't get this thermostat hype (which is basically already over because Nest isn't doing so well).

It's a thermostat. It's a completely necessary part of the home. It's not hype, and thermostats are nothing new, of course. Thermostats have always advanced in homes, just like every other appliance.... Although it would be nice if MS would at least try to market some of their products, things like this aren't meant to take the tech world by storm.

You said it yourself lol. It's a freakin thermostat. It's just stupid how they hype thermostats as hip things. Next they tell us we need we need hip talking bathroom tiles. You are probably one of those who buys every useless gadget out there.

I don't see how anyone ever saw the "thermostat market" as hip, or in style. What has given you that perception? 🤔🤔.. It's a "necessity" in the home, an appliance, and this one just happens to be ultra modern.
.........
I'm one who probably buys every useless gadget out there?... Have you lost your mind?... I bought two nice thermostats for my house 6 years ago, and they wouldn't be getting replaced until 2029 when they stopped working... I don't have money to waste on things just because they're the latest, but I will check them out if need be. (for example, a new home buyer)
I just don't get your point. Are you against technology advancing? Do you think we should still be using thermostats from the 50's? Explain.

Haven't you seen all the hip thermostat ads out there? And this one? Lol. Yea sorry for accusing you of buying too much into thermostats, my bad.

No worries.
We have nice things in 2017 that we didn't have when I was a kid... "Hip ads" are doing marketing right. What's wrong with that? Doesn't mean people are gonna start buying thermostats like smart watches.... You must not be a home owner, because things like this would be of interest to you, not just a fad... One day I hope I can control my thermostat, and more, from my phone, but.... Windows Phone🙄...

It shouldn't need an app. It should just work through Cortana directly, that's the point of evolving AI and Digital Assistants IMO, to remove the need to have a separate app for everything - Cortana knows my schedule, knows if I'm out of the country and forgot to turn down/off the heating etc. So should be suggesting to me, or automatically managing things like my thermostat. Not saying you specifically but people are still so hung up on apps when I like the idea of moving away from them. I shouldn't need an app to check train tickets or even book them, my AI Digital Assistant should just know how. Maybe an idea that will take years to happen but they can make a start with integration between their own products at least

Yeah, but this isn't the only home automated product, and it will be hard in the future to not mix match products in the home that run off different systems... Apps aren't going anywhere anytime soon.
.....
But, I do agree that apps are stupid.. Lol

Actually, (MS is too lazy to see this) Cortana is the only Universal assistant we have. It's on every device. Can't say that for Siri, or Now.. So, it does make sense for for Cortana to rule the home..... Will MS tell the world that?.... Hell, no! MS doesn't care if Cortana succeds. Proof?... How many cars can you buy TODAY with iDroid Play connectivity, and how many cars have Groove Play connectivity?...😂😂😂

How they didn't push for some sort of Continuum in cars is beyond me. It could auto launch a UWP app that has everything you need in 1 place when driving - All driven from the phone connected to a touchscreen. Why does it always have to be "think what it could have been" ☹

I don't know!!!! Why doesn't MS want to play with the cool kids!.. They'd fit in so well😭😭😭

Work through Cortana you say... how many countries does Cortana work in? Most people want their computers to be in their own languages, and Cortana is very limited when it comes to supported languages. They need to make Cortana support lots lots more languages before they start doing as you suggest.

Dan Harris It shouldn't need an app. It should just work through Cortana directly, that's the point of evolving AI and Digital Assistants IMO, to remove the need to have a separate app for everything - Cortana knows my schedule, knows if I'm out of the country and forgot to turn down/off the heating etc. So should be suggesting to me, or automatically managing things like my thermostat.

This is more or less the drive towards the bot architecture. Bots can form a loose api for the AIs to use to interact with services and appliances. There's lots of bots already and more are coming daily. They aren't always called that (Amazon calls them "skills") but they will enable Cortana (or Alexa, or whatever) to change your Nest settings while you're drinking in a foreign pub. Also: Most are in a chat framework (Skype, telegram, etc) which may be why Amazon is pushing for its own chat app. It's already got the bots.

Bots are interesting... I need to read more about them.

MS is "totally" out of the TANGIBLE automotive infotainment system market.... That's a blow so bad, so bad that it could keep them from ever being relevant in mobile. Think about it... Your car is that important to your life. If your new Surface Phone can't connect It's going back to the store... Lol. If MS wants mobile relevance they must be in the car the day a "Surface Phone" drops... I would say this is just as, if not more, important than having apps😮😮😮😮

A potential reason to have doubled down on W10M for another year and try to get something going with manufacturers. I totally agree they need to be there day 1 but by giving up now and not even trying to have a presence there is no way they'll have something ready to go. Apple are using their smartphone dominance in numerous areas and I think screwing up on Mobile has impacted MS more than they may realise - If they truly believe people will dump their iPhones for whatever comes next from them then I wish them good luck as they will definitely need it

As Jason says.... It's gonna take the collaborative efforts of every sector of MS working seriously, and passionately, together to make the SP a success.
....
I personally think that besides being labeled "Surface" this device will be It's own business, the Halo Device/Service that's the total example of what MS is as a company... Mobile is that important. I pray that some fool up in Redmond repeats this daily.

You want all the divisions of Microsoft to work together? Lmao. That takes the idiot at the top to actually lead, and we know he doesn't have that ability. If he did we wouldn't be hearing about the infighting between Skype and Linkd. Company is in a sad state and nothing is getting fixed until the bum is gone.

I don't see where you're getting this as useless. Yeah sitting on my couch and changing the temp is useless. But setting it before I get home, or through the day checking to see if the temp is ok because I have a sick dog at home. Even learning my schedule so I'm not heating or cooling the house when I'm away. None of these are useless.

Wow how have you been able to survive before...

I was able to survive by spending more money on my heating and cooling bills. Just because you don't have the forsight to understand the product doesn't it's not useful.

Wait, sitting on your couch, and changing it, is also awesome! What are you talking about?😂😂😂

I consider awesome and useless on different levels. I'm not saying I don't do that (it's even better when I'm laying in bed and can change the temp) but it's not necessarily making the device useful so much as it can be considered making someone lazy (unless the someone is handicapped, something else that guy isn't considering)

I bought my Ecobee 3 on sale for $150, got $100 back from my energy provider just for buying the thing, so it cost me $50. Self installed in minutes. To me the best part of the system is the wireless temp sensors you can place around your house. Because the hallway where my thermostat is located does not have any vents and I do not really care what its tempature is, I was able to use the remote sensors in rooms i DO care about, and not waste tons of energy pumping air in the house because the thermostat just happens to be in a warmer location. Also, with its scheduling i never have to worry about whether i accidentally left it on all day, saving me money. Honestly I didn't really get it either in the beginning.. all these "Smart Thermostats", come on... I still don't understand Nest's appeal other than it is kinda sexy. To me the wireless sensors with Ecobee are KEY. Once you have one, you would be surprised how much you like it, and how quickly it pays for itself.

It's true that they are functional as in saving energy and giving some extra comfort to us spoiled humans. But come one. This **** is not hip. It's as hip as a triple A washing machine.

Why are you so fixated on an appliance being "hip"? Would you refuse a doctor's care because his scale is not cool looking? I am also enjoying the benefits of an ecobee 3.

I have the ecobee 3 system also and received a similar rebate from my utility company. Their sensors are Genius! It was a plus it had a Windows UWP app as well. I do however like the look of this device.

Yep without the Wireless sensors .."Smart Thermostats" are useless

Why isn't this already in my house?

Because it's probably US only :) or because no shop actively sells it, or because Microsoft is too busy with mobile... Cough cough uhm I mean thermostats. You know the next big thing. It will shoot selfies of you when you are touching it.

Lol.. I see what you did there.

I wouldn't mind having this in my home.

Now I have to replace my Insteon! Technology! What are you doing to me? :D

Do you buy the new iPhone every year?

It shouldn't need an app....if they have thought it through it should work through Cortana directly. We should be moving AWAY from having separate apps for everything now

You're right... Cortana is a backend service. There's no reason why this shouldn't work with a WP... Oh, wait. MS. Lol 😂

"Turn up the heat, Cortana!" I like it already! If this supports Z-Wave I'd jump on her...erm...it.

Designed for enterprise. And again, a missed opportunity.

Wonder if they'll make a windows app. If so, I might be interested.

It shouldn't need an app though. That's the whole point of Cortana Skills and AI revolution some people believe is coming. We shouldn't have to install extra crap it should just work through Cortana herself. As a side effect of that Cortana knows where you are, what your schedule is etc. And can adjust the heating accordingly, or at least suggest if it looks like you are away on business that you lower or turn off the heating etc. If this needs an app instead of just working through Cortana itself then it's a missed opportunity

Ok. Through cortona. How do you suppose we access Cortana? Phones are dead for MS. Cortana sucks on Android and iOS. If you are going to tell me my PC, I can just walk the same distance over to my old thermostat and save the $300.

No, you should walk PAST your thermostat, to your desktop, grab the microphone, say "testing testing 1-2-3",, and say "HEY Cortana! Can you warm me up by two?"". She fails to hear you, you get enraged, and thrash your entire office, costing you $10k in damages.. 😂😂😂😂😂😂😂

As per usual, they will first come out with an iOS and Andriod app and not make any statements about any Windows platform. When they learn their error, for the 10,000th time, they will then announce that they will have a UWP app available and will never announce that they actually developed it so no one will know. However, when you do come across the app by accident in the Store, it will be a wrapper app that couldn't have taken someone who just picked up "UWP Wrapper Apps for Dummies" more than a day to code. It will take the Massively Screwed-up dis-Functional Team (MSFT) at least 2 months to develop. Their new UWP app will only work on a PC though because there is no mobile device that can run the UWP app. Maybe MSFT's strategy is to put PCs in little booths all over the place so that people can connect with their MSFT thermostat because they don't have a mobile Windows solution. I wonder if anyone at MSFT will point out to them that phone booths have gone the way of the Dodo Bird and that this isn't a very good idea. I'm guessing not!

How will I differentiate Cortana on my phone, Kinect, laptop, Invoke, and now thermometer? Having her chime in on every device when I tell her to turn off the XBox is kind of annoying.

I think MS are the last people to solve this. Google Home does the best job of it from what I've seen and tried

This 1000 times! Every tablet in my house lights up when I try to turn down the volume on my TV through the Xbox

Why does this scream MS Band and Band 2 at me. I fully expect little to no marketing, a glaring defect, and a life cycle that ends about the time it gets into full swing production. Does anybody know if it geolocates like the Lyric?

Quick question: Will it be available before or after the Cortana speaker that was about to be released Soon™, 6 months ago?

Coming soon after Christmas 2019

Ya, still waiting on that to show up to see if I still want to switch ecosystems.

you mean the Harman Kardon speakers announced waaaay back in May, that were also said to be available in fall 2017?
or were there others?

Finally. Purchasing two of these once available.

It looks so good! Welcome to the future :-)

So...a Cortana powered Nest thermostat basically?

...and no W10M app I'd bet..STILL GETTING IT!!!

Probably not but will hopefully integrate directly with Cortana. I'd imagine the thermostat company rather than MS will build the actual apps

When there's a Cortana Washing machine, Thermostat, Stove, Refrigerator, Irion, Microwave, Coffee Maker, Shower Head, Sprinkler System, and more,,, availability on iPhone, Android, WPC, and "WOM",,,, with a huge Marketing Endeavor,, I'm in. Until then, I don't have an iPhone.. Thanks Windows Central😂😂😂😭😭😭

And as usual they will not release this hardware, and if they do they will not support it long enough to gain traction. And as usual it will not be available outside USA. Then wonder why they can never gain more traction in the market.

In all honesty, this thing has limited support from Microsoft written all over it.

Let's be honest. Every device Microsoft mak s from here out under the helm of the blind cow, will have customers wondering how long before they would dump support for it and they have a $$$$ paper weight. This is what has come from Nutella's retrench tactic. Kudos. Real bang up job.

oh, you have offended the fanboys and they have downvoted ya' :))) well, they can't take the truth..it's too harsh. MS sucks! ain't cool and delivers only half baked mediocre quality

I think I'd rather have a much simpler (and probably cheaper) device with a non-touch display, a few buttons for on/off and temp, and a Cortana Skill so I can just control it from my Lumia 950 XL, Xbox One, and/or Windows 10 devices.

The problem is after they had no support for products they sold in their store like insteon. Who trusts this will get updates. I still have those awful cams that require ie to work and you have to turn off all trust and run passwords in open txt. Which the company saw no issues with and refused to support all the features.

I'll stick with my Ecobee

Il'l stick with a regular thermostat.

I am waiting for nest to come up with IR beamers for my heat pumps! Then im all in!!!!! I have my electric forced air furnace in my basement on a nest but my heat pumps have their own remotes. would be awesome to have them on the nest app too. Phillips for all my lighting, nest for all my heating and apple homekit controlling it all! sweet!

@Steve Adams Oh, you have offended MS fanboys gain. How dare you not like this because it has MS tech inside and a slow pittyful Cortana?? :))) How dare you use anything besides Microshit? :))) Back to the real thing, how's Nest performing? I am on to buying it.

ha ha....For sure....I love my windows based PCs.....and XBOX, but mobile and other things with MS, when available...are a big NOPE for me. This will never be released just like the H/K speaker....Just like the new phone....pipe dreams.....Like I said, I have to set my computers to US just to get cortana to work....WTF..... As for the nest, it's awesome. I am getting ready to install the Nest smoke/carbon detectors as well. We travel alot, turn the heat down/AC temp up when gone, save on power costs, about 2 hrs from home, turn it up/down and the house is comfy when we get back. Its awesome.

Will be coming 2020, just like holo lense !

I"ll never ever see a commercial for this in my home country. Sad but true..

they will make 5 sell 3 and disscontinue it because the market is so small now.

I said this before and I'll keep repeating...flash/bang, won't last through Christmas. I can't recommend any new product from MS until it has at least 2 years of proven reliable support and updates. Nice concept, would be interesting to have see something as powerful as Alexa put into a thermostat. That would one up Amazon. But as others had said above, MS won't market past a blog announcement, so who will know about it?

I would never recommend anything having MS tech in it. MS is simply pathetic when it comes to supporting any device. They deliver only half baked quality and have zero commitment to anything but their pockets...so no thanks! I'll better choose a decent thermostat such as Nest

You really need stop writing that script on your iPad (honestly the other 8 hipsters around have a better chance) and then get out of Starbucks and into the real world.

I fear this will end up just like the Band

I want to know if the thing will work when the internet connection is down, slow, or temporarily flaking out. My guess is poorly. Me: Hey, Cortana, lower the thermostat by two degrees.
Cortana: I'm sorry, please try again in a few minutes. -or- I've set the thermostat to two degrees. I think voice control is cool and all, but there's a reason I still tap my query into my phone's search bar, or press the number buttons to navigate my way through the voice menus of an automated phone service: It's just plain faster and much less error prone.

Even better....if you have to be in the same room to access it with voice, why would I just go it manually? Lame

Man, imagine a phone that has this kind of translucent screen 😍😍. Probably wouldn't be possible due to the battery and board being opaque and having poor contrast ratio but nothing wrong in imagining.

They want OEMs to do it for them, flashing cheap device on us.. #marketing and to see this survive they need to release #worldwide not just US...

"Knows when you're in the room"? So you have to have 1 per room? Couple that with the connected radiator thermostats you'd need to pair each GLAS with to control the heat in that room. If it's anything more than £20/$20 that could become very expense very quickly. Even with the potential savings in energy! Here in the UK we tend to have one wall thermostat in the home or max 1 per floor (but not the norm) and these are usually in communal areas like the hall. GLAS would not work in those circumstances as it would think you weren't in most of the time! Plus Cortana voice activation isn't much fun if you have to shout down the stairs at it!

Heating systems are different around the world. My guess is this is mostly targetted at the US/Canada market where people typically only have one thermostat.

I'm sorry, but although all of this stuff is cool, let me know the date when it hits the market for sure. Microsoft is known to do these kinds of tech demo's and these things either never see the light of day or they are so far ahead in the future, they are DOA.

No way. I'll never buy anything with microsoft tech in it! And never will recommend to anyone such thing. MS sucks!

Until MS markets the device intelligently and consistently doesn't half-ass support for the product has ample dedication to its growth and success I will take this, just like anything else they release with a half grain of salt. (RIP my beautiful Band 2, Zune, and Lumia. Your potential was robbed from you)

They abandoned the phone market, they will abandon thermostats too.

Useless since I cannot even buy it. Revealing and selling are not the same thing, unfortunately. :(

Cortana is not going anywhere..... it has 50 skills while Alexa is approaching 25K. Microsoft is trying to buy business by incentivizing the market just like they did in the early days of Windows Phone. However you cannot give away money forever....

MS takes on apple and android = fail MS takes on existing BMS / BIS systems = fail

Let me guess. This will get released in 18 months from now, and only at the MS store.

Why Microsoft lost Ford Sync: Too costly, too slow, and too hard to use I anticipate the same thing happening in smart controls....

Too costly? Too slow? Hard to use? I've had nothing but Fords and really like Sync.

That was Ford's reasoning for dropping Microsoft. They still offer Sync its just no longer based on Microsoft tech. They also have excellent integration of Apple CarPlay and Android Auto.

Perhaps they might want to research that name Glas. OneDrive used to be called SkyDrive.

I'm guessing that Cortana on a thermostat will perform like it does on my 950XL. Terribly!!! In my car, Cortana asks if I want to "Read it" or "Ignore it". There couldn't be any more simple responses to react to. But it must be rocket science to Cortana. It takes on average 8 seconds to figure out the difference between the two responses!!!! WTF!!!

I love Microsoft. I just wonder if this thing will fold out perpendicular so I have a place to lay my Lumia 950, Band 2 and Zune on it when it too get dumped by Microsoft. My point, this looks awesome, but do I invest yet again in something that may go the way of the dodo-bird?

Little late to the party as I just bought two Wiser Air controls for my house as they have a Windows Phone App. I wonder if this will have a Windows Phone App? I really like the look of my wiser air thermostats, especially the led backlight, but if these are better and have a better Windows App I would consider buying.

I need this in my life yesterday!!!

It defninitely looks cool

Why would anyone buy this? If, that's if, this even makes it to market, support will be dropped inside 3 years when it doesn't sell 100 billion devices a year. Microsoft are clueless with anything that isn't a PC.
Windows Central Newsletter
Get the best of Windows Central in in your inbox, every day!
Thank you for signing up to Windows Central. You will receive a verification email shortly.
There was a problem. Please refresh the page and try again.