Microsoft reveals version 2 of Kinect for Windows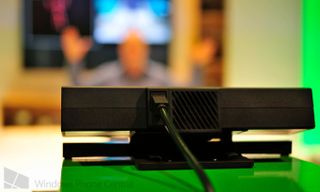 You usually think Xbox when you think Kinect. However, you should also be thinking PC. Microsoft launched Kinect for the Xbox 360 in late 2010. It later followed up with a version of Kinect for Windows in early 2011. A non-commercial Kinect SDK came shortly after that release of Kinect for Windows. Version 2 of Kinect came out this past fall with the launch of the Xbox One. Naturally a PC version would follow. Today, Microsoft has shared images and details on version 2 of Kinect for Windows.
Version 2 of Kinect for Windows builds off the previous work that Microsoft has done. You're getting the same core capabilities found in the Kinect on Xbox One. Though there are a few physical differences between the two versions.
The new Kinect for Windows sensor says "Kinect" on the top panel. The Xbox Nexus has also been replaced with a generic power indicator. There's also a dedicated hub and power supply for the Kinect on PC. The hub will tie everything together on the Windows version of Kinect. It's where you'll have input from the connect sensor and power supply, plus output to the PC via USB. The power supply simply gives the Kinect power to do its thing.
While Kinect on the Xbox One is primarily used for gaming and navigation, we've seen Kinect on Windows have far wider applications. Nine Inch Nails have used Kinect for amazing special effects, we've seen it in retail and more recently we've seen the Kinect used for border surveillance.
We can't wait to see what developers and engineers create with version 2 of Kinect for Windows. Selected developers are already building applications using the new SDK. Kinect for Windows v2 will ship to them and others later this summer.
Source: Kinect for Windows (opens in new tab) Via: All About Microsoft
Windows Central Newsletter
Get the best of Windows Central in in your inbox, every day!
Didn't know anyone actually used Kinect in pc

Not for gaming use though.

"Seems faster" to me....hehe

The one on my Xbox one is not fast. I liked the hand wavy thing on the 360. Now it randomly reacts to me. Verbal "Xbox select" is faster then getting it to see me. Hence I want it faster. Maybe put its own CPU and ram into the Kinect its self? Or is it already on board?

Kinect v2 has built in hardware, which Is part of the reason its bulkier than v1

Send that to Microsoft feedback so they can fix fb and tell them too instead of saying that lol!

Well I'm sure this topic is about Kinect. It is a acceptable venue to talk about it.

This is excellent news! :D

Yup, Kinect v1 in windows had some amazing applications, can't wait to see what v2 is put to use for

Probably use for medical and military centers.

Maybe someone will combine the Oculus Rift with it.

Windows RT support would be awesome!

Its never Gunna end! These faster comments are being type faster than before!!!!

It worse than those "First" comments...

except that v2 doesn't just seem faster, it truely is faster being hardware and all

Options: STFU or go away. Those childish comments are not fun. I was about to ask you to kill yourself as a third option, but even immature people deserve to live.

I wish i could use mine from the xbox one with my pc as I have everything connected to my tv, so it would allow me to control windows 8 by gestures or voice commands...?That would be awesome with windows 8!!

Maybe they'll release an extension cable now so I can put my kinect more than 2 feet away from my media cabinet

This! My Kinect is directly to the side of me because I need about 30 more feet to get it by my tv!

Huh? Mine reaches the top of my tv that is wall mounted, a few feet up from the tv stand. Maybe I'm overestimating how far it is but it seems sufficient.

Not everyone has their media equipment directly next to their TV. And judging by the amount of people complaining about an extension cable on the xbox forums and everywhere else I'm definitely not alone.

Mine is behind the tv lol, got no space on my desk and i rarely use it other than the occasional voice commands.

I can't wait to say. "PC ON" xD

Even better when it responds with 'PC, On' like the house in Back to the Future II ...

Favorite movie trilogy, like almost as much as I like Microsoft :-)

Oh man. Go look at some of the crazy stuff done with Kinect on PC already. Now look at how much more powerful the new Kinect is. People will be able to do some incredible stuff I think.

What sources have you used?

I tried looking for videos on Youtube but couldn't find anything. I still don't understand how it's used if not for gaming. Anyone has some examples?

http://www.engadget.com/2012/09/25/mit-realtime-indoor-mapping-kinect/ There is that plus I know it's been used for 3D scanning for land surveying I don't have link for that though.

http://www.brekel.com/kinect-3d-scanner/ - Free! Uses open source primesense drivers (not compatible with ms kinect sdk) Some commercial software that utilizes Kinect 1.0 (for Windows). http://www.brekel.com/brekel-kinect-pro-body/ http://www.brekel.com/brekel-kinect-pro-face/ http://www.brekel.com/brekel-kinect-pro-pointcloud/ http://reconstructme.net/ http://www.faceshift.com/ http://ipisoft.com/ http://www.reallusion.com/iclone/ If you have a xbox 360 kinect, it's easy to kinect it to windows (see what i did there). If you have original model with usb cable, just grab the sdk, plug it in, and have fun. If you slim x360 version, you need to buy power adaptor on amazon first... Definately looking forward to this! +499

Thank you so much dagrepon and dwigfor. That's really cool.

No higher resolution/different viewing angle?

Where's my frickin' kenect 2.0 extension cable for my home theater setup?

Now only if Windows had native support for it and games on PC support for it, then I would be exited. As it stands now, for consumers this is useless at this time, and a massively failed opportunity for Microsoft once again.

Why is there still no at-home gesture controls for Kinect on PC? With Win 8 being touch centric, one would think gesture and voice controls would be a natural extension of it. I've pretty much given up on such things. Yeah,there are some amazing developers doing great things, but doesn't seem like any of it is geared to the consumer at home.

I appreciate Kinect is more advanced than Leap Motion, but is it really so much more cutting edge that it needs to be the size of a brick and still require a large external power supply? Kinect for Windows makes a lot of sense, but not really like this. Integrated directly into devices (like Leap Motion has been making deals to do) then sure, but right now I could buy one of these and not even be able to navigate the Start Screen with it. I've seen a lot of cool projects in industry (such as in hospitals) using Kinect v1 so I know there's a lot of specialist uses out there that really help people but it would be good to see some progress at making a consumer play with it. Even if it's just a gimmick like Leap. Also, for those who already have an Xbox One, do they have to buy this PC version or can they plug the XB1 version into a PC to develop for? Maybe at least some of this will change/become clearer at Build next week...

it will be nice to see what guys like Lightwave3d Group do with Kinecgt 2 for windows, with Kinect 1 nevronmotion is already a nice mocap plugin. but with Kinect 2 it should be really really better.
hope SDK is released soon so they can start working on that.

I can't wait to see what the community comes up with. Truely amazing stuff! http://www.kinecthacks.com/

People are already working on getting Kinect 2 (dev) working with Unreal Engine 4!! https://forums.unrealengine.com/showthread.php?389-Kinect-4-Windows-v2-0-Plugin https://www.youtube.com/watch?v=8jXojr7zeR8

I want Xbox One controller drivers for PC dammit! I think MS makes alot more people happy with the X1drivers than a Kinect for PC...

I would love to see what people could do with this and the Oculus Rift.

Personally, I just want the box for it. The box that will convert the Kinect 2.0 to USB 2/3, so I can use a USB cable to EXTEND my Kinect.... Mine is Still in my day one box....still with the wrapping on it because the cable is too short.

Can't wait to use this for Project Spark
Windows Central Newsletter
Thank you for signing up to Windows Central. You will receive a verification email shortly.
There was a problem. Please refresh the page and try again.