Microsoft rolls out Flash and firmware update for Windows 8, Surface devices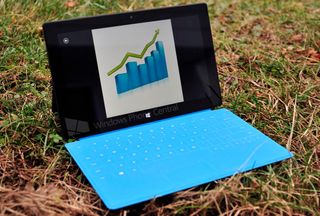 It's Patch Tuesday, Microsoft's semi-regular time to push out OS and software updates to our computers. Today is no different, and if you're on Windows 8 you'll get at least 13 important updates (83MB) and if you're on Surface, you're looking at 14 patches (38-118MB) and a firmware update. (Some of that will vary for you as different Office 2010 and Office 2013 updates are included.)
So what's new? Well, the biggest news is that Microsoft has enabled Flash to work now in Internet Explorer 10 for RT. If you recall, Microsoft only allowed a few, specific websites with Flash to work on Internet Explorer 10 citing performance and battery life reasons. There was even a neat little work around that you could do yourself to bypass this. Now, Microsoft have reversed that decision, which they say is due to more sites becoming IE10 compatible.
From the IE Blog (opens in new tab):
In addition, for those with a Surface RT who also got the March firmware update, you should notice a few other improvements for your user experience, including:
Fixes to Wi-Fi reliability allowing for better roaming and improvements to "Limited" connectivity scenarios.
Resolves issues with integrated volume button.
Improved Type and Touch cover typing experience on soft surfaces and when devices and keyboard are lying flat.
Resolves issue with random muting.
Trackpad performance improvements.
Surface Pro users have a different firmware changelog:
Fixes to Wi-Fi reliability allowing for better roaming and improvements to "Limited" connectivity scenarios.
Windows To Go feature is enabled.
Improved onscreen keyboard detection synchronization when going in and out of sleep.
This is the second expected Wi-Fi enhancement feature and should help those who are still having occasional issues on their Surface.
To check for updates, simply swipe from the Right to bring up the Charms bar, then select Settings, choose Change PC Settings and at the bottom select Windows Update. You will need to have 50% or more battery to complete the update due to it re-writing the firmware of the Surface.
Windows Central Newsletter
Get the best of Windows Central in in your inbox, every day!
Daniel Rubino is the Editor-in-chief of Windows Central, head reviewer, podcast co-host, and analyst. He has been covering Microsoft since 2007 when this site was called WMExperts (and later Windows Phone Central). His interests include Windows, laptops, next-gen computing, and for some reason, watches. Before all this tech stuff, he worked on a Ph.D. in linguistics, watched people sleep (for medical purposes!), and ran the projectors at movie theaters because it was fun.
Flash? Get ready for the security breaches! Yay Flash!

IE also loses its speed and stability. ;)

Maybe if you're on a Pro... But not for us RT folk :smile:

Only if you're using desktop IE, Metro IE has the same risk exposure on Windows 8 & RT.

Let's hope this one fixes the Wifi for real.

+1

Mine worked great on release date. Then they "fixed" it. Then they "fixed" it again, and always have to reconnect to my network. Hopefully this one works.

I used to have issues when I used 5 GHz connection. With 2.4 GHz, I never had a problem.

I just picked up an RT this week and been affected by that problem. I only have 2.4 GHz connection in my network so that's where I get it

It doesn't, at least for me. I updated my RT within the last half hour, and already got the Limited Connectivity issue again. Hoping it was a fluke though.

Seriously! I would hesitate to say "occasional issues," as the article does. There isn't a day that goes by that the Wi-fi doesn't (seemingly randomly) drop out and force me to switch my Surface RT into airplane mode and back out to get back online.

I have yet to see the firmwre come through. Even tried to force an update, nothing.

Hahaha. Mr. Daniels is proud.

Nice, about time with flash

Would be nice to have it on WP8 too

Thinking the same. Maybe after awhile it'll get put in. Once they make sure there's no issues

I'm glad they went this route. Don't know who it was maintaining that whitelist, but to those of us East of the Atlantic it was a nightmare since only a tiny number of legitimate, locally well-known sites, were supported.

does this mean we dont have to use the whitelist flash tool now?

Also, should we remove it before updating?

Actually, you have the firmware changes incorrect for the Surface Pro. The list you gave is accurate for the RT, but the changelog for the Pro is:
•Fixes to Wi-Fi reliability allowing for better roaming and improvements to "Limited" connectivity scenarios.
•Windows To Go feature is enabled.
•Improved onscreen keyboard detection synchronization when going in and out of sleep.
http://www.microsoft.com/Surface/en-US/support/performance-and-maintenance/pro-update-history

Sod flash we had a solution to that, what about Silverlight.

"Resolves issue with random muting."
Finally! I know this has been a very chronic problem with the Surfaces. Many customers will be happy if this really solves the problem!

Exactly! Been waiting for this one. Had mutes constantly, was very annoying. I thought it was a hardware issue (in my case the touch cover) but I'll be a very happy dude if this software patch solves it!

I had bought the 32GB Surface RT on launch day and it suffered from the muting problem. Mine was also touch-cover releated, like many others'. However, I exchanged mine for a 64GB Surface RT few days later, and fortunately that one didnt have the muting problem.

They said it was due to faulty Touch Covers back in last November, and I had been doing exchanges with MS since then, after 4 exchanges I decided to sit and wait. Now hopefully this update could fix it.

I'm glad to have installed this update on my Surface RT, i havent seen any random mutes.
The only thing i wish for is a update that enables Java support.
Greetz

Since every security person recommends turning off Java these days, I'm going to say that's not likely.

This means we can use the Comixology web reader instead of the incomplete Comixology app.

does this mean we dont have to use the whitelist flash tool now?

I can watch any porn video on my Surface RT? yay!

+1 for the balls to admit it

No hacked peens for me now.

Really wish sites would stop using flash. It needs to die already.

Nope and the white list update program doesn't seem to work either! :-(

Does IE10 windowsphone 8 get flash support as well??

All we need now is an update that sorts out the access to the microSD card in "metro" apps and we will be a lot more happy Surface users.

random muting on my RT will be a nice fix, if it is indeed fixed.

Maybe it'll actually be possible to upload a photo to eBay?

My Surface suffers from lack of apps. Muting isn't an issue when there isn't much reason to turn it on...

Specifically what? A vague statement like this doesn't really help anyone. I'm sure people here can point you to apps....

I use my Surface RT non-stop, I hardly touch my PC nowadays, and most times it's via RT's TeamViewer.

Same here, I moved all my PCs from logmein to teamviewer as logmein didn't support my surface rt finding teamviewer to be a much better service aswell.

Very nice but they need to support Cisco VPNs on RT. Its inexcusable since the iPad supports it.

I use my surface all the time and with flash enabled there's even more to play. Plus, being able to use my Xbox controller on Xbox live games is pants.

I found it updated at 40% battery when plugged in.

experienced the random muting last night for the first time while watching Young Justice thought it was the file, its great to have a fix the next day

Still no eBay photo uploading. That alone would save me some earache

Oddly, the firmware update didn't change the insane stylus position to more logical place on my otherwise outstanding Surface Pro 128. ;-P Though I love my Surface tablet, I'm struggling to see how the stylus docking point was designed where: 1) The Stylus naturally restricts holding the tablet in panoramic mode, which is ironically sad for a tablet. 2) The Stylus tends to fall off when you grab the tablet in the natural way you would pick it up or close the kickstand. 3) The Stylus blocks the charging port. 4) The Stylus blocks the display port. I'm just picking a giant nit here of course. This is kind of like complaining that they didn't put the cherry in the right spot on my ice cream sundae in a world where all other ice cream sundaes don't come with cherries on top. Still a tasty sundae and admittedly a 1st-Gen device that redefines the tablet category, running both apps and programs in one sleek device. Look for future Surface Versions to have the Stylus dock on top when tablet is in panoramic mode, though. That or have dedicated slot for it (preferred). Note: when applying this firmware update, you may notice that the stylus has stopped working. Simply put the Surface to sleep and wake it to restore stylus functionality. This happened at one of our medical clients this morning after we applied this batch of firmware and windows updates.

I am both happy and sad about the IE10 Flash enablement on Windows RT:
it was really great, as LOT of websites now became usable (without flash most video-sharing sites were simply broken and useless before this update)
However the HUGE drawback is, that Flash ADs apeared on the quite underpowered Surface RT tablets, literally stopping the page refresh on all those news-portals for 5-6 seconds every time you open it, usually where the frontpage os bloated with CPU-hogging flash advertisements (as a note, it also kills my much-more powered desktop PC as well).
I think the solution would be somewhere between blocking all flash and enabling all flash: most probably a selective AD + Flash-blocker would be the only solution. Unfortunately as simply there is no such AD + Flash block software from Microsoft, and running natively in IE10, I have to recognize this will just be my wet dream, and will never be achieved :(

Do anybody know when/if they are going to come out with a update or something for the RT that will be able to-do more on in it installing wise instead of whats just on the windows market?
Windows Central Newsletter
Thank you for signing up to Windows Central. You will receive a verification email shortly.
There was a problem. Please refresh the page and try again.