Microsoft rolling out Lumia 650 and 550 firmware updates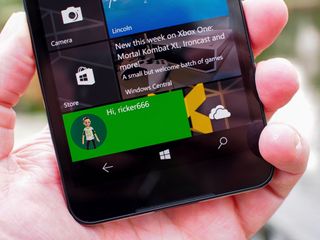 Owners of the Lumia 650 and Lumia 550 smartphones on Windows 10 Mobile should be on the lookout for an automatic firmware update. Microsoft has just started rolling out the update for both phones.
Microsoft's support forum says the updates are just for general "stability and quality improvements."
Once installed, the firmware version number should be 01078.00037.16082.410xx.
Keep in mind that this update may take a few days or even weeks to reach all owners of those phones, due to "phone model, region or network service provider" options. Currently, our UK variants are not seeing the update.
What should the latest firmware update be for the unlocked 950?

Pleaaaase fck need the freakin 950 update, phone is rebooting like crazy bro

Have you checked through the WDRT tool?

Anyone feel like actually being on topic? Not yet on my 650 GBV.

Older devises not exist forMS?I tired for poor update!

This article is about the Lumia 650 and Lumia 550. Please keep the topic relevant or feel free to use our forums. Thank you.

Have you guys deleted some comments?

If off-topic than absolutely. They violate site rules that were agreed upon when joining.

I understand but I don't know if you guys are starting today because there have been so many off topics and even instances where people insult others. Nothing was done about it and if a question is asked about older Lumia receiving firmware updates, how is this off topic? The article is about 550 and 650 so if someone ask about older phones then.... If you guys are going to go this way then I guess you have a lot of work to do. An example is about the apple event. There people who at an instant looked like they were fighting but nothing was done. I guess once it's a comment section then some so called "off-topic" is allowed. We will be looking forward to seeing you remove all off topics from the comments section. At least that's what you are saying. Good luck

Good luck with them listening to you Daniel! Posted via Windows Central app for Windows 10!
Proudly rocking my Lumia 1520!

The Lumia 550 and Lumia 650 were released in the current cycle, so they are not older devices. ​For other devices, chat on the forums please

This post was about 650 and 550 only...whats so difficult to understand. Sheesh...

MS said there would be firmware update for order phones before the W10M software update, didn't they? Posted from Windows Central for Windows 10 with a Nokia Lumia 730

Please stay on topic. And no, they said some phones may need firmware.

So you're actually going to believe what Microsoft says?

In this case, I think it is more important to get what they said right before we get the pitchforks. The PR quote said "some" devices would get a firmware update before the Windows 10 Mobile update. Windows 10 Mobile is a software update. Firmware is not required for it in most cases. But this is the internet and Windows Central so 'firmware = omgamzingitchangesallthings'. Unless there are demonstrable problems with hardware that is related to the OS there is no need for firmware.

and as shown in previous articles, some of the older devices did get a firmware update. Now let's stay on-topic and comment only on Lumia 550 / Lumia 650

Well to be honest on answers microsoft there are a lot of issue with 930, 640 screen blinking yet no firmware cause they don't acknowledge the issue.

Have been waiting to long now so I got tired and ordered a galaxy s7 edge

No Daniel. Im a lumia 930 user and no handsfree mode no hey cortana, shazam,or voice in recorded videos, etc because the microphone problem, and this is not a hardware issue.... With 8.1 everything is fine.... And some devices need fw update before upgrade to win10mobile this meaning it was on 8.1....

Have exactly the same problems

And what is the solution?

Firmware update. We still have the old 8.1 firmware

Agree, but ms doesn't confirm this problem....

What this? I dont see anything...

Was meant as a reply to your comment stating that I agree or should I say +930

I don't think issue has anything to do with firmware. I had the same issue with my L930....tried WM10 and reverted to 8.1 but same issue. So I had the service guys look at it and apparently the mics were busted. Had em replaced and it worked fine...even with WM10. Anyways, got rid of the 930 coz I got sick of waiting for the official WM10 update for it and got me a neat L950XL. works great and love the phone. I keep the 950XL as a daily use phone and do my testing on L535.

Do you understand english? On 8.1 all things working well, so why bring my phone to the service to make work on win 10 ? This is a software issue!!!

Daniel, plz, look down this comment, and answer please about background images this post)))

Wp 10 is sooo bad.. I was waiting for a joke os

And fix this damn GPS problem Posted from Windows Central for Windows 10 with a Nokia Lumia 730

Which app are you using? and did you check to see if you have enabled LOCATION to that app?

There's a common problem in L730 and L735s about GPS which should be solved with a firmware update. That's what I said. Posted from Windows Central for Windows 10 with a Nokia Lumia 730

I wish these two phones were more advertised, they're such good value for money!

What's the background image? Can you share somewhere)))

I agree, that's an awesome background. John or Daniel can you share a link to it? Posted from Windows Central for Windows 10

I'm thinkin of buy a 550 to play with Redstone build is it really slow

Interested to see what this brings. I've been using the 650 for 2 weeks now and it's pretty stable as it is. Call quality is better than my 950xl (which is both good and bad at the same time lol). It is a fraction of a second slower opening some apps as you would expect but not annoyingly so.

Wow.. Have just been waiting for a firmware update the last 8 months for my Lumia 930 so... Still here with a 8.1 firmware but running windows 10...

Good news. Hope phones like 930 and 1520 follow soon

When the old phones are gonna get it? They are more in need of this..

From India, L550(got this monday) user I havn't got it. Yep let me wait.

Guys can anyone recommend me a wallpaper for my start screen! Website or direct photo anything is fine!!!

Question maybe you guys can help me. Will the Lumia 1520 be getting a firmware update? Or will it remain the same? Not to say that anything is wrong with mines but just thought I would ask. Henry Miller

Wen for Lumia 920 (India) gets windows 10

I wish they would hurry up and roll out the next Windows Insider Fast Ring version. My 950 is running 14291.1001 and it has basically killed my device. Phone unlocks itself constantly. Apps stopped working completey (ESPN, USA Today, Endomondo). Grove and Audible will jump back in a playing song or book on their own and for no apparent reason. Outlook notifications don't work consistently and don't show up in the lockscreen (I've checked numerous times and they're still in the set up. Even the new Feedback Hub keeps crashing. I even did the hard reboot that they said would cause issues with reloading apps. I reloaded the apps and doesn't matter, issues persist. I'm forced to use my Android phone while I wait for the next Fast Ring release and I really dislike Android's contacts and email applications. Please hurrry Microsoft!

Try the recovery tool. It worked for a friend of mine with 950xl. Runs perfecly on the official release.

Yea I was thinking of doing that tonight. I like the features that the Insider versions have but not at the cost of making the device no longer usable.

My 550 feels faster than before and it fixed some issues with the WIFI sensor.

Where are the whiners..... You know they'll be commenting about phones they don't even have in 3, 2, 1 Posted via Windows Central app for Windows 10!
Proudly rocking my Lumia 1520!

Anyway the 550 for me is running pretty smooth now with the last OS update release. Got to wait for the firmware update now.
Good little phone for the money. In some ways I actually like it better than my 950.

One change I'm not sure of: the navigation keys are now semi transparent gray on the lock screen, regardles of your accent color. Or was this always the case?

Downloaded the update on my L650 (Finland CV) :)

Notice anything? Still waiting in UK

I'm running 650 in UK my version is 01078.00025.15484.39009.

There seems to be another 950XL DS f/w update showing on WDRT but not via Windows Update on any Insider ring including production. Thought that was fixed? No?

Received it Wednesday 23-3 morning in the Netherlands via vodafone

Nice Sent from Lumia 550, HTC Desire 816 or Dell Inspiron 5122

So is the "build .164" windows own update to windows 10? Or is it

i have'nt upfate on lumia 550

Got this update last night 550 GB-CV

I updated my Lumia 650 yesterday with the firmware update and am now seeing problems. The screen goes completely black after hitting the make a phone call icon. Sometimes when trying to text someone back it does nothing and then the texting app quits working. Is anyone else seeing this or is it just me? I wanted to know before I reset my phone.
Windows Central Newsletter
Get the best of Windows Central in in your inbox, every day!
Thank you for signing up to Windows Central. You will receive a verification email shortly.
There was a problem. Please refresh the page and try again.