Microsoft rolls out official Xbox app for iOS and Android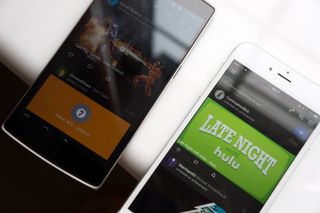 Microsoft has rolled out an official version of its Xbox app for iOS and Android. Already available for the company's own Windows platform, those rocking competitor mobile handsets will now be able to remain up-to-date with all things Xbox. With the app installed, it's possible to track accomplishments, see what your friends are currently playing, as well as purchase new titles from the Xbox Store.
The Xbox app on both iOS and Android are actually revamped successors to the old Xbox SmartGlass offerings. That said, everything you enjoyed using in the old app should remain available in this new updated experience, but will added features and more. Here's a quick run down of everything new this month:
Updated home – The Activity Feed is the home of the Xbox app
Activity feed updates – More personalised activity feed
Added Trending content – Find out what is popular on Xbox Live
Facebook friend finder – Add your Facebook friends who are also on Xbox
Contact list friend finder – Use your phones contact list to add friends to Xbox Live
Real name sharing – Be able to share your real name with your friends
Game hubs – Game Hubs now added to Xbox app
Connection destination – Updated the Xbox One navigation and media control of your Xbox One from the app
Updated profiles – Redesigned user profiles in Xbox app
Download the apps from the respective App Store and let us know how you get on!
Windows Central Newsletter
Get the best of Windows Central in in your inbox, every day!
Rich Edmonds was formerly a Senior Editor of PC hardware at Windows Central, covering everything related to PC components and NAS. He's been involved in technology for more than a decade and knows a thing or two about the magic inside a PC chassis. You can follow him on Twitter at @RichEdmonds.
Uh oh....Here come the whiners

Looks a lot better than the Smartglass app, glad that people without Windows Phone can enjoy the app on the go more now. Can't tell if these versions were built using something like Xamarin but it does look very similar to the Windows 10 app (in a good way)

the Xbox App and Smartglass are different apps. The XBOX app on W10M and Android look almost identical from what I can tell so far. (I have a L950XL and a Samsung S7 Edge)

The Xbox app replaced the Smartglass app as an update, so they're not two different apps on Android.

The Xbox (including its Beta) app has received constant updates on W10M since it was first launched. No reason to panic, especially since this is probably part of the E3 announcements and W10M update is probably just passing store certifications.

Yep, and I use Windows 10 Mobile for many other reasons. If it all hung on a single app for some people they may be using the wrong platform for them

It's not one app, sir. Open your eyes, take a look at everything. It's all coming down. Look at half hearted app updates by developers, and let alone porting apps. On to of that, the cherry of the cake is that Microsoft is making excellent apps for other platforms, and is there any deal breaking missing functionality on other platforms? I guess, no. At this rate, sir, I'm afraid, soon we'll be able to love without mobile OS of windows..desktop version is there to stay for some longer though.. Lumia 730 DS, Windows 10 Mobile.

DOOM AND GLOOM! DOOOOOOM!!! DOOOOOOOOOOOOOOOOOOOOOOM!!!!

Haha yeah it's always doom and gloom here, I don't know why these people don't just stop using W10M if it's so bad. I hate the standard "Microsoft apps are always way better on other platforms" response too - I've tried some of the apps on other platforms and they aren't necessarily better. Latest example I set my wife up on Groove Music and showed her around the app on iOS, for me the W10M app is a lot nicer and I noticed no amazing functionality that's missing from the "always inferior" W10M version.

Your comment made me tired. I think I'll go home. Posted from Microsoft Lumia 950

If it was about Apps full stop people wouldn't be on Windows Phone, it's been woefully behind for years. But there's enough apps there for people who use it to be satisfied and the OS is just so much nicer than Android and iOS that it's obviously not an issue about missing or poor apps. I make calls, i check my emails, I contact my friends on FB/Whatspp/etc, I can browse the web, I can navigate my car, it's fine. I bought an iPad to fill the "missing app gap" and you know what, I never use it, I just don't need apps.

I disagree.. There's not enough apps, or the apps we need, for users to be satisfied.. That's not why we're here. Not having apps is a sacrifice we make because we have hope that one day things will get better in every area.

No, the whining only happens when there isn't parity or it gets released on iAndroid first. So this is all good.

Priority now is porting Xbox games.

Not sure why Dan Harris was down voted, the whiners of this parish will definitely come out in force. I haven't seen much supporting evidence to support the "apps are better on other platforms" mantra. I don't think it's true at all. UWP has brought some good apps to the table Bank of America and BT Sports. Fingers crossed that over the long haul we have 3 viable phone platforms, I'd hate an iOS / Android boring duopoly.

..and they never made mention of it's development cuz they thought we (Windrows Fans) would be angry. Sigh Microsoft.

But somehow I think it kinda looks different from ours on Windows Mobile. Instead of a side pane, they got them on the top. Can someone confirm? BioResearch & Games.

Good. Now I can have a seamless experience on both of my phones.

Wonder if this is released to tie in with game streaming coming to all mobile versions of the app....An announcement like that would be great. Not sure how/if Xbox One controllers work with iOS and Android right now though - On Windows 10 Continuum coupled with the Xbox One controller support makes it an ideal thing to showcase Continuum to people (if it works well)

If gamestreaming comes to iOS, theres very little reason for me to stay except the superior design language. Id be really disappointed if they let such a USP go to other OSs.. Then they might as well release it for Mac OS X and let them gamestream without windows 10... And no whine, just cant understand the reasoning to release a USP on another platform, if they add it to the iOS/Android app.

I get this argument and agree it would be a USP for Windows 10 Mobile, but not that it would sell a ton of W10M phones. Could look at it another way and that the Xbox team is focussing on the success of Xbox - If Xbox is the only platform that can stream to all major mobile and desktop platforms is that not a USP itself? But more so for Xbox than Windows. They'd need to decide which is more important, but I do accept sometimes it's a bit too easy to be on-board with the cross platform thing and they may be dropping USPs from their platforms that they shouldn't.

Android phones have had the capability of pugging Xbox controllers directly into them for years.

For the first time windows phone design language (wire mesh icons) is being used on other platforms instead of bringing their design language to our phones. I'm happy.

NEUUUUU ! My friend was so mad about not having this app on his Android... What do I have to be proud of, now

The fact you have it first and you will most likely get a better more robust experience. How is that?

Well I'll try it out on my friend's Android, but on my 950XL (even on the PC), I think it's the slowest UWP app to launch (AFAIK), navigate or load things. (It's powerfull, can't deny that. It's a really great app and I use it every-damn-day. But I'm sure it could be faster !)

How about your achievements in life instead of the tech you use ;)

Waoh. That might be the most stupid comment of all the answers. You're taking it too seriously.

The wink at the end signifies I wasn't taking it seriously....

Owning a smartphone isn't a competition. Relax.

Don't be proud yet cos with time they will have a better xbox app on other platform.

So true. Posted via the Windows Central App for Android

What did you have to be proud of before?

And im sure it will have more functionality than Microsoft's own platform...

Well if the other platforms allow functionality that w10m doesn't quite allow then why not explore it and then make it better when implemented on wm. We as users only get better experiences if we allow devs to explore what's available not berate because it went somewhere else first

I already predict the stream features for them before we even get to try it on our phones actually

Glad to see now everyone can enjoy this app. Its leaps ahead of SG app(which in itself was an excellent start point). Cant wait for MS' press conference. I've heard that they have a MEGATON to drop today, something that eclipses the MEGATON that was BC(and the X1S isn't it).

You're right, a Slim console is pretty standard in any consoles lifecycle. How about the full Xbox experience on PC....

You might be onto something there, but I heard Scorpio will be the gateway for that.

What shall I say, one more thing I won't miss when I'm forced to move over to the dark side ;-)........ since life360 has abandoned windows mobile I have no decent app to track my kids, is kind of a big thing since they are kind of important to me .....

Can't you get some sort of Neural implant for kids these days (joking of course)

Is there really no alternative to life360 on Windows 10 Mobile? Also, do your kids use W10M or did you just use it to track their activity but they used the app on other platforms? Is there a market for a Windows 10 specific app of this kind, sounds like a fun UWP project.

Nope, I've tried them all and alternatives require the one being tracked to send a text invite again and again. This is useless as this requires a daily action from my kids, who simply won't bother or forget about it. Sentinel is one, glympse and location tracking. My kids are still on windows 10, but they can't wait to switch to android asap. They are missing out on all the cool stuff and snapchat.

Port from other platforms isn't happening for all ms apps...soon...but good apps coming from MS on other platforms

And yet the camera app on my 950XL barely works, the band can't connect for texting for a crap, the keyboard will blank out for thirty seconds at a time, etc.....but hey, use resources to work on the competitions' OS. Complete idiots.

My 950xl does' suffer trom any of the bugs/problems you mention. Have you tried resetting your phone to factory settings (and don't use a back-up, but a complete fresh set-up) ?!

Yep. If you take pictures and immediately go to look at them, it doesn't say "adding finishing touches" for a bit? Your burst mode works? Your HDR always works? You never go to send a text message and can't get the keyboard up for thirty seconds? And I'm sorry, before anyone says "hard rest", those words shouldn't ever be mentioned again. It has become the bullshit Microsoft crutch. Everyone there is an issue "hard reset". I "hard reset my phone ten times in two weeks as prescribed. Switched to this phone, and that is the same lame **** answer for everything on this one. Time Microsoft fixes their own crap that they charged money for before the go fix other people's crap that they didn't spend one Microsoft dime on. Windows Phone.... Rebuilding since 2010.

Somebody's a tad bit angry..... Anyways, yes, my 950XL does do that adding finishing touches after I take a picture. I have also ran into a case where you take pictures "too fast" and it causes the phone to completely freeze or it will say saving across the screen and will not let you take pictures. I would like Microsoft to look into this. But I'm not going around blasting Microsoft over it, I sent them feedback on the app and stated the issues I have found. Now I continue to use it while waiting for them to fix it, which will not be overnight.

Overnight....its been over half a year. Windows Phone.... Rebuilding since 2010.

Then go get the phone that you want. The one that does everything that is important to you. The LG G5 is very good for the camera. I would recommend just about any LG phone. I don't really like Samsung, but if you like flashy get the edge phone from them. They also have a good camera. You definitely won't experience any of the issues you listed above.

What a solution! Dump $600 on a phone and just "go get another one" since Microsoft doesn't want to get their crap in gear. BRILLIANT IDEA! Windows Phone.... Rebuilding since 2010.

Well obviously staying isn't the best solution for you either. You can continue being angry about your 950XL. It's not going to change anything. I suggested going to a different phone. If you can't then that's okay. Thus the reason it's called a suggestion. My original suggestion was that instead of being angry (why are you so angry? Even at me and I was just providing suggestions, I even agreed there is an issue as I experience it as well), provide feedback to Microsoft. It's not going to change unless you provide feedback.

99% of Xbox owners are using iOS/Android, what do you expect Microsoft to do, not build them an app?

Soon Microsoft will be making exclusive apps for Android and iOS, and ages later, windows phone will be getting the app, and will be rarely updates. That is just going to happen. Even now, the apps seem better in other platforms than here. LOL.

Finally MS has started to make it clear where the priority lies. No wonder why Terry Myerson said mobile is not their focus

So smartglass is no more? Hope it function better, the power on off function didn't work most of the time

It's an update for the current smartglass app, seems pretty nice to be honest, very responsive. Posted via the Windows Central App for Android

I've got the feeling MS will be announcing something that will work across the Xbox app on all platforms

Hopefully it will be able to play movies purchased soon.

Very happy about this, wonder if streaming to phones will follow soon? Posted via the Windows Central App for Android

I'm not even shocked I'm all about making the xbox brand more likeable and all but still can you leave something exclusive on the platform. I mean look at phones word flow keyboard then look at our see my point where the love ,getting updates mean nothing cause your only fixing what should have been fixed from the beginning for those who use that as a sign of ms love

I thought they been had this app? What were they using before?

Hmm... I've had the app for quite a while. The only difference is that the former smartglass Beta was now renamed to Xbox Beta. The normal smartglass has been turned into Xbox long ago. Posted via the Windows Central App for Android

The Android app runs pretty good already. Much smoother on my midrange P8 lite compared to my Lumia 950. It even support to slide in the menu from the left with a swipe. Not that silly "hit the hamburger" crap from the w10m app Posted via the Windows Central App for Android

Ok here we go again, I'm pretty happy about this not because I have android phone (No thanks) or apple but because again ms proving to be the good guys producing platform agnostic products.

One more reason not to keep my 950XL.

See, I am happy with this, the Xbox app should be everywhere. But if this gets party support before the Windows 10 Mobile version, then I'll have some complaints to file.

Just here to see the comments 'It looks way better than the Windows 10 app. Windows Mobile is DEAD', etc... Posted via the Windows Central App for Android

Any news on if Microsoft Movies and TV will also get iOS and Android apps?

This should have happened long ago --- Moves & TV's is useless to the masses if you're one to want your movies when on a mobile device or tablet.

Saw the headline, didn't know if it was a new app or updated smartglass, opened up app store, it was already updated. Nice.

Just installed on my nexus 5x. Looks like smartglass beta. Posted via the Windows Central App for Android
Windows Central Newsletter
Thank you for signing up to Windows Central. You will receive a verification email shortly.
There was a problem. Please refresh the page and try again.