Microsoft rolls out September Office 2016 Insider update to the Slow ring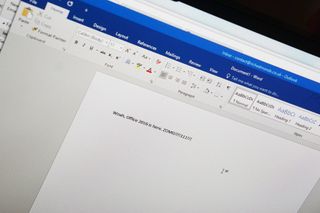 Microsoft has announced the release of the latest Office 2016 update for Slow ring Office Insiders on Windows. September's update brings the version number up to 16.0.7369.2017, and includes improvements like better PowerPoint recordings and a special "Ink Replay" feature that will let you rewind and replay ink strokes on a PowerPoint slide.
Here's the breakdown of what's new (opens in new tab) for Office Insider Slow ring users in this update:
Ink replay: To understand what's behind the ink you see on a PowerPoint slide, click Draw > Ink Replay to rewind and replay the ink strokes. You can use this feature to follow a sequence of handwritten notes and drawings, review step-by-step instructions, or see the order in which somebody else marked up the slide. (Feature requires an Office 365 subscription)
Better recordings: In PowerPoint, you can add a Recording tab to the ribbon, create a presentation made up of recorded slides, screen recordings, and inserted video, and then share that recorded content to be viewed remotely on Docs.com. You can also embed quizzes to assist with remote learning and make your presentation more interactive, as well as change the ink color right from the palette in the recording pane.
Accessibility built right in: In Outlook, we've improved keyboard and assistive technology experiences for reading email, scheduling meetings, and adding a signature.
New data transformations and connectivity enhancements: In Excel, add parameters to your queries, or create new queries from Merge or Append operations. You can also use the Web connector to preview web pages. (Feature requires an Office 365 subscription)
We're listening: In any Office 2016 app, click File > Feedback to tell us what you like or don't like, or to suggest new features. (Feature requires an Office 365 subscription)
If you're part of the Office Insider Slow ring, you should be able to pull the update down now. And if you have time to check out the new additions, be sure to let us know what you think in the comments!
Get the Windows Central Newsletter
All the latest news, reviews, and guides for Windows and Xbox diehards.
Dan Thorp-Lancaster is the former Editor-in-Chief of Windows Central. He began working with Windows Central, Android Central, and iMore as a news writer in 2014 and is obsessed with tech of all sorts. You can follow Dan on Twitter @DthorpL and Instagram @heyitsdtl.
As a person who uses Word, Excel, and Access every day at work I never realized how poorly Office 2013 and 2016 were until 2016 was recently loaded on our work computers. I use Word and Excel (2016) at home weekly for for different things, but using it daily at work is horrendous. If I could go back to previous 2010 I would do it like yesterday...

Care to explain what the problem that you're having with Office 2016 is?

Sure. But first those who down voted me probably don't even use the program. I've been using Microsoft Office since it's inception five days a week and sometimes on the weekend. But here are some of my issues. - First if you select a group of numbers/cells it shows you the total/sum at the bottom right corner of the screen. It still does that, but if you're using multiple Excel sheets and you want to see the sum on the other workbook it no longer shows. - The workbooks are no longer linked or coupled each iteration of Excel is it's own specific sheet. That may sound great but it sucks because now you can't just Alt Tab to switch between sheets. You have to minimize all other programs for this to work. If you work all the time in Excel like I do this is a pain. - The way how recent files and folders are shown is absolutely not worth it. Previously you could pin most recent files and most recent folders/subfolders in the screen. The process now is cumbersome to say the least. And down right bad. - Not to mention the ability to delete an email from the incoming notice is now gone unless if it's hidden somewhere. - Folders do not refresh automatically when some files are saved. I know this has been a bug for sometime but there isn't an easy fix that I can find to this point. I'm sure there is one out there I just need to find it, hopefully. - I'm sure there is much more, but I've only been using it now for almost two weeks.

@whodaboss, you're talking about minor cosmetic preferences where reasonable people will have different opinions. For example, your point about preferring the old Excel windowing system is surprising to me. From my perspective, they FINALLY made it so you can open multiple Excel spreadsheets in separate windows instead of that ridiculous MDI (multiple document interface, a throwback to Windows 3.1, where all Excel files were child windows within a master Excel window). They had fixed this back in 2007 or so with Word and PowerPoint, but Excel still had the old 16-bit design. You could sort of open in separate windows before by force-launching multiple instances of Excel, but then you couldn't copy and paste formulae between them. I'm amazed it took MS so long to fix this, but with the current version this is finally done. In Outlook, the default search includes all folders if you're in the Inbox, but just the active folder if you're in other folders. This is an awesome improvement that I benefit from dozens of times every day. Beyond these opinion-type changes, there are real improvements -- new functions that simply didn't exist before. These include sharing features, with real-time editing by multiple people. In Outlook meetings, it's finally possible to select HTML as the format (in addition to the text and RTF options), so attachments to meetings can finally appear as attachments, instead of inline objects, where many users never even saw them. There are really valuable graph options added to Excel, including Whisker plots and Pareto, for which I used to need to go to Minitab, now I can finally do these right in Excel. I've not used them yet, but Excel also has new MATCH, various text parsing, and IF-based functions without needed to nest a whole bunch of IF's inside other IF's.

Like with everything in life everyone has his/her preference. The things you call minor are not minor to some. My point is "everyday" things are not as easily accessible. Sure they've added some new items that should be a given. But they shouldn't be taking away ease of access. The process of finding files in Outlook Email has always been easy. It just depended how you setup your search. I always had mine to find items in "all" folders. But yes, for those who didn't know how to do that, it's a good feature. But tell me how the Recent folder is an improvement? You can only pin current files. Sure you can pin folders too but now you have to browse whereas it used to be all in one place. As someone who work on multiple spreadsheets at the same time, I rather the old format. I can't even see my highlighted/selected sum total at the bottom of the screen when working in another sheet. Minor and yet very inconvenient. Again, I like added features and don't care for the removed features. Will I now have to work around these limitations, sure. But those extra 5 seconds sure do add up. :)

I certainly don't deny that those changes are negatives to you. I assume that Microsoft has data that more people like the new way, and that's why they changed, but that is just an assumption on my part. (For what it's worth, I don't like the looser density of folders in Outlook 2016 -- I can't fit as many on the screen without scrolling, and I don't like Outlook icon changed from unique yellow to blue, which is now almost the same as Word slowing down finding it to click on it in the Tasbar, so for me those are some negatives, but I assume Microsoft has data saying that most users disagree with me). Maybe I don't follow your point about the sum appearing in the lower right. If I select cells in Excel, I see the Average, Count, and Sum of the selected cells in the lower right of that window, and it stays even if I move the focus away from that window to another non-Excel window. If I change the focus to another Excel window, then that data does disappear from the first window and will instead appear at the bottom right of the newly active Excel window, if multiple cells are selected (only shows at the bottom of 1 Excel window at a time). But that was the same in prior versions of Excel under MDI. The data in the lower right was always based on the active MDI child window. Maybe I'm missing your point?

Concerning my point about the Average, Count, and Sum you capsolated that correctly. Yes I know the sum shows when you're in a non-Excel program, but I use approximately 5 - 6 spreadsheets at once. I use the sum total all the time to use in another spreadsheet. And actually that's not how it worked in Excel 2010. We upgraded from 2010 to 2016 just a few weeks ago and I can vouch for that. Now I've been using Excel 2013 at home and I own 2016 but I haven't loaded on my home computers yet. I never noticed it at home because I don't use Excel that heavy at home. And when I did work from home I used VPN so I never noticed. You made me laugh when you mentioned "...Microsoft has data saying that most users disagree with me...". Microsoft is notorious for making changes for the sake of making changes. For each iteration they add features and remove features. They have always done that. And it seems they always remove things I actually like and use frequently. :) I'm feeling my way through Office 2016 I'm sure I'll learn some new things, but I got to tell you that the new way to pin recent files are killing me now. I mean I'm making it work. But it's killing me. I appreciate your feedback. I'll have to dig deep into the new features and hopefully I find new ways to do things. Thx!