Microsoft rolls out updates for the MSN suite of apps on Windows 10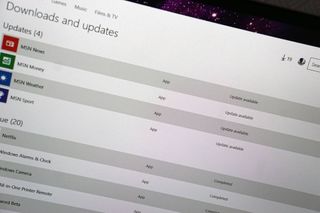 Microsoft has rolled out an update for its MSN suite of apps, available for Windows 10. The latest release of MSN Weather, MSN Money, MSN Sports and MSN News bumps the respective apps up to a more recent build, offering improvements that are too good to be listed on the version notes tab of the Windows Store.
As these are Universal apps, you'll be seeing the updates roll out across your Windows 10-powered PC and tablet, as well as smartphones running Windows 10 Mobile. According to MicrosoftInsider.es, we're looking at some minor improvements for both weather and News. The former adding barometer support, while News now features a night/dark mode for articles.
Let us know if you notice anything else that may be new after updating the apps on your smartphone or PC.
Thanks to everyone who tipped us!
Windows Central Newsletter
Get the best of Windows Central in your inbox, every day!
Rich Edmonds was formerly a Senior Editor of PC hardware at Windows Central, covering everything related to PC components and NAS. He's been involved in technology for more than a decade and knows a thing or two about the magic inside a PC chassis. You can follow him on Twitter at @RichEdmonds.
..."offering improvements that are too good to be listed...." That statement lol ...

Lol, pretty darn hilarious.

Please WC crew, use this statement in every single article about an Microsoft app update.

mm mm what could that mean lol

Developers should use this in app updates.

Now we'll find this in version notes of all apps:-"we've made improvements that are too good to be listed here"

Phrase made my morning lol

Meanwhile, changelogs on MS' iOS apps run half a page. Why do they want Windows users to know nothing?

Pretty sure he meant "too numerous to be listed"

Hi there! The release notes should be available everywhere for this round of MSN Apps updates. Please check the store, and let us know if you don't seem them. If so, let us know the region of your MSA and PC, and we will investigate. For example, weather: http://i.imgur.com/lK5fPlg.png Thanks!

Next to the temperature an icon for weather Condition

Yep. Definitely too good to be listed. ;)

Microsoft Photos also received an update. New build number is 16.122.14020.0.

Weather live tile has stopped working on mobile EDIT: fixed after reset

It didn't work on pc as well. Hope it is fixed now..

The weather app now sports a refresh button!

Changes found: Icon for weather Condition next to temperature (thanks to FAHMI BASSEM) Show time when last updated Added barometer and humidity alongside wind speed and windchill New icon for light rain (cloud with rain instead of just rain) At the botton again the time of update Bottom menubar now added refresh and pin button

Thanks. Why is it so hard for Microsoft to make one of these change logs?

Because they are too good to be listed there?

To much too hope they've fixed the lock screen bug that truncates the summary. How hard it's it to wrap that text?

For sometime now the MS apps livetiles are not showing. They only update when using wifi. Anyone having that problem?

Not me. Did you try a soft reset?

I've had that problem for a while now (586.11). MSN apps, Translator & MyTube all stop (Tile & notifications) after a while if I'm not connected to Wi-Fi

Use default zoom level in display settings. They are 100%, 125%, 150% & so on. Using custom magnification disables some of the live tiles.

...and still no transparent tile

Its better that its not. Everything transparent makes start screen look ugly

Nice to have the choice though!

Choice in these little details it's what I really miss in WP/W10

How to check the recently updated app in Windows 10 Mobile

Store > Menu > Downloads & Updates > Check for Updates

I'm sure that's not what he asked.

Msft removed it to hide the pathetic state of Windows store

Store > Menu > Library.
The most recently updated\downloaded apps will be on top.

Updated apps on the top? not really on my device.

Not just that but Cortana live tile doesn't work, and it happens sporadically after 10586.63 build on W10M. Dunno if it is device or location specific. For the record, I own an Lumia 535 DS, India.

I just wish they would stop installing apps on every insider or general Windows update that I've uninstalled. I've already got Office 365. Two accounts in fact. I don't need the Get Office app. And I couldn't care less about sports if I only lived a mile from where thaw Atlanta Falcons train. Oh, wait. I do. That place is nothing to me but a traffic headache during spring training and a disruption of the beautiful view of the Blue Ridge Mountains.

The News dark theme is truly awful. There's a massive white bar at the top and bottom whilst the article is dark, and the list of articles is still all white. They surely can't think that looks good! On the plus side the weather app improvements are very nice.

Yah not the prettiest but they are on the right direction. I am sure it will be refined in future updates.

Dark them for news or night and day mode is nice in news

Unfortunately msn weather still crashes for me..640XL

Still no Transparent tile for weather??? Sigh

I can change to dark theme at news ,it's possible to do the same with sports???
Why they didn't fix msn foods.

What bout their 8.1 version? Are they getting update as well?

Health and fitness app not available.

Been like that for a while they discontinued it Posted via the Windows Central App for Android

Why do some users like transparent tiles? I think Windows Mobile has kind of lost its style since Microsoft began replacing coloured tiles like OneDrive or Music.

Personally I prefer transparent to the old colored ones. I like to see my background image.

For the Money app, if you've pinned a currency to Start, the tile now turns red if the currency is losing value (previously it was always green.) It was a surprise for me to see two giant red tiles on my Start screen this morning :D

I actually noticed that yesterday before the app was updated, they must have changed it on the back end just before the update

Stock prices have always done that, also in WP8, strange that they forgot currencies?!

Still holding out hope that the sports app gets score notifications one of these days.

I'm using Sofascore for that, if it covers the sports you're following then I can highly recommend it.

I've used Sofascore in the past, even recently, but I've never been impressed with the app in general, and even though notifications are reliable, I find that the screen cuts them off alot. Having a good sports app, like MSN sports, with good notifications has been one of my tops wants for a while. Thanks for the tip though.

There's a dark mode for articles now

Every app I have installed updated this morning. Did it on my surface Saturday.

Wish there was a way to read windowscentral articles in the MSN News app :-) I've added several other sources to the windows 10 News app. Typically I'll add a topic like "lumia site:windowscentral.com" to see articles about a particular topic on a particular site. But this doesn't produce anything for windowscentral. I do have a generic "lumia" keyword topic where I get articles from several sites like winbeta but nothing from windowscentral. Wish the News app consumed rss feeds better. In my other rss reader is use the feedburner link to read these articles.

Sports: You can pin individual sports to the home screen.
News: You can choose a dark theme for when reading articles

You can also pin individual teams in sports. It's about time they brought this back lol

Night mode for News! Yeah!!!

Hi everyone can I just ask everyone here a question. I got a new laptop it was working great then it updated itself it was on windows 10.Since then I can't download anything from the windows store. But it can update. Confused . I am not a pc wizard. Thanks in advance.

Weather and News updates fail. Remote desktop, Power BI and Group Me do update properly. I see no update for Money or Sports. Anyone else experiencing update problems?

Dark mode in the news app doesnt fit. The top navigation is still white, makes it look ugly.