Microsoft updates the Office suite on Windows 10 Mobile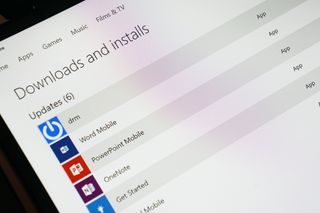 Microsoft is rolling out updates to the Office Mobile suite on Windows 10 Mobile, with Word, Excel, PowerPoint and OneNote getting updated. Given the lack of a changelog and no noticeable differences at first glance, it is likely the update is catered toward fixing bugs and improving stability of the Office apps.
Notice anything that's new? Let us know in the comments.
Download Excel for Windows 10 Mobile (opens in new tab)
Download PowerPoint for Windows 10 Mobile (opens in new tab)
Download Word for Windows 10 Mobile (opens in new tab)
Download OneNote for Windows 10 Mobile (opens in new tab)
Thanks robert, MARTY1774, and Greg!
Windows Central Newsletter
Get the best of Windows Central in your inbox, every day!
Harish Jonnalagadda is a Senior Editor overseeing Asia for Android Central, Windows Central's sister site. When not reviewing phones, he's testing PC hardware, including video cards, motherboards, gaming accessories, and keyboards.
Already updated them and nothing new has found.

Got news! It tries to charge me a 365 Office subscription in order to edit documents. Isn't that just awesome?

Yes it's a bug. Uninstall and reinstall, fixed it for me

Still liking it. I use those apps on daily basis. Whatever seems to be fixed. Updates everywhere & excited about today's launch.

PowerPoint plays Crysis are 60fps

MS should offer unlimited free office 365 subscription to lumia owners...

Exactly. Not only just Lumia users but all the Windows Phone users.

No. They need to include every single person that owns a pc out there. And then they need to consider giving it for free to the other platforms too.

Office is a cash cow, giving it away for free will lower revenues too much. And why give it away free to other platforms? For the monthly and even yearly price you get a hell of a lot of value from it, 1TB cloud storage, the worlds best productivity suite, ability to share with your family, slype minutes etc. I'd like to see a basic subscription provided with all Windows Phones, but not the full subscription, maybe a discounted price to upgrade to a full subscription. That way you get a nice incentive to buy Windows Phone and Microsoft doesn't loose too much money.

That's like saying apple should give unlimited free apple music subscriptions to all iPhone users...

No it isn't. MS already said office would be free for devices up to 10" screen. What about people who bought such a device because of that?

It already is free for under 10"... As far as I know nothing changed on that front.

It is already free for lumias and small tablets. If you see the apps telling you to buy an office 365 then it's a bug. Reinstall the apps. That fixed it for me. I'm hsing office apps on my Lumia with w10m with no problem

They don't need to. These office apps are free for Lumia owners and small tablet owners. If you're seeing the apps telling you to go buy office 365, it's a bug. Go and reinstall the office apps on your w10m phone and it will be fixed

you should work for free. there, doesn't that sound just as stupid as what you said? why do peeps think businesses should give their products away for nothing? now what i don't get is why do these apps demand i get an office365 subscription in order to edit these files when I ALREADY HAVE A SUBSCRIPTION?!?!

Indeed they should to attract new users

Hopefully this will fix word crashing when trying to save a document. This nearly resulted in my sp3 going out the window

Where is that Window, I'd like to stand outside a while waiting for my free SP3!

I hope he does throw the damned thang through da Windows, and you my friend, may luck shine on and the power be with you to be there at right time, and strong enough to bear the impact of the flying SP3.

Haha yeah out of an impact between me and a SP3 I'm pretty sure the surface would win.

Does windows 10 mobile can read QRcode from app??

There was an article here on Windows Central recommending the app QRcode+ as there is no native solution. Using the app myself. Works a treat

Actually if u go to any camera app and go to lenses you'll see Bing Vision and that scans QR Codes :) enjoy

Yes, works a treat on WP8, but not on Win10 Mobile....? At least, I don't have the Bing Vision lens available in The Netherlands

That was removed I thought, or at least not added as a "new feature" yet.

Still no draw option for one note?

If iOS and Android versions do not have draw option then why W10M? After all the former two are more important to Microsoft than their own platform.

Hahaha the sad truth have been spoken

I think this will be coming later after TH2, I believe the plan is to have inking support everywhere in office mobile.

Still no SharePoint support...

Hi my phone lumia 520 unable update Windows 10 .coming error (8007000d) what i do

You should go to the forums!

Now nothing happens when I tap on their tile.

Harish, Are you sure about Onenote? I'm only getting updates for office mobile and mail and calendar apps.

it's updated on Windows 10 desktop too.

Same comment on when MS rolls out any update without providing change logs , hey MS if want us to install ur updates just WE WANT TO KNOW WHAT IS UPDATE ALL ABOUT

I don't care much about Change Logs, anything worth knowing about will be listed. But would be nice if they just confirmed with a simple "Just bug fixes." Comment

What is this about it is abouthk full version of windows10

Outlook mail and and translator also updated. Enjoying all the updates.

When ot will ne launched the oficial wp10 for Microsoft 640XL?