Microsoft says goodbye to the Lumia Offers app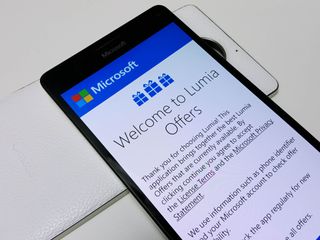 Microsoft is setting the sun on its Lumia Offers app for Windows 10 Mobile, according to a message given inside the app following its latest update. According to the app, Microsoft has opted to retire Lumia Offers to integrate its promotions in the Windows Store.
From Microsoft:
The move was originally spotted by Italian blog Aggiornamenti Lumia, and we've confirmed it in on our own devices as well. It's worth noting as well that searching for Lumia Offers within the Store app no longer returns any results. You can still use a direct link (opens in new tab) to get to the Store listing, but the app is no longer available for download.
For those unfamiliar, the Lumia Offers app was previously Microsoft's avenue for offering exclusive promotions to those who purchased Lumia phones. With the app's retirement, it looks like Microsoft has opted to simply move to less-exclusive offers direct from the Windows Store — something that makes sense given the current state of the Lumia brand.
Windows Central Newsletter
Get the best of Windows Central in in your inbox, every day!
Dan Thorp-Lancaster is the former Editor-in-Chief of Windows Central. He began working with Windows Central, Android Central, and iMore as a news writer in 2014 and is obsessed with tech of all sorts. You can follow Dan on Twitter @DthorpL and Instagram @heyitsdtl.
When will we be able to see Surface offers?

Next up: Microsoft says goodbye to Windows Phone.

windows phone? according wiki: https://en.wikipedia.org/wiki/Windows_Phone windows phone is mobile version up to 8.1. we are using windows 10 mobile and that is part of windows 10 family, will never to discontined.

Weren't you told to never cite Wikipedia as a reference? =P

Smarter than using random WC comments as a reference.

Here is what is ironic. I, myself is a huge Microsoft fan, got my family, and a few relatives to use Windows Phones/Windows Mobile. I was an avid fan of the phone system. I am also a software developer that had a main focus of creating UWP apps. Now, let me get everyone out of the fantasy land that the Microsoft's mobile phone OS is flourishing. Microsoft is not a fan of Windows Phones (software, hardware). How can a company allow themselves to drop from already measly 3% to 0.6% market share? Isn't their goals is "mobile first, cloud first". Looks like they forgot the mobile part. Now, let's take a look at the "success" of Windows Phone/Mobile from a developer standpoint. If I am willing to spend months developing an application that can run on Windows Mobile, I obviously have an expectation that I can create money from selling an app, making it freemium or adding ads. Worst case scenario, I'd want to release it just to make a name for myself. With the amount of people using that mobile operating system, it would be a waste of time. I'm super disappointed in Microsoft, but I am also disappointed in users that spread misinformation that Windows Mobile is still flourishing, rather than raise a red flag and force Microsoft to start supporting their own mobile platform. Windows Mobile might not be discontinued, but it won't get any more popular unless Microsoft puts in a lot of work bringing it back to even at least 3% market share.

We have never spread misinformation of "Windows 10 Mobile flourishing". Please don't say that. We as fans are also genuinely FED UP.

I would agree, but some are blind fanboys and not simple fanboys like us.

How many betas have there been? And it's still in pretty poor shape with random lock ups, restarts, crashes.... For whatever reason, Windows 10 is excellent. Surface line is excellent. Windows 10m sucks hard.

That day has passed. Smart Alec Fail.

Now all trolls are writing stupid stuff they simply merged offers in the app store
This is an improvement
Better to have all functions and offers in one app than two apps!

lol. When they come out with the "Surface Phone" of course!

Got my Continuum, OneDrive 1TB promo with Office and $100 Microsoft gift card from this app. Will be missed.

I got absolutely nothing... :-(

Continuum's Display Dock, OneDrive's 1TB promo was for the general public. Anyone could get it if they bought a L950/XL and applied for dock.
OneDrive storage was for new buyers in many regions.

2x£50 referral fees (for buying second hand Lumia 950's for under £200 each).
Cashed those in for some MS Wireless Display Adapters.
Also got an Office 365 yearly code...though I haven't used it and have no need for it.
Also for various other offers back in the day.
Sad to see it go - but then again, Microsoft should just pull the shutter down on Windows Mobile. It is utterly irrelevant now.

This app was a joke from the start. I've only seen two offers for my device last year, one which was the dock, and other office. After that the app decided to have an error connecting and never seen any Lumia "Offers" again. I'd thought that MS will reward their small lineup of windows phone users with a reward once every few months... But nope. They lost interest in updating the app, so they got rid of it.
Big thanks MS

Yeah, it would have been nice to have more updates or deals. Of course this app was probably only meant for bundle deals with the phone so it served its purpose.

So they gave you a $100 dock and a $70 O365 plan but it wasn't worth it...

The guy never said that it wasn't worth it.

Yes, now i said it... It wasn't worth it. Dock was a part of a bundle. I expected to get this dock with my phone... And office.... Ugh office.. For one year for one user. Gee thanks, I already have a $99 5 user office. Completely useless.

Good for you - not everyone has an office 365 subscription though, so maybe its useful to some - like me, who was really glad to get it.

Yes you were glad to get it.... Since your subscription probably expired by now.
How about they just give 50% off from ms store, or an actual redeemable gift card.

They didn't HAVE to give us crap, and usually wouldn't have. Personally I can't believe we are still getting free games every month on XBL. I've learned to not b*tch about free stuff and just appreciate it, even if I can't personally use it. Besides, you could have sold the code (if it was a code, i cant remember) on eBay.

Nope, still using it. Haven't had to pay a penny. More useful than anything on the store - what's there to moan about? Jeez, they gave it out for free, appreciate the gesture at the very least.

I've seen 4: The free dock, free Office 365 sub, $50 store credit for you & a friend if they buy a 950/XL, and Expedia company (can't remember what the offer was). I personally redeemed the first 2 and tried to redeem the store credit but wasn't able to as it wouldn't show in my friend's app store.

You get an offer when you buy a new phone, not once in a while.

Then the app shouldn't exist if that's technically a mfr type rebate

I wonder what this bodes for the other Lumia branded apps still in the store like Lumia Creative Studio (beta)...?

I'm guessing all Lumia related apps are EOL. Features are being integrated in current native apps or are just scrapped all together.

That guess might be true for all mobile only service microsft has in the store currently

Microsoft says goodbye to everything.... Posted via the Windows Central App for Android

you say goodbye to everything....

. Posted via the Windows Central App for Android

I was expecting this, the app hasn't actually done anything for months here.

It has not worked as the backend was shut down for months

they said good bye to Lumia phones and now what to do with these kind of apps ?

So what did they purchase from Nokia, considering Nokia are making phones again.

They purchased from Nokia a 3% market share, and promptly squandered it down to less than 1% Plus patents etc.

Microsoft never bought the patents from nokia, nokia just licencing the patents to Microsoft. Microsoft just bought the device part of nokia.

I hope that besides their forthcoming androids they will at least produce some windows phones.

I hope not! Nokia should not get involved again with anything MS related! especially now with Nadella and his mediocre OS

Ballmer bought Nokia and they had to write off the entire $7 billion because it was a total loss.

Microsoft never bought nokia... Microsoft bought only the device business of nokia. They didn't even get patents. They got patents from nokia for license only. Nokia still keep their name and keep their patents. Nokia is a network company nowadays like ericson company

Nah they wont, unless microsoft can get more market share from os business then there might be a chance in far future

Nokia made an inspired decision when they escaped this burning platform. I'm looking forward to what they bring to Android.

this newly releasing Nokia phone with android isnt actually main company of Nokia... Nokia licensing the name Nokia to HMD company to make Nokia brand named phones for 10 years... HMD will be designing it and all that but Chinese company is the place where it will be made the same like Apple phones are made at the moment (dont remember the company name tho)

To be fair, it doesn't make sense to have Lumia (anything) if you aren't going to sell Lumia devices. This should shock no one. They've already cleansed Lumia branding from social media.

This app has been broken for at least 2 months anyway. The security cert had expired and it just threw an error if I tried to use it.

Now only for Enterprise users...

Destroy Brand Nokia Lumia. No more lumia, but maybe in future, Nokia should take name "Lumia" but build a lumia version Android.

No they shouldn't, lumia was a name for Microsoft to buy later. Nokia knew from the day that they will sell devices to Microsoft so they had to make a name for Microsoft to buy it

There won't be any more 'Lumia' phones so nothing to surprise that the app is going away...

lol as if we are supposed to be surprised. I have seen this movie before... and i know the end. Those left behind still believing in this mobile platform are nothing but repeated case of blindman leading another blindman...lol

How do you give the middle finger to your mobile user base who has been there from day one without making it obvious?
1. Spin your mobile platform by claiming your focus is only on enterprise
2. Quietly start closing/removing apps
3. Buy a good name branding i.e Lumia from another mobile platform and then ruin it
4. Indirectly distance yourself from your own mobile platform
5. Pour more efforts into mobile app development for other competing mobile platforms
6. Fake your own death by way of mobile lol

Exactly! Using android because MS itself not supporting us..

I think you've got it. Now... for those of us who still like 8.1... I think it's a strong platform. But 10 on mobile? No way.

Yep, 8.1 was so fast and stable. 10 is nothing but a bad joke, a mediocre attempt from MS.

Microsoft has already bid Lumia adieu so it makes sense they'd get rid of something like Lumia Offers app. #cantmakephones

Microsoft might as well not bother with mobile and go straight to digital contact lenses or whatever is next.

I find it laughable that they think there will be a 'next. Look how persistent desktop PC's have been. Yet they aren't nearly as personal or as multi functional as a phone. Desktop will die before phone does...and bots will be as irrelevant tomorrow as they are today. Microsoft is v.poorly placed for the future.

OMG, I bought Lumia 950 XL last week, checking Lumia Offers each day and yesterday it was removed... Very nice, thank you Microsoft!

Bahahaha. That die make me laugh :) But, you've only got yourself to blame. Lumia is dead...and W10M is on life support.

This app did nothing for me, I missed out in the free dock offer as I only got a 950 at launch and the office 365 offer was for personal and I'm a subscriber on home. Good riddens to it

You could still sell the O365 licence code.
It's what I'll do if I can ever be bothered.

Goodbye back to MS. Never used that app.

Bye. The best is just coming. Long live W10 mobile!
Windows Central Newsletter
Thank you for signing up to Windows Central. You will receive a verification email shortly.
There was a problem. Please refresh the page and try again.