Microsoft selects black and white as the theme for latest Lumia 735 promotion (UK only)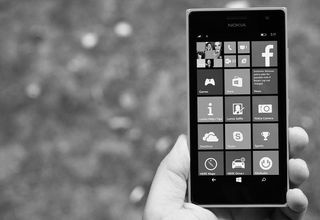 After running the Lumia 735 'Beautiful Baby' promotion a few weeks' ago, Microsoft UK is giving away some more Lumia 735 devices, this time with the #735style competition.
Here's what you need to do:
After you shoot a photo, all that's required is to share it on Twitter with the hashtag #735style. The promotion is valid until midnight Monday 2nd February 2015, so make sure you get your entry in before the deadline. For all the legalese behind the promotion, head to the source link below.
Source: Lumia Conversations UK
Windows Central Newsletter
Get the best of Windows Central in in your inbox, every day!
Harish Jonnalagadda is a Senior Editor overseeing Asia for Android Central, Windows Central's sister site. When not reviewing phones, he's testing PC hardware, including video cards, motherboards, gaming accessories, and keyboards.
wish we had a black and white theme without choosing ease of access cause email and the web become slight difficult to use.. but I do love the way the black and white looks

Agreed - would love to see the high contrast theme throughout and it could revert to normal in the messaging apps, or black background and white text for everything... That'd look awesome! Maybe in windows 10?

Also, it would be cool, if in the White theme the tile icons were black

Well the Ease of Access method was the only way you could do that in the past. Now it's just a matter of setting black tiles on the light background. Looks particuarly good with a white case and the black buttons older handsets had, like a Stormtrooper Phone.

Microsoft should release this themes in there new update since no new themes have been released.

This is the theme or subject matter/topic of the contest, not a color theme in the OS.

Telling. You've confused the theme of the ad campaign with the themes on the phone.

Do you want one bowl or two of that for breakfast?

That's some gross shit, and I thought I was as foul as Himmler.... Maybe I'm confused with racist.

Entered. Nice little competition.

Would like to enter but not on Twitter. Love this phones design too.

Not cool.... Always another country that isn't mine....

Or, instead of complaining, you could be happy for people who can enter?

I would be happy if I had at least one of those promotions -.-

Alwasys UK only? Ahhhh I really wanted to participate in it :)

Winter is coming ..ned stark, says.

Is that what your mother used as a baby bottle for you? Perhaps, one of her bloody, post abortion bottles. Presumably, the holes were clogged with cum.

He died in book one of a song of ice and fire named game of thrones

I wish a windows phone with e- ink display... :P at least a windows powered smart watch...

Waiting to buy in India.. Wen its available??

Seriously, the return of "when in India" ?

You do realize that that's not actually a new device, right? It's an image of the standard Lumia 735 with a grayscale filter that removed the color from it.

I know abt Lumia 735 still not Available in India. Oly 730 is available

When in India?
© India lol

Can anyone participate ? Or only the users from UK ?

Black and white would get so boring so quickly, IMO.

But, would be nice to have the option. I would like to see this added to theme colours.

But when it'll launch India..
I'm eagerly waiting to buy it..

How in lumia 730 dual sim?
Windows Central Newsletter
Thank you for signing up to Windows Central. You will receive a verification email shortly.
There was a problem. Please refresh the page and try again.