Microsoft is sending free EA Access codes to some Xbox One owners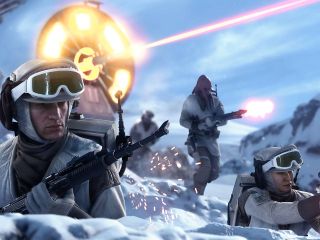 If you own a Xbox One, you may be getting a special message from Microsoft soon. The company is very quietly sending some owners of the console free codes for one month of EA Access, which are normally worth $4.99.
EA Access is Electronic Arts' service that offers subscribers access to over 10 older EA games for free. It also offers users a chance to play free trials of upcoming EA games. As it happens, these codes are being sent to Xbox One owners just a few days before EA Access will start a 10-hour free trial for the upcoming multiplayer shooter Star Wars: Battlefront on Thursday, November 12.
The trial will offer players a way to play the full game for a limited time, and their progress and saves can be carried over when Star Wars: Battlefront officially launches on November 17.
Source: Reddit; Via: VG247.com
Windows Central Newsletter
Get the best of Windows Central in your inbox, every day!
Subway surfers updated.. Critical Performance Fix.. What the hell is that?? :/

Wouldn't it be a fix for performance improvements like ut says

Take your off-topic junk to the forums.

I got code.. But 1 month subscription only.

Exactly what it says in the post.

They need to send me one. I've already pre installed Battlefront. My dedication to the force is that deep!

Need?
The self entitlement is strong with this one! :P

This one trolls much he does!

Use the code joker Posted via the Windows Central App for Android only because the screen on my 1520 broke.

Don't forget, with EA access you also get 10% off purchases of EA games and DLC.


I have had EA Access for awhile now, I really like it. Getting to play new games before release is awesome. I have Dragon Age Inquisition on my 360 and it was nice to be able to play the game again on the One with EA Access. No need to buy the game again so I was able to get the DLCs and play them.

I also got that message & the code for playing star wars free for one month.

You will get to play star wars free for 10 hours. Then have access to the rest of the vault for a month.

Who would want to pay $5 for a game trial though?

What are you talking about? You pay $5 for the other 10 games. The trail is just an extra cuz the game is coming out on like the 18th.

If you get this code do you still have to enter your credit card? I've heard it's a pain to cancel the monthly subscription.

You just hit cancel, hardly a pain

heyyy i need code for a sport game im trying to playyyyy

I need a code too how will I get code? Through email?

May I have an EA Access code to play NBA Live 16 free trial☺

please can i have one i tryed it and downloaded titanfall but wont let me play

all ready starwars battlefront