Cortana will soon be speaking a little español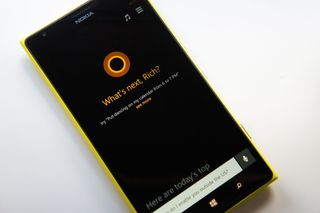 We reported recently that Microsoft was testing Spanish language support for Cortana for a limited number of users. Well, it looks as if support for the language will soon be official, as Microsoft's Latin America News Center recently posted an article that seems to confirm that a Spanish speaking Cortana will be coming soon.
There is still no official word on when users can expect Spanish language support to fully roll out, but it shouldn't be too much longer now. You can check out the article at the source link below along with a video comparing Cortana to Siri.
Are you psyched for further language support to roll out to Cortana? Let us know in the comments.
Source: Microsoft (opens in new tab); via: WindowsPhoneApps.es
[UPDATE] - Updated to correct references to Cortana speaking Spanish in the video.
Dan Thorp-Lancaster is the Editor in Chief for Windows Central. He began working with Windows Central as a news writer in 2014 and is obsessed with tech of all sorts. You can follow Dan on Twitter @DthorpL and Instagram @heyitsdtl. Got a hot tip? Send it to daniel.thorp-lancaster@futurenet.com.
This is GREAT! Cortana's continuos progress with consistently expanding abilities is great fo the platform. I think CORTANA is probably THE most stand out feature, in regards to ability to demo, her distinctiveness from the rival assistants and most of all her recognizable roots as part of ONE OF THE MOST POPULAR GAME FRANCHISES EVER. Halo: The MASTER CHIEF COLLECTION anyone!?! Then of course HALO 5. Killing off her character was either a mistake or great story tellng toward the building toward a deeper story. WHAT IF CORTANA DID'T DIE! WHAT IF SHE SURVIVED? Cortana Lives: Requiem This is the Story they Didn't Tell US http://cortanalives.wordpress.com/2014/11/05/cortanas-journal-discover-how-she-survived/

Thanks for the spoiler. At least Elvis lives.

It's great that work has already started on Spanish, as it will take a lot of time to get it right, specially with the "tú/vos" difference between Spain and Latin America. Siri just got it right in recent updates, and a lot of years have already gone by

-1520
You are wrong, Cortana can talk American English and UK English, Korean too, in only a couple of months. Don't compare Siri (Apple) to Cortana (Microsoft) please. Being so negative is not good.

I'm not being negative, spanish is not just a matter of accents or slang, basically the whole language changes. However, Microsoft has always been a bit more global, so it wouldn't surprise me if they work really fast

They will, do you remember kinect? They have a lot of info about voices.

Exactly! Is not the same a pendejo than cara dura

No offense but... WRONG! They haven't fixed the issues with the Spanish keyboard. Censoring and prediction on spanish keyboard are the darkness on my days with Windows Phone, I love the OS but not the keyboard prediction and censoring, the prediction is misserable sometimes(AutocoWrecks comes to my mind), I can't write: tonto, estupido, imbecil, idiota and several other common use words that are not harsh words on several countries, just because some people don't like this words on some particular region(read Mexico). I used these words to describe situations, not a person's intelligence... and they are being censored!(not written at all) They should guide themselves on the Spanish language through the Real Academia de la Lengua Española (RAE), because these people know what a word means and where is a cursing word; just one example: "Torta" (a kind of sandwich) is a food in every country in Latin America, but in Mexico and a few others it means "vulva" too. While "Concha" (seashell) is used in some other countries with that same meaning: "vulva". Yes, the spanish is complicated as any other language with several dialects(don't get me started with the chinese) Microsoft hasn't being global with Spanish, they still think Latin American Spanish comes from Mexico. Spanish it's a collection of several dialects, and all of then have different uses for a single word, even when there is a common meaning among them. Just try to write personally to a friend without being co-wreck-ted... The verbs from being used in a personal(friendly) way are changed to a formal way; the formal way is common among friends (as far as I've seen) in Colombia, but in Argentina, Mexico and most of Central America the personal way is more used among friends. Just my grain of T.N.T. to the discussion... Just in case, if it turns out that Cortana speaks "mexican" only, I will change my default language to Spain Spanish(I can tolerate more that accent) to avoid hearing: orale, wey, and several offensive terms that don't belong to Latin American countries, or better yet I will change it to U.S. English, so I will hear the real Cortana... I'll wait and see/hear.

Ahora yo me pregunto: me van a decir que Microsoft no tiene la posibilidad de establecer equipos de trabajo en los diferentes paises o regiones, como para poder hacer una personalización mas puntual de cada "dialecto" (que en realidad no son tales)???

Wrong with "Torta", it doesn't mean "Vulva" HERE in México. One word came to my mind right now about your comment: "Ardido".

Actually torta it's not referred to "vulva" in Mexico, but instead it may be referred to the "butt", maybe you are just full of prejudices, relax and stop hating, that's not good for anybody. ;)

I should note that "vos" is not used at all in many (if not most) Latin American countries. It is used mostly in Argentina and Uruguay, and maybe some parts in the east of Bolivia.

Vosotros/ustedes is arguably a better differentiator between Spain and Latin America.

It is, but I'm starting to hear less spanish use "vosotros" nowadays

Give us in italian! Even if it's full of bug, whe want cortana!!

Italian ? Nope, Portuguese is first. The only country which Italian is the main language is Italy, so other languages are first.

Why not both? BTW here in Italy WP is the 2nd OS by market share

Quem gala assim nao é gago!!!! Lol

Seria muito bom hahaha, Mas a Microsoft poderia lançar logo em português, já que o Windows 10 Technical Preview foi lançado primeiro em Português.. Esperando por essa notícia no Windows Central logo logo...

Just the other day a news on Windows Central stated that Msft already released Italian to a limited group of users for testing as long is doing today with spanish. In Italy we pushed WP above iOS, that's all that count. LOL

That will take even more time than spanish o.O

Wait, but it is Traditional Spanish from Spain or Latin America Spanish? D:

Or any other Microsoft-listed variety? If it was so troublesome Univision wouldn't exist.

Who cares, it is the beginning.

Latin american spanish?. Usually the mexican spanish is used as standard spanish, and in latin america there are a lot of variations of spanish, in fact is much more easy to understand among the different variations of the english than spanish's.

taking into account MS records, Spanish speaking cortana will be US-only feature.

Yes, it will probably be US Spanish, which is basically mexican

Yeees! If Cortana is comming to Latin America.. Why not release a portuguese version? Brazil has a big marketshare of Windows Phone from Latin America.

And where's the video? Please.

And Swedish! Vore ju kämpeflott ju!

Well, either I can understand Spanish, or Cortana is speaking and hearing English.

Yeah, it seems they put the wrong video up.

Sorry! Article is fixed. There was a slight mixup with the tip.

I don't care anymore. It takes too long.

I agree, I really don't care about it anymore. Microsoft take far to long getting the product out there. Was told Cortana would be available "in weeks not months" in August. No wonder WP is losing the small market share it had.

I don't care if you don't care.

Too long? Cortana was released months ago.

I speak spanish, and I'm afraid once Cortana starts talking spanish it's gonna happen the same that happened when Siri spoke spanish: instead of a fluid, creative, joyful voice, we get a robotic, lame and boring imitation of the Google Translator voice. Hopefully, Microsoft will get it better, but I'm not optimistic.

That's great and all, but when are they going to enable Cortana for Ireland? Its not far cry from Britain, or even America and its, you know, where Microsoft have their EU headquarters..

because of best privacy and tax regulations in Europe -.-

I grant you that, but the highly educated workforce and English speaking natives certainly don't hurt either

I thought government stopped "Double Irish". Are they still there?

The government is abolishing it very soon, they made that clear in the last budget. Now the rest of the world has got what it wants :/

Give me a Polish! Czekam na Polski !

So if this is all backend... Can I speak either Spanish or English? It doesn't know the difference between La Fitness and LA Fitness now anyway...
Also built in translator. Cortana3PO.

You quiero. You quiero para mi class de español.

"You quiero".....XD XD XD XD

Por fin! Ojala Microsoft haga un buen trabajo y libere pronto una alpha o beta

As long as they release it, I don't care! :)

Romanian and make it quick!

I'm concerned about people getting stuck to the conversations with IA rather than other people. Who'd need parental advice before going on a date if your phone says you're a knockout LOL.

They should give us Dutch and Afrikaans :D

I'd rather have Afrikaans first (not that my Afrikaans is any good).

In the video Cortana only speaks English. Siri is the one talking Spanish.

I just hear it 4 times and couldn't find when Cortana speaks in spanish too

The video is only a comparative between Cortana and Siri, the text is the matter thing.

The article was changed without an "Update" warning.

I could leave with Jen speaking english globally...

Excelente ya casi crossing fingers

Why aren't they just taking 1 translater and 1 person who does the voice. Record it, send it, check it, use it. Done. I mean, Microsoft has people all around the world!

That's not how it works at all. You need really complex arguments and structural mapping of languages along with so many other things. The level they achieved in language processing is the result of research that was going on for more than 30 years. You only think about translation which is the easiest part of all.

A simple translation yes but doing right in context even adapt because things when are translated lacks sense and need to put order to the translation which imply adapt to get in context the whole

Excelente. That's Great. But i think the Big step will be launch all the language as possible the same time even that my main language is Spanish I agree with the most of the WP users that Windows needs to be more aggressive and fluid in supporting more languages

No, only when she is singing.

When Cortana comes to my mind I always remember the movie by Will Smith called: I robot or terminator. Who knows if Cortana eventually wants to get rid of humanity lol.

Oh Lord! She's Great! Her Spanish is Awesome! LET HER SPEAK IN UKRAINIAN! PLEASE!)))))

Let her speak Russian will be more logical, I think. And it will take a lot of time. Don't expect Cortana soon.

Send full Cortana to the great white north that speaks English. As for French, well, send that too when it's ready. But I only care about the first one.

Now that there'll be more than one language available, what about working in a method to switch language with a spoken command, like 'Hey Cortana' vs. 'Oye Cortana' to flip between English and Español? Gimme at least a way to switch among two pre-defined languages...

I hope still recognize the difference between Spanish Spain, Mexico, Argentina, Chile and those Caribbean countries just are different those at least the jokes and speech speed

While everyone is asking for more languages; I'm not naive enough to request a Welsh-speaking Cortana, but if the UK English Cortana could pronounce Welsh town/city names, that would be brilliant.

It's essential to see this here in the states considering Español is a native tongue. I would welcome more languages in the foreseeable future integrated with Cortana.

But in united states the Spanish spoken is the Mexican one so with the united states region Spanish set up for the USA would be fine for the north American Spanish needs, I wish be able of keep an Spanish language set up and if want write to my friends in theUSA in English just a commands for switch languages of Cortana , is many people that is bilingual . And not only write in their native language texts

Incorrect Amigo.. You have Dominican, Cuban, Columbian, Ecuadorian , Salvadorian the list goes on..

Hum, I can't hear anything in spanish though.

The article was changed without an "Update" warning. Thanks writer.

Sorry about that, our sites were having some issues when I went to throw in the update text. It's been fixed now.

Thanks Dan. Love your attitude.

Hey, what about Russian?!

it will be great for my dad :P

Excelente! I'm even more eager to get my mom a WP now. She will be able to talk to Cortana in spanish :)

Further language support is the ONLY thing that counts for Cortana; getting the service out to more users should take precedence over any "features" like rolling dice and other relatively useless stuff...

Cortana en Español! Será un mega Hit!

Excelent News, This and Microsoft Band for this next holiday, a wonderful gift.... Muchas gracias Mr Microsoft.

Que bueno que cortana va a hablar español :)

I nominate Sofia Vergara for the voice acting duties, and (why not) for the hologram acting as well, whenever Windows phone supports it.

Agreed. Funny thing, I was telling my manager the same thing just two days ago.

Cortana! SPEAK TO VERIZON!

I'm waiting for the DUTCH version

I'd say "¡¡VIVA CORTANA!!"

Where's Brazilian Portuguese?

I hope it Will speak swedish someday... We in smaler country's gets nothing from MS:/

I heard that it will not come Portuguese to Cortana in GDR2.

This is the best news I have got in the week! :D

Awesome! we can't wait anymore! Cortana en español, un gran atractivo mas :D!

Iam not able to install cortana alpha version in India.i have tried all the things any one help please.

Esto es demasiado bueno, al fin :D

Why can't they just release an international version? My region is set to USA. And I'm using cortana in Singapore, London, and Italy with no issue. It's just a hassle to have to change region when i have to make a purchase in the app store.

¡¡¡Por fin!!! Ya era hora.

French will be the next language for Cortana, already in alpha stage. More than a half of Africa and middle east , part of Canada and France of course.

Not available in India yet !!!

Another India comment, another nickel.

I am not happy with tieing cortana to regions denying all other english speaking countries a chance to use her unless one changes his/her region. does this mean that MS will make Cortana for every courntry in the world? whereby one doesn't have to worry about changing the region as Cortana would be avaiable whatever region you choose.

Does this mean that GDR2 will be released soon?

poco poco espanol..Unfortunately thats all i remember from my spanaish classes!!

When it is going to speak Indian English and other Indian languages?

I need portuguese support...

Whe will it speak indian,we didn't ask for local India languages..atleast provide Cortana in English in india

... Talk English and come to Sweden!.. My god... will never get her :-(

And Brazilian portuguese??

Give it to the Philippines already, English is what we use here. Unless they want Cortana to speak in Tagalog. Windows Central App for Android- Lenovo IdeaTab A3000

I'm from indonesia..PLEASE!!!! CORTANA REGION INDONESIA

Finally, I have tested cortana in Ensligh and it is really good, please make it speak spanish sooner
Windows Central Newsletter
Get the best of Windows Central in in your inbox, every day!
Thank you for signing up to Windows Central. You will receive a verification email shortly.
There was a problem. Please refresh the page and try again.