Microsoft is shutting down Docs.com in December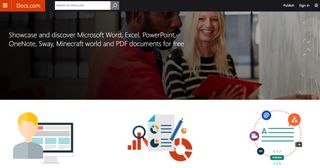 Microsoft has started alerting Docs.com users that the service will shut down on December 15. In a note posted online (opens in new tab), the company cites Docs.com's overlap with other services, such as SlideShare and OneDrive, and a desire to streamline its offerings as the reason for the service's closure.
From Microsoft:
As of June 9, creating new Docs.com accounts is no longer supported. Current users will be able to keep publishing and editing content through August 1. As of December 15, "the Docs.com site and all of its content will be officially discontinued."
Microsoft is making it fairly easy to back up any content you might have stored at Docs.com. According to the instructions (opens in new tab), you can sign into the service and enable automatic backup to OneDrive from your Docs.com profile. After that's done, all of your content on Docs.com will change to read-only mode and links to files will redirect to their locations on OneDrive. Finally, those redirected links will stop working after May 15, 2018.
Thanks for the tip, Matthew P.!
Windows Central Newsletter
Get the best of Windows Central in your inbox, every day!
Dan Thorp-Lancaster is the former Editor-in-Chief of Windows Central. He began working with Windows Central, Android Central, and iMore as a news writer in 2014 and is obsessed with tech of all sorts. You can follow Dan on Twitter @DthorpL and Instagram @heyitsdtl.
Man, I didn't even know Docs.com existed. At first I thought this was related to Office.com, which seems like a bad idea to shut office.com down.

i didn't know it even existed..

Weird decision to shutdown something on such a beautiful domain. Would have expected them to integrate slideshare into the docs.com domain.

I'd say it's perfectly possible (likely?) they'll hang on to the domain and repurpose it later. The service itself is probably superfluous. I got the e-mail and couldn't recall in connection with which product I ended up using it...

Fare thee well, Docs.com. We hardly knew ye!

Stupid decision MSFT! As someone said above me... Beautiful domain.. And excellent service. I use it weekly!

Guess they want to consolidate it with OneDrive

I hope with better features... Or nothin less

Microsoft will soon shutdown itself.

Yeah cause we all know MS financial situation is dire... I have more faith in MS financial health for next few decades than for apple that relies purely on brand equity and market shares on very few markets that might reach pick maturity soon... MS only true competitor in the ong run is google... And even them have monetizing system that is probably less futur proof than MS... But with alphabet they at least have diversification...
But yeah MS is not going anywhere... My grand children will still use one way or the other their products....

You know, in this business you can go high quickly and you can drop down and die very quickly.
Don't be so sure.
Microsoft can lose Windows supremacy in a few months.
Nothing is eternal.

It might rise again with new name 😜

Is DOCs.COM is officeonline ?

I found it a good way to publish my Sways. Have to check out what's next best. Know about the existence of SlideShare but I am not familiar with it.

I wish there was a slideshare app for mobile

Nooo this was how I was sharing my short stories :O

I share your pain. I love docs.com. Very sorry to see it go.☹

I've been on LinkedIn for a number of years. Never heard of SlideShare. Probably my own fault; didn't pay attention to it when it was mentioned on LinkedIn.

I only tried it out a while ago. It seemed nice as I recall,but I'm sure most people never heard of it. Microsoft seems in a rut. Throw something out there and see if it sticks, don't advertise it much, then drop it because no one is using it. It used to be when Microsoft put something out there that was good, they would stick with it version after version tweaking it till they got it right. Sad really

Docs.com seems easier to advertise than "Go to OneDrive.com and open the Menu in the top left to launch Word Online via office.live.com" but whatever right? I bet Google would do anything to snatch up that domain, they would understand the mindshare value.