Microsoft site points to new Bing Maps experience, upcoming preview
It looks like Microsoft may be gearing to release a new set of Bing Maps apps in preview.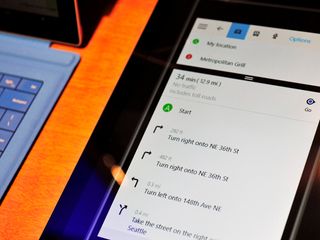 First spotted by Neowin, a new Microsoft website popped up today that details an upcoming Bing Maps Preview. There isn't much to glean from the site right now, but it does confirm that whatever Microsoft has up its sleeve will work across all major browsers on PC or tablet, with the exception of Safari, which is only supported on Mac.
Outside of the above information, it isn't entirely clear what to expect out of this preview, although it could be related to Bing Maps Preview that is currently available for Windows 8.1. There's also the possibility that we could see some sort of Cortana integration with Bing Maps since it's already being heavily integrated in Microsoft's portfolio.
In any event, we won't know much more until Microsoft pushes whatever it is working on live. If you'd like to check the site out for yourself, be sure to hit up the source link below. What would you guys like to see out of a new Bing Maps app?
Source: Bing Maps Preview; Via: Neowin
Windows Central Newsletter
Get the best of Windows Central in your inbox, every day!
Dan Thorp-Lancaster is the former Editor-in-Chief of Windows Central. He began working with Windows Central, Android Central, and iMore as a news writer in 2014 and is obsessed with tech of all sorts. You can follow Dan on Twitter @DthorpL and Instagram @heyitsdtl.
What about for phones? Or when I select address links it will still direct me to use Here Maps? I prefer BiNg Maps.

Mine directs me to Bing Maps when I click links and I wish it would default to Here Maps. Bing Maps sometimes gives me run around directions.

There is an option. Go to regular settings ---> maps ----> set default voice nav app

In the case of directions, there should be a button in Maps that opens HERE if you have that selected in your settings...

It always redirects me to Bing Maps.

Phones still use Bing maps... Search with Cortana, and she uses Bing maps...
......
She.... I'm loosing it.

The moment a coconut falls on your head

I wonder if Here maps in our phones will be replaced by Bing maps?

It's not a matter of replaced because Here maps is not in place of Bing maps as it is.... Here are just apps in the store.... Even if devices come pre loaded with them.... Not sure if they do..
And, I doubt if MS would have those removed..
......
Bing maps are still the default.....

Mines always ask for Here Maps never Bing.

Here maps is useless in Japan. I hope Bing maps replaces all.

Agree. Here is completely useless in Japan but Bing is great over there.

Both suck in Japan, actually.

Here maps are not updating their stuff, so I would like Bing map product to replace each Here map program.

I meant there apps are not being updated. Here maps on Android has features that windows phone doesn't have and it is only a few months old. We need Microsoft to make a navigation app that has the features of Google maps because Here drive will never get new features because they have stopped developing it.

You want app without proper offline support?

No offline maps is built into the os. I want the other features like live traffic rerouting and way point additions. Seeing alternative routes on the map and picking which on or dragging the map route via a new place.

Exactly, Bing maps on PC is good in Japan and has transit info. Bing and here maps on WP doesn't. Actual Bing maps needs to replace here.

I hope we can edit it as a community like in google map maker.

I cant edit the road in front of our house in Australia, even I have an account

Not interested in helping here. Rather help Bing.

Just wish Bing maps could be downloaded for offline use, especially the satellite imagery.

2 words: Nokia HERE. Bing Maps is powered by them anyway, so why not go straight to the source? ;)

Microsoft Here Maps.... MHM. You likie❓❓

DJCBS would rather it be called MHM... Trust me.

I download the maps for Bing maps. Go to settings. Swipe over to applications. Then select "maps" and you should see the "download maps" button.

HERE and Bing use the same database, so if you download HERE maps, they work with Bing maps too.

Hopefully they drastically improve the POI info as its really poor

"For now, the new Bing Maps Preview works on Internet Explorer 10 and 11, Mozilla Firefox, Google Chrome using a PC or tablet, and Safari using a Mac""""
......
So, for now (Until Spartan) Bing maps will work better on other platforms....

I believe WP also has IE11, so that's not true.

I don't think you get it....
Didn't we just finish talking about this❓ Lol.

What makes you think that it works better on other platforms? There's no indication of that.

Dude..... Stop acting so,, toolish.

No, just having a constructive discussion on why you believe that. I moderate the forums so I can't violate the rules.

Ok, if you insist... Seeing that IE is the worst performing browser of the most popular ones,,, it's obvious that MS's own application will work worst with its own browser.... That probably doesn't surprise anyone.
.........
It doesn't matter though, because my comment contained a slight amount of facetiousness, so it's to be taken with a grain of salt anyway... You're questioning me as if I've actually used it, like I literally know... That's why I'm like "chill, dude".. It's just a comment...
Nevertheless, it still could hold some water..
........
Now, why would you think it would run better, or just as good, on IE❓ If you even think that...

Not really. IE runs great on mine. I stopped using the others [Firefox, Opera and Chrome] - too many issues and performance problems.

For almost everything I do, I prefer IE. The only reason I use Chrome is because I have to use Google Drive / Documents for my job rather extensively and, surprise!, Google's services run best in Google Chrome. My university's online materials also work better with Chrome but, other than that, I tend to use IE as my daily driver. Chrome has been giving me all sorts of issues with Shockwave Flash and Java lately.

How do you like Google Docs❓

Google what?? Ahhh you mean the sh!tty version of office online that google maintains. But then, why would I care about how ie renders that crappy copycat.

You mean that 1990s era designed web based attempt at Office :) the one whose recent feature additions includes table features in the docs program that Word has had for like 20 years...

Seriously? Worst performing? That's why after a recent upgrade to the environment which now includes IE11 at my work, the bulk of the users are moving back to IE from Firefox because they now find it just easier, and better to use than Firefox.

Yep! Bing Maps work better on my Tizen phone

Hey! What kind of phone is that❓

Oh... Lol. It's early here.

And btw tizen is a new phone OS launched by Samsung

I know that, silly willy.

I hate that the driving directions defects to toll roads, hopefully they added an option to change that. My only complaint with the current maps.

Yes hate that too. Options please..

Lately I am seeing myself using Bing map more than here map because Bing map seems to be more useful and accurate. Somehow, it is just more functional.

Bicycle routes and directions!

Are they ever going to re-release the 3D live maps that they used to have online. I always thought it was superior to Google earth, and they got rid of it.....

Well with lack of Here app updates. I would like drive functionality with way points.

Navigon does that and it gets map updates at least one every year. I have tried many navigation apps and I think it is the best. It uses Navteq maps. (A Nokia company).

I'd like to be able to look something up on the PC as I'm about to head out of the office(or wherever) and then press a button and bam now my phone is ready to give me directions.

They could do it with QR codes... And bring back the built in QR functionality with the search button...

I don't mind how it was done, just as long as it's quick :) (or I should maybe try asking Cortana?) I think though it'd be another feature which would bring W10 desktop and W10 phone together nicely.

Yet another US exclusive, well done Microsoft :-)

Of course it is US only. It's Bing. :D

Bring back local Scout(& not make it so damn hard for non-US users)

Has anyone else noticed fewer neighborhood names being shown on Bing Maps? The neighborhoods in my city stopped showing up after an update. I just checked another city and saw some places that are no longer being identified. Accuweather on WP uses the older Maps which allows you to make comparisons.

Hopefully it's turn by turn voice navigation for phones. That's the only thing that was missing. The maps were always accurate.

I hate the top buttons, move them to them bottom :[

Turn your phone upside down¿

I noticed that iOS and Android has all Bing products except Bing Maps. They do need a Bing Maps on competitor platforms as an alternative to Google/Apple Maps. (HERE is doing a pretty good job, but need a Microsoft Bing one).

Androidish UI again. What the hell man. And again those hamburgers.

Wait, there is already a Maps Preview app for Windows 8.1. I use it all the time. Has that one been abandoned?

Some cloud integration would be nice. Let us link our Here accounts, Google accounts etc so we can aggregate favourite places/pins.
That's far more likely to bring me to Bing maps.

That dreaded hamburger button.....

Hopefully this means a dumping of Here Maps in most regions. Maps on Windows Phone in Japan stink. It is Japan's fault, but the lack of choice makes it worse. Bing maps on my Windows 10 PC look fine. Please, oh please! Bring something usable to Phone.

They have like two map companies that produce accurate data. So they can either license those (like google and apple do), or go and map them themselves. Considering how that road network is constructed I don't think it's likely to happen any time soon (although it's what I'd prefer).

Here Maps uses Navteq data (Nokia acquired Navteq a long time ago). So yeah, instead of licensing map data they could crowd source.

Bing maps uses Navteq too. Research Navteq and you will find many many brand names use Navteq.

1. I would like to see the windows 8 bing satelite image maps in the new bing maps for windows 10. (currently in preview they are using what looks like the satelite images derived from Here maps. The satelite images from bing maps are much better, especially at max zoom-> more detail and better resolutions) 2. The current busroute function in windows 10 does not work. I would like to see it functioning. Perhaps a collaboration with here transit (hint!)? 3. I would like to be able to search geographical locations such as mountains, lakes and rivers. 4. I would like to plot a bicycle route. (In the Netherlands we have one of the worlds largest national bicycle path networks, yet these paths are still not plotted on bing maps. But not only that, it would generally be nice if I could plot a good and safe bicycle route in any country). 5. I would like offroad structures plotted such as mountain cabins 6. I would like electric charging stations (chademos, superchargers, general public electric chargers) and gas stations plotted. 7. I would like street and house number data as part of offline maps. 8. I would like a better integration of bing maps with third party navigation software (Searching in bing maps-> executing route in thrid party maps) 9. I would like to see offroad maps with more detailed terrain info for offline use and that can be plotted on for navigation route purposes (This needs priority)

They need to allow community contributions. Current top-down approach for Bing Maps is too passive.

Just plz windows 10 preview for phone 2.0 cuz so buggy on Lumia 830.

Interesting wonder if they will combine bing maps ("maps app" + here maps. You can only access local scout via "maps" not "here maps".
Also you can install Safari on Windows by the way :P. Used it to test cloudbases CRM clients at my previous work place.

Here Maps is own by the still separate Nokia. Microsoft didn't buy the Here Maps nor the subsidiary Navteq that does the mapping. Two different companies. Incidentally, BING uses maps from Navteq. Look it up.

The only good Maps app i have used on WP is Waze (which obviously will never see another update, thank you Google). Here is fine for directions but it doesnt let you look at the route after you have decided to take it. Like if you want a list of directions from point A to point B, you can only see them BEFORE you start navigation. That drives me nuts.

I appears that http://www.bing.com/maps/preview.aspx is an actual page... interesting.

Japan/Korea map data for phones, please.

Still baffles me that Nokia wasn't bought wholesale or at the very least Here maps should have been apart of the sale.

Nokia has their own plans for maps. Not for sale.

In the new Win10 Store app there is also a Maps app update which does not want to download.

I would definitely like to see Photosynths and other crowd sourced photos on Bing Maps.

Bing maps is awful in Brazil. Just like the Bing search.