Microsoft Store offering 10% + $100 off the Surface Pro 2 and Surface 2 LTE for education customers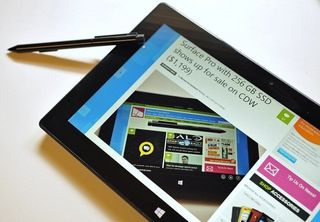 A combination of deals from the Microsoft Store could have you making off with a Surface Pro 2 at a great price, so long as you're a current student or teacher. Microsoft's education site already provides a solid 10 percent discount on most everything from the store, including the Surface Pro 2, but a current end of the school year promotion will shave an additional $100 off your purchase if you use a promo code.
After adding a Surface Pro 2 of any capacity to your cart, enter the promo code "GRADUATION" to receive an additional $100 off, knocking the 64GB model down to $709, 128GB to $799.10, 256GB to $1,069.10 and finally 512GB model to $1,519.10. Depending on your state you'll be paying sales tax on top of that, but the store is also offering free shipping on all orders. Interestingly the deal doesn't seem to be Surface 2 Pro specific, and is also working on some other laptops on the store.
If you're not looking to spend so much and think your needs will be served by a Surface 2 instead, the 10 percent educational discount drops the 32GB version to just $404.10 and 64GB to $494.10. Best of all, the Surface 2 LTE is eligible for the $100 discount like the Surface Pro 2 because it is over $599 retail price, dropping the final price to just $511.10 — down from $679, or almost 25 percent off — after the promo code is applied.
Although Microsoft doesn't make you jump through any official hoops — aside from simply selecting a school with no verification — to get into the education website and make a purchase, the fine print does indicate that it has the right to charge you the difference between the standard and education discount price if you're found to not actually be an active student or teacher. If you are in the position to take advantage, though, this is a pretty awesome deal.
Source: Microsoft Store (opens in new tab); Via: Neowin
I know even Godzilla prefers the USA!

im pretty sure this is not just US... i got mine a few months ago under the student deal from microsoft too!! Australia!

Nice! Just committed to my college a few weeks ago! I will definitely take advantage of this for my new laptop!!

Just finished student teaching, gearing up to apply for positions this fall. Too bad I'm broke!

Does flight school count?

That counts to me. Way more cool than any school I went to.

i dont think they actually valdiate, only need an outlook account to order.

Actually tried a few hours ago, i believe the 10% is gone. Only the $100 off is still active. At least when i tried. edit: nevermind it works

Does this discount apply to their student deals in Canada? I've been looking for an excuse to snag a Surface Pro 2, and this might be just what I needed! Edit: Dammit, went to the website to try it for myself - no bueno. Guess I'll have to keep waiting.

This is party wrong, you can get the extra $100 off IF you buy the surface 2 LTE (because its more than $599)

Great catch. We've updated the story to reflect this.

Sweet! Just wish I had the cash for a Surface Pro 2. That pen is AWESOME to use with FreshPaint for design work.

I wonder if it works for that new Sony VAIO laptop you guys just reviewed

they shoud do that earlier. surface+onenote is unbeatable for note taking

Does the 10% apply to the high end laptops? I'm eyeing that Dell XPS 15, but I don't see anything on the website about a 10% discount on "most everything".

The great move for professional computers

I'm waiting on the surface mini!

Yepp, Waiting for Surface mini with Active Stylus/ Pen.

Wish I had the cash to spend
Windows Central Newsletter
Thank you for signing up to Windows Central. You will receive a verification email shortly.
There was a problem. Please refresh the page and try again.