Surface 2 LTE – Quick impression and answering some questions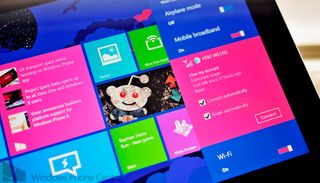 Earlier this week, Microsoft finally released the Surface 2 with LTE on board here in the US. Available at Best Buy and Microsoft Stores (both online and in-stores), the $679 device brings 4G LTE connectivity to you wherever, whenever.
I managed to pick one up and have been playing around with it for the last 72 hours. Seeing as a lot of people are curious about this device, including features or limitations, I figured I'd do a quick-n-dirty breakdown of the major aspects. Hopefully it will quench your thirst in case you are considering this device.
Build and Design
The Surface 2 LTE, which runs the RT version of Windows 8, is for all intents and purposes the same as the Surface 2. It only comes in the 64 GB version, which makes sense as the person buying this probably needs it for 'professional purposes'. The LTE version is technically heavier, though we're talking a couple of pennies at most. Translation? They weigh the same, you won't notice.
The one physical difference is the micro SIM card slot, found on the left side of the device. It's positioned well below the volume rocker and does not require a tool to open it. You simply push it in and it pops out, which was a great design choice. Granted, you will probably not be touching it much, but it's better than those stupid SIM tools.
Other than that, it looks and feels exactly like a Surface 2 with nothing that pops out as different.
Does it have GPS?
Yup. As you can see in the above photo, it has a toggle switch for the GNSS (Global Navigation Satellite System) found under Airplane Mode. That means with some offline maps (via Nokia's HERE Maps app) you could easily use this a navigation tool when camping, in the car of just in the city.
Is it SIM unlocked?
Unfortunately, I can't test this right now. The Surface 2 is micro SIM and all my SIM cards are now nano, meaning I need to use an adapter. I'll try to get that to happen in for next week and will answer the question in a separate article. For what it's worth, I did toss in a Verizon SIM and got a "no connection" icon.
How fast is the LTE?
Like most things, it will depend on the strength of your connection. Even in a low-bar area (two to three bars), such as my apartment, I can squeak out around 2-4 Mb/s and 2-5 Mb/s up. Those aren't radical speeds, but even in low signal areas, the result feels the same for browsing, checking email, etc., which is it works without a hitch.
In comparing the Lumia 2520 (Verizon) to the Surface 2 LTE (AT&T), under similar network conditions, they performed nearly the same.
How do you know how much LTE data you used?
The Surface 2 LTE basically has a Data Sense-lite built into it. By tapping on the Networks pane, you'll see a new separate section for 'Mobile broadband'. There you can see some options for LTE when you tap it, including 'Connect automatically' and 'Roam automatically'. You can also force the AT&T connection this way, overriding Wi-Fi, by tapping 'Connect'.
Regarding data, if you head into Settings, Network and selecting AT&T, you can enable the Data Usage section. There you can toggle two options
Show my estimated data use in the Networks list
Set as a metered connection
Once you enable it, under the Mobile Broadband pane you will see a live meter of your data usage. That's really useful if you want to keep track of your data.
Which does it use, Wi-Fi or 4G LTE?
Like Windows Phone, Windows 8 is smart about this. It will always use Wi-Fi first and only hop to LTE when that is not available. There's no thinking involved, you just let it do its thing. As mentioned above though, even on Wi-Fi you can force connect it to AT&T, in case your LTE data is faster than Wi-Fi.
Can it share the LTE data?
Yes! AT&T's data plans allow you to turn the Surface 2 LTE into a mobile hotspot, with up to 10 connections. That can be very convenient for multiple reasons and it's good to have as an option.
AT&T AllAccess app
AT&T did include one app, dubbed AllAccess. There's not much to it though it does pull down your data usage on your account, including other phones you have on that account. Tapping on the My Account area opens up Internet Explorer to login your account.
That's the majority of this app, a front for the website. Still, there's some redeeming qualities.
Notifications – Here you can see any messages from AT&T, presumably warnings on data usage and your account status. It has an All, Unread and Read subsections
Mobile Hotspot – Here you can quickly toggle the internet sharing/Mobile Hotspot feature on or off. It has also has a nice direction box, explaining what you need to enter in for connecting devices. Likewise, you can also see a list of connected users, which is great for security
Wi-Fi Finder – If you want to save your LTE data, it has a handy tool for finding AT&T Wi-Fi hotspots, which include Starbucks and McDonald's. It has a full map, filter, button for directions and even a Share option
Live Tile – AT&T AllAccess also has a Live Tile that reveals your current data, including usage and how many days remaining before your account resets. Once again, super useful
AT&T's AllAccess app is actually pretty well done. It lets you monitor your data easily, toggle the Mobile Hotspot feature, monitor connections and I really dig the Live Tile.
Is there a discount for a two-year contract?
Yes, you can buy the device without a contract ($679) or with one and receive a $100 discount ($579). Obviously, AT&T does not subsidize tablets at much as phones, so the discount is significantly less.
How much is data?
AT&T has various plans. I'm signed up for the Mobile Share 4GB – Data, which costs $30 a month plus $10 a month line access fee. So that's an extra $40 a month, which you can also share with up to 10 devices.
Is that a good deal? Not sure, but it's not as bad as I thought it would be. Obviously, the cost/benefit ratio will vary based on how bad you need this for your daily life. I suspect most of you don't need this, making all this talk of $130 extra (hardware) and $40 a month superfluous. For those who need this though, it's a great option.
Why buy this instead of just tethering?
Good question. Once again, it depends on your usage. Tethering is great for quick connections, to check email or do something that doesn't include a lot of bandwidth. But it's certainly not as expedient as just turning on your Surface 2 and having it already on LTE.
There's also the battery issue: using your phone as a modem will cause it to heat up and drain the battery, leaving your phone in worse off shape. Sure, you can charge your phone via the tablet (USB charging), but now you're draining the Surface's battery and you have a gangly, wired setup. I've done both and while tethering is great in a pinch, it also kind of sucks if you want to keep your battery charged and not turn your phone into a hot plate.
To repeat, for quick connections or emergencies, tethering rocks and for most people, it's sufficient. But for those on the go, who need an always-on device, paying the extra money and having it always connected is advantageous. Basically if you need the Surface 2's LTE capabilities, you'll know it. There should be no real convincing.
Surface 2 LTE or Lumia 2520?
While the Lumia 2520 is a really nice tablet with probably the best display around, if I had to choose, it would be the Surface 2 LTE. I get 64 GB of internal storage instead of 32 GB, USB 3.0, that awesome kickstand (which is ridiculous useful), a slightly larger display (1/2 inch) and you can click in a few different keyboards, all of which are amazing.
Nokia's big selling point for the Lumia 2520 was mobility. The LTE ability is what distinguished it from a few other tablets, including the Surface 2. Now that that discrepancy has been eliminated (except if you're on Verizon), the Surface 2 is in my opinion the better device.
Why? It's that keyboard/kickstand feature. Productivity is just much better with one or both of those. Sure, you can slap on the gangly Lumia 2520 keyboard, which has an extra battery and USB ports, but it's just not as nice as Microsoft's solution.
Final thoughts
Overall I really like the Surface 2 LTE. It builds off what was already one of my favorite pieces of technology and makes it that much more useful when out and about. With LTE onboard it really opens up possibilities; I'm more likely to toss the Surface 2 in my car if meeting up with some friends. Of course, this all comes at a price. In short, if you can't afford it, you'll probably know it. In that sense LTE tablets are still a luxury, not quite at the level of ubiquity as smartphones in 2014. But hey, I remember rocking a Treo 650 back in the day, or Sprint's EVDO PPC-6700. People scoffed at the idea of paying for data or even needing such a device. Clearly, those people were shortsighted. So while the Surface 2 LTE may not be for everyone – due to costs – its main feature is something we all want to have: a tablet this always connected.
Have questions? Sound off in comments and I'll try to answer. If this article is popular enough, I'll do a follow-up with any outstanding questions.
Windows Central Newsletter
Get the best of Windows Central in in your inbox, every day!
Daniel Rubino is the Editor-in-chief of Windows Central, head reviewer, podcast co-host, and analyst. He has been covering Microsoft since 2007 when this site was called WMExperts (and later Windows Phone Central). His interests include Windows, laptops, next-gen computing, and for some reason, watches. Before all this tech stuff, he worked on a Ph.D. in linguistics, watched people sleep (for medical purposes!), and ran the projectors at movie theaters because it was fun.
Quick impressions.. LOOKS SEXY!
Enough said!

Why does it cost so much for a SIM card tablet

Ask Apple? Their comparable tablet has less features and costs more.

Microsoft thinks they should charge as much as Apple is why. And Apple charges $130 for an LTE radio because Apple fans will pay that. Microsoft probably won't see a whole lot of sales of this model. $50-$80 is a much more reasonable upcharge for a cellular modem.

The sooner someone in MS stops thinking they can match Apple's prices and just tries and make good tech that people will buy, the sooner they'll start dominating the devices and services market. Until then it'll just be a long line of plug and play MBAs, all getting it wrong.

Tethering only in WPA2. My PSP can only handle WPA1, damnit! It's the only problem with Windows and Internet Sharing. I know, security and all, but both Surface and Windows Phone need backwards compatibility with WPA1 and WEP.

Just cannot see the Surface 2 over the Lumia 2520. Surface 2 - $679 + touch keyboard $80 // type keyboard $129 // keyboard/battery $200 = $760 with touch or $879 with similar keyboard/battery addon. Lumia 2520 - $499 + keyboard/battery $150 = $650 Granted 64GB vs 32GB, but that's a slight difference, since we can use memory cards.

I prefer the build of the Surface 2 over the Lumia 2520. That vapormag. Also it's a product directly from Microsoft, so it's updated frequently, they've only been improving it over time, so it's getting even better.

If its the build yes the surface 2 is a great option but the updates are all the same I usually check my Lumia 2520 and desktop for updates at the same time like today and they both had the same security essentials to install. The Lumia 2520 build is great and I got the keyboard/battery for free. And between the 2 I'd still get the Lumia its cheaper with keyboard and build/cpu are still one of the best.

Hm.. how often does Nokia update the 2520's firmware? I know that Microsoft has been updating the Surface line like every month, they even have a log of the changes made on their website. Does the 2520 have that kind of support?

Everytime you here a update for your surface tablet is you'll also find one on your Lumia 2520 Microsoft still controls all Microsoft updates no matter the manufacturers.

Not all updates will be for the Lumia 2520, because these updates are hardware specific.http://www.microsoft.com/surface/en-us/support/install-update-activate/2-update-history I doubt the Lumia 2520 would need better support for the Surface Power Cover. If you're talking about the Windows RT software then yes, but not the updates the Microsoft has been providing for the Surface line.

Yeah you've said it hardware specific the Lumia 2520 doesn't need the surface power cover update cause it's not compatible but every other Microsoft system updates you'll find it.

That's not the only update. You miss the point wilfully, it seems.

you still want onboard memory over memory cards because you can't install your apps to the memory cards. sure, you can do registry hacks, change symbolic links, etc. but they all have problems that creep up over time (i.e., the program thinks it's on drive C: but it's not and it works on the assumption that all the files are on drive C when they're not).

Last day to grab the 2520 for £300 at John Lewis!!!

Thank you for the Quick and Dirty Dan. Nobody does it quicker or dirtier than you. You dirty boy

Ninja plz I'm dirty Dan! Heh heh SpongeBob.

It would be interesting to see how this sells in the UK compared to the usual line up of iPad and Android deals If it's priced competitively enough then it might just do alright - here's hoping Vodafone make an announcement sooner rather than later Or better yet, EE comes along and steals their thunder!!

I really liked the PPC-6700. The little joystick was handy for quickly navigating the OS. I immediately saw the usefulness of pocket PCs. Not so with tablets. My 12" convertible laptop is the smallest I am willing to go for a work device.

Convincing the big wigs to switch from ipads is difficult. Specially now that office for iPad is coming out. Looks sweet though, I want one.

Either way your company will be giving Microsoft money. If its hardware or Office 365 for the iPad :)

it's weird but whenever I see someone working on an iPad, they have it connected to a clunky bluetooth keyboard with some sort of clunky dock. makes it as bulky as a laptop. the surface is just so sleek. the kickstand takes up no space, the keyboard comes off easily when you want to and stays on tough when you don't and it makes a tight integrated package for carying around. when I'm working in Starbucks and people notice my Surface, they wonder what it is and they actually talk to me about it. it's the weirdest thing. A lot of people have no clue the Surface is out there.

I'm presuming the surface 2 with lte will be around £450 - £480ish in the uk?
Anymore it would be way to much..

If only Microsoft released a non-carrier branded global version that could be used on any carrier.

+920 And sell it everywhere, not only US

Daniel, did you pick one up at the Microsoft Retail Store? If so, you could use their 3D printer to make yourself a nano-to-micro SIM adapter :)

When surface 3 comes I'll upgrade. Really miss GPS on my S2

LOL :D You mean to comment this on the Facebook Beta update post, don't you?

My MacBook air is all I need works great with my iPod, windows phone, dell venue 8 and my jobs iPhone 5S they gave me as a birthday present.

This thing is probably going to cost a grand in Australia.

Still rocking my Surface. Tethering works for me.But, Surface 3, what will you be?

Of course, if you're already on AT&T and have a Mobile Share plan, it's only $15 extra. Or $10 extra if you've got the Mobile Share Value plan. Just make sure you buy it off contract. Otherwise, there are the DataConnect plans (300 MB, 3 GB, or 5 GB) and the DataConnect Pass prepaid options.

$10 extra per month for a device you can spread payments over the course of 2 yrs makes this deal pretty lucrative. Plus currently right no at&t has $100 credit that can be applied to your bill for a new line. Thinking about this for my wife, but she might get data happy lol.

Using the word "gangly" more than once in an article is just ummm gangly! ;)

Want to know the battery life to compare with that of Surface 2 Wifi version.

Hey Dan, I'm guessing 72 hrs is a little early to be asking about battery life eh? So when you get the chance, do you see this draining faster or negligible to regular Surface?

Yeah, for that I'll need a few more days. Will definitely make some observations though.

That Speedtest X app looks cool.

I want the ProLTE... Probably have to wait a while

So does the regular surface 2 not have GPS? I'm currently trying to sell my Lenovo Y580 trying to go smaller was thinking tablet is surface the best option out there?

I love the sleekness of my 2520, and it was cheaper! All I need is the keyboard and I'm set. :) I'm happy I decided on mine, especially because this isn't with Verizon (yet).

I took a look at the 2520 at Verizon, it looks really nice. I have the surface 2, but if I was the market for an LTE tablet, id consider that. Love my surface 2 though, one of the best tech gadgets I've ever purchased

Is there any prepaid no contract data options that would work?

Wait...so the 4G version comes in black instead of the horrible iPadish-silver? Judging by the side photo I'd say yes...which to me is good, would I ever to buy a Surface again.

I guess I was shortsighted.

Surface rt should rival chrombook, not with apple ipad. I'm afraid it will lose all fights against low end chromebook and highend ipad with this attitude. Currently, ms has 0 answer to chromebook. Win8 is too heavy for such low spec laptops.

Asus t100. Can't praise it enough. Better than the Chromebook in every single way. Runs full windows beautifully, not much more expensive (if at all). If you mean Microsoft hardware, though, then I agree. This is priced way too high. They should make a cheap Surface with LTE that rivals Chromebook prices.

As gpct1 already mentioned, there are cheap Windows tablets in the market, which rival chromebooks from price point. T100 beeing one example. It is just that you have to understand, that Surface is a premium product, which is not supposed attack the low end. It is positioned to rival likes of iPad, Sony Xperia, Samsung Pro tablets etc. It is just impossible to attack the value and premium segments with the same product. The OEMs are already filling the gap of low priced Windows tablets.

I have no idea why anyone would ever want an iPad compared to this. I really don't. That said, RT is way too similar to 8 for it not to be 8. And Microsoft took way, way too much time to come out with this. Also, my Asus t100 is about a million times better and way cheaper than the Surface 2. A t100 with a usb LTE dongle is about a million times more useful than the Surface 2 or the 2520 (though I do love both of those devices). The t100 runs full Windows 8, has the most ridiculous battery life I have ever come across, and has an actual legitimate keyboard with a hinge. It's a full laptop that I can easily turn into a tablet. Why they don't release devices like this with LTE is beyond me. (Yes, I know the screen is not 1080p.) I guess because people tether and don't need LTE laptops. I have unlimited data on my phone, though, so LTE laptop-ish devices are really appealing to me (since I cannot tether). I can't wait until all this data control goes away. I hope in 10 years that the whole thing is behind us. I spend way too much of my day trying to figure out how to get unlimited internet access on mobile devices. I also spend way too much time managing multiple devices. I wish things like the padffone infinity became the norm. One device, let it run full windows, let me keep my unlimited data, let it connect to a tablet screen, and let it plug into a hunged keyboard as well to create a legitimate laptop. All these devices. All these data plans. So frustrating. Anyway. Thanks for the review! I was curious.

Sorry, but the T100 has literally millions of disadvantages compared to Surface 2. The only possible advantage would be the ability to run desktop apps. But as soon as you decided not to run desktop apps on your tablet, this single advantage goes away as well. With other words, the higher price point of Surface 2 is well worth it. Of course, if the ability of running desktop apps has such a high importance for you, then you might as well choose the T100, while at the same time you would have to live with its shortcomings. And Windows RT is not just similar to Windows 8, it _is_ Windows 8, just compiled/build for ARM.

Name a single disadvantage besides the absence of a 1080p screen... It's a full-fledged laptop with hinged keyboard (that it comes with) and full Windows tablet as one device. The Surface 2 is a halfway laptop, not full Windows tablet. I can do actual work on this. I do do actual work on it. The only other advantage I can think of is the build quality. Yes, if you like going "ooo, this feels so solid and metal" as you can't install a program you need for work and fail to balance the device on your lap, by all means.

Excellent article Daniel!

I'm sticking with tethering my Pro to the Icon until there is a bigger jump in specifications. They knew that we would do this as evidenced by the USB port on the transformer.

Is it constantly on for real time updates and notifications in standby mode like a cell phone is?

What is that fb messenger app? There is none for windows 8.1.

too bad the overpriced SP2, you know the one for "PROs" who may need LTE all the time DOESN'T have this. Typical Microsoft.

I have no use for this, but it is a great option. And yes, it was the edge the Lumia 2520 had over the Surface. But I still prefer the Surface because it is more versatile from the get go. Surface's stand design and the requisite keyboard attachment are what distinguish it from a pcak of clones or generic Windows 8 tablets.

Thanks for the quick look Daniel. I checked out the Surface LTE at my Microsoft Store on launch day. I came close to buying it then and there. And that was before I knew about the GPS, which the Microsoft employee must not have known about either as he didn't mention it. I'm frequently forced to tether my Surface to my Lumia because the Wi-Fi in my office is about as bad as it gets in a public building. I keep the Lumia on its charging pad while tethered. It still gets hot, which I am sure isn't helping its longevity, but at least the battery drains more slowly. I'd love to pay less for this device, but (unlike some other posters here) I get why the Surface LTE is priced as it is. The Surface is a premium quality device and Microsoft is not going to compete with its OEMs at the low end. This doesn't mean they want to "be Apple" it means that they are smart enough to want produce a top quality product to fill out the product range while leaving the rest of the market to the others. Choice is a good thing.

I like the surface design over the Lumia 2520. I would buy the LTE version if it was available in my country

I'm actually starting to warm up to this idea.

Im going to do this with my Surface 2LTE when i get one http://www.youtube.com/watch?feature=player_embedded&v=MSUdvZ9sfXo

Both Surface and Nokia Lumia 2520 are great devices. To be honest, almost all of the Windows (Phone/RT/Regular) devices (Tablets/Phones) have been designed well so far. Hope the trend continues.
Windows Central Newsletter
Thank you for signing up to Windows Central. You will receive a verification email shortly.
There was a problem. Please refresh the page and try again.