Microsoft Store locations to open in Nashville and Boca Raton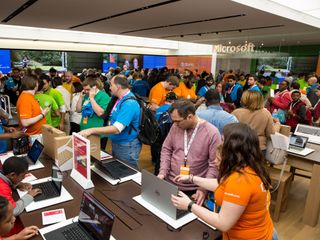 Microsoft has revealed that it will open two more of its retail stores in the U.S.. One will be in Nashville, Tennessee and the other will be in Boca Raton, Florida.
In an email press release, Microsoft stated that the Nashville location will be at the Mall at Green Hills:
The Boca Raton store will be at the Town Center shopping location, where there is already a smaller Microsoft "specialty" store:
Microsoft did not reveal when these new stores will open. There are currently over 100 store locations in the U.S., Canada and Australia.
Windows Central Newsletter
Get the best of Windows Central in in your inbox, every day!
My word that store is busy.You'd think it was an Apple store. Posted via the Windows Central App for Android

Nice to see MS employees proudly using their company issued iPhone's.

A coworker of mine who is not an MS or Apple fanboy recently told me that thr MS Store in Palo Alto CA was packed, but the nearby Apple store a ghost town. In disbelief I double checked that he hadn't gotten it backwards, but he stayed firm.

That's funny. At Bellevue Square in Washington, (closest MS Store to MS headquarters) it's just the opposite. It's right across from the Apple store and it is almost always empty. When someone does go in and is approached by a MS employee the most common response is "I'm just killing time until the Apple store clears out a little."

Would be good to see some in the UK, one of our local Malls has both an Apple and a Samsung store, these stores will eat away at their market share in Tech (pc, tablet, vr etc.) if they have no presence

Yeah I'm patiently waiting for a store to show up in Reading and London. I think it will be another year or two before it happens though...

Damn... I guess you will get one in London before we get one in Norwich then :D

Indian stores r closing plz concentrate in india too

And meanwhile MS store is closing one by one in my country. "Retrenchment"

I'm presuming these were one Nokia stores that were re-branded ??

1) Haha, that picture must be photoshopped. No way there were as many people at the same time at the same shop ever. Oh by the way, looking at the pic, approx. 30% were even employees, not customers 2) Its 4 faken years since W8/WP8 has arrived, 4 yrs since MSFT started promising god damn stores outside of US. Now its 2016, still no fakkin store anywhere in Europe, or god forbid in my country in the middle of Europe. Idiots.. real bloody idiots driving that company in Redmond. ​ ​ ​ ​ ​ ​ ​

Oh boo freaking hoo... Posted via the Windows Central App for Android (LG V10 or Nexus 5x)

It'll be costing them market share. In the UK there's no Microsoft presence whatsoever. But in my city there's a huge Apple Store (which by the way their products are tempting) and a huge Samsung store. Even the PC shops advertise the iPad Pro and Android tablets, I daresay more heavily than the Windows tablets.

That picture shows what mobile first means.

It's not photoshopped, I believe it is either the launch of the NYC or the Sydney flagship store

There's one store in Australia - Sydney and it's always busy. Guys are great there and love being there. Just wish there were other stores in Australia such as Canberra and Melbourne.

Bring a store to Norway!!

When they migrate the Boca kiosk to a full store I hope they get better staff as well


I think these are the first store openings in like 2 years, not counting the flagship stores last year.

Love traveling to ATL, but glad I can drive 25 miles to Nashville soon for my Microsoft fix.

They should do this near the Apple Store in Town Center. I can't see the Tesla store closing though, so I doubt it'll be near the Apple Store. You'd think they'd go in to a new state though, since they already have Aventura.

In my country philippines are saturated by power mac store and andriod-one stalls in every mall. They dont even recognize microsoft lumia only nokia lumia phone

I want to know what happened to my Baton Rouge, LA store. They had a mall kiosk for a year and a half and then it disappeared.

I went to the big party for insiders at Orlando, Needless to say it was like a ghost town. I even saw Microsoft branded tumbleweeds. So much for big party. When I saw no one was there, I just walked by!

Visited the Microsoft store in Knoxville and didn't realize it was a kiosk and was very dissappointed. Glad that they are adding the full retail store in Green Hills for the whole Microsoft experience. Smart move by opening in Nashville.

I wish they would make one in anchorage Alaska.

About time, getting one in Nashville, though that mall and its location really sucks.

that will fit right in with the current CEO's business plan. crappy mall, crappy location, no consumers! think about it.

Any other Ventura County residents out there sad that we lost our Microsoft Store presence at the Oaks Mall? The guys at the kiosk store were so cool too...
Windows Central Newsletter
Thank you for signing up to Windows Central. You will receive a verification email shortly.
There was a problem. Please refresh the page and try again.