Microsoft Store now gives app developers a bigger cut of revenues
Developers can now receive up to a 95 percent cut of their app sales.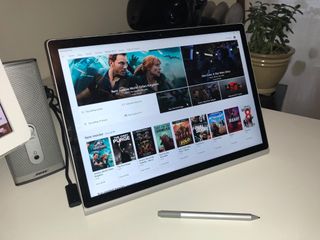 Microsoft today updated its store policies to implement a new revenue-sharing split for app developers. With the latest changes, developers will now be able to earn up to a 95 percent cut of the revenue on app sales, and an 85 percent cut on the low end.
According to the updated policy, all consumer apps, excluding games, will provide 95 percent of the revenue from the app purchase itself, along with in-app purchases, to the developer. The fee structure is in effect for purchases on Windows 10 PCs, Windows Mixed Reality, Windows phone, and Surface Hub. Note that this excludes purchases made on Xbox consoles.
Things get a little more complicated when you factor in how customers are delivered to your app. The 95 percent share is earned when a customer uses a deep link to purchase your app. If Microsoft directs someone to your app through a collection or "any other owned Microsoft properties," then developers will net an 85 percent share instead.
The new revenue split figures were announced last year at Build 2018 and were originally expected to roll out by the end of 2018. They're a few months later than expected, but they should be a welcome change for developers on the Microsoft Store nonetheless.
For more on the updated terms, you can refer to Microsoft's app developer agreement (opens in new tab).
Windows Central Newsletter
Get the best of Windows Central in in your inbox, every day!
Dan Thorp-Lancaster is the former Editor-in-Chief of Windows Central. He began working with Windows Central, Android Central, and iMore as a news writer in 2014 and is obsessed with tech of all sorts. You can follow Dan on Twitter @DthorpL and Instagram @heyitsdtl.
They should give game developers 90% (95% for play anywhere titles). That would get things going.

Would be great if this covered touch games as well. Yet again Microsoft ignoring touch gaming completely. This is exactly why I don't have a Surface. iPad is much more useful still.

You are talking about touch "games" and this being the reason why you have an iPad and not a surface and you call that ab argument for usefulness? I'm sorry but when it comes to usefulness no matter how you flip it what you like or don't the simple fact of the surface being a PC just trumps any remote usefulness any other device could have over it... You can't just compare the versatility of ultra portable PC that can run from legacy software, professional tools to advanced games not just touch """""games""""" to a mere glorified phablet... Please either you are trolling here or you have no clue what you are talking about... You are comparing a powerful tool to a mere gadget...

iPad is nothing more than a glorified toy.

I don't usually agree with Dusteater but I think this time he does have a point. Playing (quality) touch games on ~10 inch tablets/2-1's makes a lot of sense. We need more games like Shadowrun and the touch versions of XCOM etc like the Ipad has on the Microsoft/Windows Store. The 'app gap' can be mostly be fixed by using browsers (with the exception on a few areas like local banking apps) but the 'touch gaming gap' cannot be fixed this way and it is to big of a market to ignore (especially in Asia).

Gotta agree with your here, if the Store would get more (high quality) touch games it would be a homerun (at least for next generations and if they put in a Ryzen apu or such).

True. This is how they should've started the store back on Windows 8, now it's just the desperate last move before they announce that it is dead. Greed killed it, because once again Microsoft thought they could just pretend to have the same standing as Apple or Google. You have to build a store and nurture it, especially coming from "free" Windows 7 and earlier and arguably building the worst store experience anyone has ever seen (and not making it any better over several years).

Because that's it? Apple and Samsung and smartphone are a constant from now on?
To me I'm pretty sure smartphones are at a peak and about to be replaced by the next thing within the next 5 to 10 years and it's not like there is reason to believe Samsung Apple MS or any other tech companies have anything yet to shift the paradigm.... The next trend is really up for the grabs... And when it comes to pure business and financial strategy I'm more confident with MS resilience than any of it's current competitors... Apple in particular is a clay giant compared to MS stronghold in the business... And they are not going anywhere any time soon...

No, Blackberry App store was the worst experience ever.

Odd way of phrasing it in my view. I see it as Microsoft is taking a smaller cut of the sales. That's how their store fees puts it. MS charges 5-15%. They don't give the developer 85-95%.

85% of nothing is still nothing. Nadella and minions drove customers away from the MS Store with pitchforks when they killed mobile, without anything ready to replace it with.

It's pretty frieking sad when the best selling app on the MS Store is Windows DVD player.

It's a good move, kudos to them.

While some argue the lateness and usefulness of this, it can still help improve the MS Store experience. The games and apps that are there may get more regular updates, or at least be on par with its Android and Apple counterparts. This isn't a, "This will change everything" moment. I just don't see MS abandoning the MS Store, because that is the future of software apps, legacy or otherwise. People want to be able to go to a centralized location to find what they need. Why? Because... Android and iPhone have created and nurtured that with their mobile ecosystem. With everything becoming mobile, it makes perfect sense. With that said, there is no reason why MS shouldn't do what they can to help improve their store. Let's not even get into the fact that mobile devices are becoming much more capable each year. This will cause developers to focus on creating touch friendly apps that were once legacy-based, because mobile devices will be able to handle them in the very near future.

This is exactly what was needed, though it could be done earlier (but better late than never I guess). Now high quality touch games and (local) banks apps need to be lured again so the Surface Go etc make (even) more sense.

Too little, 5 years too late. Yet another F grade for the CEO.
Windows Central Newsletter
Thank you for signing up to Windows Central. You will receive a verification email shortly.
There was a problem. Please refresh the page and try again.