Microsoft is taking over Nokia's Espoo headquarters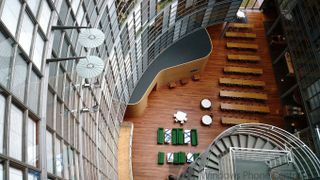 Nokia is moving out of its current headquarters in Espoo, Finland when the sale of its Devices & Services unit to Microsoft gets finalized in the first quarter next year. Most of the people currently in the building are working on Devices & Services related activities. The 32,000 employees who aren't transferring to Microsoft will relocate to Nokia's own premises in Karaportti, Espoo, while others will set up in Otaniemi.
Nokia sold its Espoo headquarters to property investment and management company Exilionat the end of last year for about 170 million Euros, but signed a long-term lease to stay on as principal tenant. Microsoft will presumably take over the lease.
Source: YLE, Via TechCrunch
So the Devices and Services people dont even need to move. Cool.

the inferior of the building is very nice.

Yea saw that too he's probably trolling or maybe went full retard :P

He probly means interior.. :P

I laughed so hard when I read this. Love it.

Lol I think you mean interior, but I agree. Those hardwood floors and tables look sweet! I wish the place I worked at was that nice.

Cool If Microsoft moved HQ to Finland. Stopped beings U.S company :)

+1000000000000000000
If only :( were are the market not the US !! Just one country = that of entire wp American devices!

I'm American. And I'm proud of my Lumia 920. Deal with it. Don't like it? Then STFU!

A phone designed in Finland and built in Korea. Nice one. Sorry, I had to.

Hmm shall see if Microsoft can make Nokia independent like Skype!! Otherwise we will never see new phones due to Microsoft slow movement :|

They wouldn't purchase them (and inherit all these salaries) just to have them sit around. That'd be cancer for the parent company.Let's quit being so pessimistic and try to have faith that Microsoft is making these moves, to make moves!

I wish people like you would just shut up.

So ms is not slow ?? Im talking about ms not Nokia i dont care anymore about the purchase !

Together but seperate is the best philosophy when buying a new company. It allows them to continue being innovative while also allowing closer collobration. Facebook did that with Instagram and I personally think has worked out great. I'm really happy to see the main Nokia division staying in Finland where Windows Phone market share is exploding.

Under new management... Good.

So Nokia was planning the sale for years then!

Thank you! Why does no one else see this?

I feel sad. GOOD BYE NOKIA!!!

Why? Nokia isn't going anywhere. if anything this deal made sure that Nokia will be here for a long time. Nokia still has 37 000 workers (6 times more than HTC) and is now fully profitable with net cash reserves of over 9 billion euros. Nokia has new R&D center right next Nokia House that will belong to Nokia and its new HQ is located also in Espoo.

So you're telling us that the brand will stay on future lumias ? because that is all what matters right now

No. What he is saying, that Nokia continues with its other business areas like HERE mapping and Networks. They just gave the loss making business of making Lumia phones to Microsoft.

This is sad - any take over first means that people will be laid off, second - the taken over company is loosing the power of its brand.

People would have been laid off if MS hadn't stepped in. MS has been funding Nokia's Services and Devices division ever since they started making WPs.

Surely 32k are not relocating since there's only 7k NSN employees in Finland?

Certainly not. NSN HQ, now Nokia's HQ already houses most of Finnish NSN employees. Nokia's R&D center will move to Otaniemi that I would estimate houses around 300-500 people. Nokia has smaller NSN centers all around Finland. There are Nokia R&D and NSN centers in Helsinki, Espoo, Tampere, Oulu, Salo. Salo R&D and proto manufacturing moves to MS, as well as camera R&D in Tampere. Tampere also has NSN center that will stay under Nokia.

Bye Nokia for one year :'( can Microsoft do it better then Nokia ???? Hmm......**???**

With the shareholders' approval on Nokia selling their Devices & Services division to Microsoft, there's no way that the Nokia House will retain its current name. It may be renamed "Microsoft House" "Microsoft Europe (Finland)" or "Microsoft Europe, Mobile Devices and Serivces" when the time comes.

It would be nice instead of removing the Nokia name from the Lumias, they would still keep their name and do what Google did when it acquired Motorola: Motorola a Google Company, so it would be Nokia a Microsoft Company
Windows Central Newsletter
Thank you for signing up to Windows Central. You will receive a verification email shortly.
There was a problem. Please refresh the page and try again.