Microsoft talks new update controls in the Windows 10 Creators Update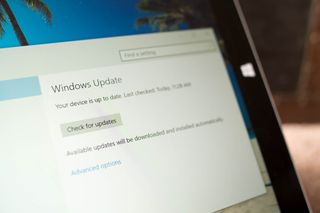 When the Windows 10 Creators Update lands later this spring, it will include more granular controls over the timing and delivery of Windows Updates. In a new blog post, Microsoft has provided some more detail on these changes ahead of their general rollout to the public.
In an effort to combat unexpected restarts that could throw a kink in your workflow, the Creators Update will now include multiple options for quickly scheduling or delaying updates. One of the most prominent is a new "snooze" feature that works just like it sounds. When an update is ready to be installed, you'll see an alert that will let you restart now to install, pick a different time to install, or pause the updates for 3 days by tapping the "snooze" button. Microsoft is also widening the "Active Hours" windows, allowing you to put off regular update times further.
Seeing if your machine is up to date will be easier in the Creators Update, too:
When taken as a whole, these new features should go a long way towards addressing complaints about forced updates interrupting whatever you happening to be doing at the time. These tweaks have been in the hands of Insiders for a while now, but as the Creators Update continues to wind down development and move towards a public release, they'll be in the hands of many more before too long.
Get the Windows Central Newsletter
All the latest news, reviews, and guides for Windows and Xbox diehards.
Dan Thorp-Lancaster is the former Editor-in-Chief of Windows Central. He began working with Windows Central, Android Central, and iMore as a news writer in 2014 and is obsessed with tech of all sorts. You can follow Dan on Twitter @DthorpL and Instagram @heyitsdtl.
Awesome although I hope it actually sticks to the time and not say reboot when you're actually working! D'oh!

I hope they eventually get Windows 10 to the same level of flexibility as W8 and below with this. I mean, how long does it take to program a 'No thanks' button? Honestly, MS always make such a meal out of everything. It seems that every time an MS dev writes a line of code he has to go and have a lie down for a bit.

Well MS has a habit of over reacting and making a mountain out of a mole hill when the solution is pretty simple. Sure having everyone one the same base works fine in theory when it comes to updates. But in reality not so much, if you have old laptops running 10 you are bound to get an update which mess it up completely. All my 7 laptops have the same power issue now, they turn off randomly but turning them on brings it back to the same state where the switch off. For instance if I'm logging in, it turns off, push power button it loads and continues logging in. This is different from hibernate or sleep as the fans turn off instantly and the audible power off switch clicks in.

My moms old laptop running vista back in the day, now runs win 10 insider fast ring builds fine. Sure there are some problems but minor for a casual user like her.

Yea, right up until MS forces some dodgy driver on to her PC. Or are you going to tell me she has a fully functional version of Windows Update instead of the savagely cut down version forced on the rest of us? That's hard to believe.

@Lampros Light. Good to know :). Just keep an eye on it, some WU driver updates are the bane of sanity lol.

Indeed! Windows Update must not restart the PC when there is any foreground activities and apps left open just to be safe not to interrupt the session. Eventually users will close all their apps and shutdown their PC, then thats when you ask and initialize updates. This way there is a balance of user control and still making sure the PC is getting the latest updates available. Automatically forcing updates to the user will do more harm in terms of user's confidence and trust towards Windows and MS. It is really important here that you dont interrupt the session, losing files in the process. Data is something the most worthy to pptect here. Interrupting their workflow may cause data loss and annoyance to the user, especially doing serious work.

Indeed! Windows Update must not restart the PC when there is any foreground activities and apps left open just to be safe not to interrupt the session. Eventually users will close all their apps and shutdown their PC, then thats when you ask and initialize updates. This way there is a balance of user control and still making sure the PC is getting the latest updates available. Automatically forcing updates to the user will do more harm in terms of user's confidence and trust towards Windows and MS. It is really important here that you dont interrupt the session, losing files in the process. Data is something the most worthy to pptect here. Interrupting their workflow may cause data loss and annoyance to the user, especially doing serious work.

@aXross, agreed. It should be able to detect and determine there are store and win32 apps running... I have a lost a fair amount of work in FL Studio due to the random reboots. It's funny that sometimes I used to leave my PC running when I'm asleep and it wouldn't reboot. But now I no longer leave it running, it's either on sleep or off. Literally takes one second to boot to desktop.

Would be nice to hide/prevent specific updates, too, without needing to use the separate troubleshooter tool.

It`s cool. I Like this "old new" update control options!

Please no more pop-ups 😩 Just do it at reboot-time!

I would really love the ability to pause the update while in download. Sometimes you at work and you notice internet has slowed only to realise you have updates coming down.

This. I use an old PC and the WiFi chip can't handle the update download without making the PC run at a crawl when using internet for Outlook, Dropbox etc

Make it a metered connection, and then it won't do automatic updates, and you can manually update when it's convenient.

Yeah, ability to pause is a must especially during sudden competitive gaming session then Windows Update suddenly downloads updates, impacts the network performance. Able to pause it and just automatically resume in the next day outside active hours would be really great. Another thing is we need to show how big the size of updates and how much is being downloaded, also the bandwidth currently using. This way we can able to monitor how the Update process goes and easy to identify if it's stuck or just slow download. We got few frustrations at time on campus IT not able to easily know if the Update download is still on going, how slow or just another bug stuck updating. We just have to use other tools just to monitor it when it should've just show bandwidth speeds right on Windows Update window.

@Athanville, I agree that would be a nice feature and they should enable it, but to be fair, Windows already only downloads updates when you're not using the computer... IF you leave it running when you're not using it. It only downloads updates while you're using Windows if it can't do it while you're not using Windows.

I've notice this a few weeks ago in a previous insider build but somehow last week my machine still updated and restarted on it's own at 11 PM so it seems this pops up only if you were actually using your PC when it wanted to do the update, it solves restarting while you're using the computer but not restarting when you stepped away from it for 20 minutes. They should just always show this dialog and never update automatically. They can also make the dialog different for critical updates (design and language to get users to update ASAP) as well as show a date+time when a critical update would install automatically if you don't schedule a different time (like they do on Windows Phone). It's a move in the right direction but the whole auto-update/restart feature should have been much simpler and it would have been more effective and getting to the goal of getting everyone to always be up to date

I have my active hours from 6 am to midnight. That takes care of unexpected reboots for me. I just have to remember to close out everything before bed, but that's a habit now.

The broader active hours is welcome.

Really, it takes them this long to give in and making it a big deal - not to admit it was a bad decision to begin with.

"Snooze"? Wouldn't "wait" or "later" make more sense.