Microsoft Teams desktop app now available to download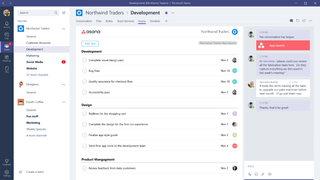 Coinciding with the start of the Microsoft Teams preview, the Microsoft Teams app for Windows desktop is now available to download. In fact, as shown on the download page, a version of the app is available for nearly every platform, including Windows 10 Mobile
As a reminder, access to Microsoft Teams is included in all Office 365 Business and Enterprise suites. If your organization happens to use Office 365 and has opted to take part in the current preview, you should be able to log into the app with your work email and start checking things out. The Microsoft Teams preview is currently available in 181 countries and 18 languages.
If you're interested, you can grab the desktop app from the Microsoft Teams website now. The app simply requires Windows 7 or later in order to work.
Download the Microsoft Teams desktop app
Windows Central Newsletter
Get the best of Windows Central in your inbox, every day!
Dan Thorp-Lancaster is the former Editor-in-Chief of Windows Central. He began working with Windows Central, Android Central, and iMore as a news writer in 2014 and is obsessed with tech of all sorts. You can follow Dan on Twitter @DthorpL and Instagram @heyitsdtl.
I am looking for Windows 7 to phase out, so that all Applications will be mostly UWP :)

Correct me if I am wrong, but I don't think there is a UWP available for PC. Why not at least use "Centennial" to get it in the store? If MS themselves can't be counted upon to use UWP for the desktop, that's a pretty stinging indictment of the technology, if you ask me.

Good point really, on Windows 10 it could be a Centennial app but mainly to get access to UWP APIs and features....BUT, you can actually do this from a WPF app - To me it's more important that the app uses those Windows 10 features rather than where it's distributed

Exactly. Maybe it's impractical in some way to them because maybe there isn't a significant share of enterprise on W10 (or not), but they need to lead the way for UWP by at least providing the option of it with their own products. Glad to see W10m included!

Well their Windows 10 Mobile app is a UWP by nature, so they probably didn't finish the large screen UI yet (It's a preview after all?) also remember this service is targeted at enterprise customers, and nearly all enterprises are running Windows 7, even ones that are upgrading to 10 will still have a lot of PCs on 7, so since this service is all about teams it would suck a lot if the guy next to you uses it and you can't, really destroys the point of it all. Also since they most likely used Xamarin that would be why the W10M UI was finished first as they would want this on iOS and Android ASAP. Windows 10 desktop will still run the desktop app and the web client so right now in this beta stage I really don't see the problem with that at all, just remember we are pretty lucky they released on W10M in the first place.

I don't think so, it is for business users mostly, and majority business users are still on Windows 7

Not only is my office stuck on W7, but we actively use Office 2010, and our it department is so reluctant to switch anything because of the "learning curve", and the Office 365 subscription. But at the same time, we have a handful of people using Slack's free version.

Department leaders would be smart to poll the department on what people use at home. The perceived learning curve may be much flatter than they think.

I happen to think the learning curve excuse is complete BS, and an excuse for the lazy IT dept.

Kids are so cute, the way they know how the real world works.

Trying it now! Looks nice but isn't letting me add Business Essential users to the team. :(

What does it need, E1 and up?

Yep, from MS website
Q. Which Office 365 plans will include Microsoft Teams?
A. Microsoft Teams is available to Office 365 commercial customers with one of the following plans: Business Essentials, Business Premium, and Enterprise E1, E3 and E5. Microsoft Teams will also be available to customers who purchased E4 prior to its retirement.

Giving it a go now, and one thing that isn't clear is where does the created content go to....Any files we create in a Team should be available through SharePoint directly IMO.

Annoying that you cannot selectively turn on for certain users. Seems to be an all or nothing switch. (unless I am missing something)

Yes, so essentials should work

I'm looking at the Schedule Meeting feature now. I can't tell if these meetings can be joined from Skype for Business....It looks like it's a new type of meeting which feels like fragmentation, you should be able to join a Teams meeting from S4B if you want

WPF apps can access UWP APIs, so it can do things like action centre notifications etc. and some other things. I think it should be distributed through the store in the future for Windows 10 users, but I don't think it'***** GA yet anyway

What's WPF? And what did you mean to say, in the 2nd-half of your last sentence? Thank-you.

Windows Presentation Foundation

This seems popular.....the download was pretty slow hehe

Downloaded and installed on my 950xl. After signing in with my employee info it moves to the blue dots going across the screen and does it for several minutes with no response. Must not be ready for primetime on mobile.

its not ready for primetime period, hence Preview. you're also probably trying to access it at the same time as everyone else in the world. i'd give it another shot later.

I'm here waiting for the universal desktop APP. Until then I'm using web + W10M UWP.

Why? The desktop app actually looks very nice.

Hey enterprise users still in Windows 7, that's why desktop app. They will move to UWP soon after Windows 10 share increase in Enterprise

I know :-) That's why I'm waiting. Web is fine for me on the W10.

WPF works well though, plus it has access to many UWP features. Plus, the more usage they say with the desktop app on W10, the more they'll figure a UWP app would be used...

That's why I'm waiting:-) in this moment web is fine. I installed on my mac too.

.exe... Win32... I can wait.

How about Surface teams ?

I hate these new type of slient installers. It didn't even ask me any setup options. Signing in feels slow. After signing in to my acccount it says "You're missing out!", I can't sign out to try another account.

Very cool - excited to see this in use already with my teams. Looking for the Universal App as well, so we can try it on our Surface Hub during in-person/remote live meetings. (y)