Microsoft Teams app now available for Windows 10 Mobile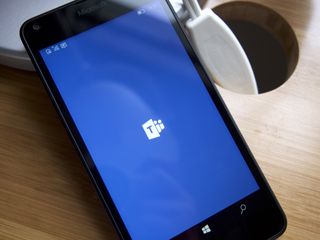 Following up the launch of the Microsoft Teams preview, the official Microsoft Teams app is now available to download for Windows 10 Mobile. As you'd expect, the app gives Windows 10 Mobile users access to their workplace chats, team documents and more on the go.
Here's a quick rundown of the features included in the Windows 10 Mobile Microsoft Teams app:
Work with your team's documents on the go
Move seamlessly across different team projects and topics
Mention individual team members or your entire team to get attention
Chat privately one-on-one or have group conversations already started from another device
See real-time chat history on your favorite device and continue conversations started elsewhere
Chat with your entire team across dedicated channels
Include content and capabilities you need every day - Customize alerts to get notified when you get mentioned or get a message
Get the enterprise-level security and compliance features you expect from Office 365
Enhanced security with multi-factor authentication
To recap, the Microsoft Teams preview is now available in 181 countries, with apps available on Windows, iOS, Android and the web. Access to Microsoft Teams is included in all Office 365 Business and Enterprise suites, and can be enabled by an administrator. If your organization is taking part in the preview, you can grab the Windows 10 Mobile app at the Windows Store now.
Download Microsoft Teams at the Windows Store (opens in new tab)
Dan Thorp-Lancaster is the former Editor-in-Chief of Windows Central. He began working with Windows Central, Android Central, and iMore as a news writer in 2014 and is obsessed with tech of all sorts. You can follow Dan on Twitter @DthorpL and Instagram @heyitsdtl.
Well that was unexpected. Good job MS.

Agreed... Where is the Android or iOS apps first? Or did they already get them.

It's a simultaneous release...The way it should be for the majority of products (Especially Office 365)

I wonder how MS will integrate workspace virtualization with projects like this on their future mobile concept.

It's a Windows 10 Mobile app. Not compatible with 7 or 8.

Daniel, Off topic, but are you all going to do a Google Assistant vs Cortana compairison?

I have done a Cortana vs Siri completion (I am sure many of you have) a few times and Cortana usually wins.

I think it was sarcasm :D

Yes it's UWP and works with Continuum - Similar to the SharePoint app though where it's still a fairly basic interface, but hey the main thing is being able to easily run that up on your full size monitor if you want

After "Windows 10 Creators", will be "Windows 10 Continuum" next fall. No Surface Phone, but I predict a "Surface Band" with SnapDragon chip including a larger screen, fitness sensors, cell/LTE, Bluetooth, Miracast so it can be your PC on your wrist. Also, they will unveil the Surface Wallet, a flexible PC for your pocket with the same Continuum features from your pocket. No phones, OEMs will do those. :)

Wow, I don't see a need for yammer anymore.

Keep it burning Microsoft.

Awesome! Now Microsoft should start consolidating it's other services with repeated functionality. You are awesome Microsoft, but a too divided.

Most of these large corporations are. Google has like 5 texting apps. Facebook opens and closes apps yearly with identical functionalities. Apple is one of the few companies that cut down on redundancy.

One good thing about this product is it can bring together documents from SharePoint and TFS work items into one application - They aren't suddenly stored together but nice and quick to access both from one place

If MS can produce apps for Windows 10 Mobile for all it's products, then it will be the MOST PRODUCTIVE, SECURE OS ever created in this world. Then I will agree, they are really target Customers through Enterprise. Rather they are releasing it to other OSes first and ignoring their own platform for some of their apps makes sad.

Totally agree with you from 'if' to the 'sad' part.

Eh? This has released to all platforms at once hasn't it? They also announced feature parity is the aim with the mobile Outlook apps - Once reached features will go out to all platforms at once going forwards

It is amazing that Microsoft manages to build inconsistent UIs in every single app. I'm always so excited to see a new interpretation of standard controls in every new app that look different and behave differently even when they should do the same thing. /s

Can't login :/ Didn't see that my company needs to opt in for the preview...

Well at least they made a Windows 10 M app...

We'll maybe when they fix the login issues I can comment on the app.

Why no UWP? If they won't, why would anyone else?

Yeah, dunno why this isn't a UWP for desktop too.

What happened to your other comment?

Just tried logging in, authentication on 365 failed, I guess maybe our IT not set it up yet ??

They going to kill slack...instead of releasing team they would have bought slack or least they allow slack to implement in office 365 etc etc Ms services

Installed on my 950xl. Signed in with my info and it just hangs as the blue dots go across the screen. Must not be ready for primetime.

Yeah I have the same problem. Seems like a problem with a federated account. If I login with my other account on Office 365 it works, but when I use my work account that uses an ADFS server I get the same results.

The desktop app confirmed what I suspected which is that this service needs to be activated on the 365 tenant. Would be helpful if the mobile app gave the same clue rather than just not working. Activated on my tenant and it just works now both on mobile and desktop.

When you say it has to be activated by one's tenant, does that mean your employer?

what's the difference between this and groupme?

I would say GroupMe is more consumer based...
Windows Central Newsletter
Thank you for signing up to Windows Central. You will receive a verification email shortly.
There was a problem. Please refresh the page and try again.