Microsoft teases upcoming Lumia launch in India with #WideLies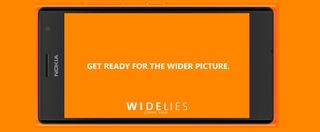 Microsoft will launch a new Lumia tomorrow, January 22, in India. While no further details were shared, an image shared by the software giant on its social media channels suggests that we may be looking at the launch of the Lumia 735 in the country.
The image looks identical to the Lumia 735, and the hashtags that accompany it — #WideLies #WideLies #ComingSoon #22Jan — indicate that we may be looking at a Lumia with a wide-angle front shooter. Also, the Nokia branding further reinforces the fact that the device in question is the Lumia 735, as all Lumia devices from late last year started featuring Microsoft's branding.
Furthermore, while the Lumia 735 was officially announced for India last year, the device wasn't made available. The main difference between the Lumia 735 and the Lumia 730 — which has been available in India for some time now (opens in new tab) — is that the former offers LTE connectivity.
Either way, we'll know in a day. What do you guys think of the teaser?
Source: Twitter (Lumia India)
Windows Central Newsletter
Get the best of Windows Central in in your inbox, every day!
Harish Jonnalagadda is a Senior Editor overseeing Asia for Android Central, Windows Central's sister site. When not reviewing phones, he's testing PC hardware, including video cards, motherboards, gaming accessories, and keyboards.
may be windows 10 1st mobile

Of course it will. With Nokia on the front.

For sure it must, since Windows is still not released. but somehow they have it ready for India.

Lol. How can they launch a phone with windows 10 when the OS for WP is going to be showcased today.. :/

Because these things are obviously arranged behind the scenes. Ever heard of an NDA? This isn't a new thing.

Why so the competition again has a lead in mid and low range 4g devices??? When India is slated to have 4 g networks all over the country this year....

I dunno, but that hastag might work against them, like it may be read incorrectly as Wide Lies. Maybe #ISeeMore is more better?

Wide Lies? O.o What does "Wide Lies" even mean?

Umm, closer to empty promises?

A pun on white lies. But unless there's a show in India that they want to co-promote with it, this sounds like a bad idea.

I at first thought it said "widetiles" hinting at a new tile size that would stretch across the whole display of a 3 column start screen.

Wondering the same. Could've been #WideLens :|

I think marketing is referring to "wide selfies" or "wide groupies". EDIT: I might sound harsh (nope I'm not) edited the tone.

"#WideLies #ComingSoon #22Jan - indicate that we may be looking at a Lumia with a wide-angle front shooter". You would've known that if only you read the article.

I read the article. I just pointed in the image. Lol. Chill.

Just like selfies remove self add wide=widelies

Probably, the landscape mode. ;-)

That's the way I read it. At first I thought they may have intened it to be Widelies like Selfies, but, the camel case with a capital L... Maybe they're going to call out Samsung for thier wide angle front camera ads?

I was thinking it could be a play off of selfie, but that would be something like widy, widey or widies.

Even I read it as 'wide lies' at the beginning. LOL! This is a bad idea for sure.

Oh, god... Like anyone is gonna see that hashtag, or care....
............
Nobody pays attention to WP right now, or even know to pay attention... You guys act like MS actually markets WP properly... Give me a break❗ MS could say #WPSucks and that wouldn't make, or break, the platform, because nobody significant will ever see it.. Like the average consumer has the MS Lumia page liked on their Facebook page... Lol. Get real.

I thought somewhere 1030 is coming but ms always disappoints with its new release

What the....i got L730 in the month of October...and now this -_- I desperately wanted wireless charging on my phone

It's damn easy...just swap your 730 back panel with 735's

no you cannot enable wireless charging for lumia 730 by swaping the back cover with 735,lumia 730 only has 2 pins(nfc) while 735 has 4 pins 2 for nfc and 2 for wireless charging

Ma eyes is on WP 10 event...tomorrow lets see bye bye lumia

Um... Yay... Is India that large a market that it gets this sort of press? If so, great I guess :)

Yes it actually is :) WP is more popular here than USA iirc :)

Windows Phone is more popular everywhere than in USA.

Not in China ;-) and it's a big market, too

But should be priced properly.... Say arnd 15k

Should be around 12k (max) for people to go mad over it and to truly compete against everyday launching Cheap-Droids with higher specs, but it won't.

Agreed..But it really won't..Anyways waiting for a 1030 here..!!

Yep, Microsoft has to lauch the 1030 soon enough (or 1020 successor, whatever it'll be called. Microsoft's numbering logic is beyond me!). Not everyone is going to wait forever!

Numbering's great for me..!!

For me to be your master..You will have to pass a test.... Make a Linkin Park App for WP..!!

Why don't they launch 435 and/or 532 first?

Can windows 10 run on my Nokia 3120c?

Yes of course, what's the doubt?

Sure it can. I also have my Nokia 3310 ready :)

ya i am using a preview build on it actually :l

Of course, anything can run on Nokia 3120c, not just Windows 10!

"anything" includes cars, trucks, trains ... etc...

Yeah, that's why I said so. Don't you think it's quite possible to run a car, truck, train or bus over a Nokia 3120c?

of course! why not? was using android kitkat till last month... now my 3120 is rocking windows phone 8.1

This guy ain't commentin on WC again..!! :P:P

What is up with that hash thag ??

If that's 735..then I'll be bit disappointed as I bought 730 last year...anyways..I love my 730 :-)

Hope they launch the "brilliant blue" color only available in U.K.

And for a moment I thought it might be Lumia 1330. It really looks that it isn't gonna announce before MWC.

I see no point in releasing this phone in India now. The phone has a Nokia logo, carries LTE support which us still nascent at best and does not have much spec difference either. With Windows 10 round the corner, I think MS India should have released this phone silently like 638

The sarcasm on this thread is outstanding :D

I see what you did there, lol! :P

When in the Antartica *sarcasm*

Thanks for your valuable input by making a contructive statement. Much appreciated.

Must be a new Lumia device called " the Lumia wtf!"

I am not interested in any Lumia mid and low range ,
already too many mid and low range . Where is the replacement for my Lumia 1020 ???
many fans want the Lumia phone greater than Lumia 1020 .

Lol get the m8, if you can. /s

Definitely 735.. They are bringing 4g enabled phones to India.. First 638.. And now 735 is on its way

735 is LTE not 4G I think. I might be wrong though

It's a good news but Lumia 638's availability is still limited to Amazon only. 735 should make it's way both to offline and online stores, in order to satisfy all sort of customers.

It's just like 730 with 4G, right?

Idk I think it's LTE not 4G and I think Wireless Charging. Nothing else is different...i think

I couldn't care less for any more announcements regarding more low end or mid range models. Waiting for more than a year and a half for a new flagship announcement is a joke. I hope this doesn't become a regular thing for MS.

But when you consider the period leading to the final takeover in the middle of that, where Nokia didn't need to produce any more phones because they were soon to be bought, and MS couldn't start to develop their own because they didn't yet have Nokia's devices section, I think the wait is a bit more understandable. No doubt they'll announce one soon. I'd rather wait for a good, well-designed flagship than have on the market a rushed, poorly-done attempt just because MS felt it needed to get one out.

#WideLies Everyone to receive Denim Q4 2014

Windows 10 will finally solve all our problems! #WideLies

+630 dualsim CV Hong Kong!

Landscape mode on start screen?

If wp10 is not going to release today then y Microsoft published insider app

When I saw 'Microsoft teases upcoming Lumia launch' I expected a new Lumia running W10 :/

why still Nokia as the brand on the phone?

Naturally its a mid range phone. Should have been a new flagship. Like the 940 or the 1030. Hell, even a 1530. Good idea, introduce the savior os with a mid range phone, if its even running it. Good move. Hopefully its just a curveball, and they'd actually announce a new flagship. Meh

Will the Nokia transition ever finish?

A selfie phone with 8 MP front camera.

Lumia 1030 maybe.... Because the 41mp camera is part of the Nokia research.. Microsoft might still want to keep the Nokia branding because of the super camera

Why would they tease the Wide Angle FFC when the same camera is already being used on the 730? Unless its a new camera module.

One more difference is single and dual sim!

surely it will be another budget phone,to boost market share...

We guys don't think anything of the teaser.

Yeah Wide lies. How dumb can a hashtag get?

Oh, I thought MS is bringing another low/middle range phone in the market. Lumia 735 was announced earlier so it's fine.

So its a selfie phone....

True, I get things were in a state of limbo but at least tease upcoming technology or something. Give people something to keep them anxious. I'm sure a lot of people that bought their 1520 or 930 more than a year ago jumped ship because they got tired of waiting. I'm not one of those people, I'm actually waiting for the next Win10 flagship.

But it has Microsoft logo..

I thought Microsoft couldn't use the name Nokia any more, I know the 730/5 still had the brand, but since they deleted it from their commercials...

Surely Microsoft cant launch a successor to my 730 this early... Surely they cant! Can they?

Check this, the heading says Lumia 730 and 535 presents widelies, so they are not launching 735 or any new device? https://www.windowscentral.com/e?link=https2F%2Fclick.linksynergy.co...

I think it is insulting to make a buzz for launching such a device that doesn't offer much and is not even new in anyway... It's like they will dynasty wake up one day to launch the 1520 in Canada and make a buzz of it... Where are new flagship phones? Where are existing models world wide? Why do we need over 50 versions and models of Lumia to confuse everyone, while each model is available to select countries? I mean our flagship in Canada is still the 1020!!!

What was actually launched ? Why wasn't this news covered any further ?
Windows Central Newsletter
Thank you for signing up to Windows Central. You will receive a verification email shortly.
There was a problem. Please refresh the page and try again.