Microsoft's Xbox booth at E3 2013: Your full video and photo tour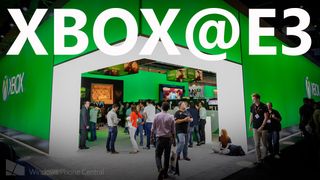 The 2013 E3 is in full swing in downtown Los Angeles. The annual trade show for computer and video games is the largest in the world where major companies like Microsoft and Sony reveal their major games for the coming year. The event is only open to industry insiders and media, but you can live the experience vicariously through us. Check out some photos and video from the Microsoft/Xbox booth at E3. We promise you'll be green with envy.
The center of the Xbox booth
The Halo: Spartan Assault section. Players lined up to play the first non-console Halo game. The player at the highest daily score at the end of each day at E3 wins a Surface Pro. Those with second and third place at the end of the day win a Nokia Lumia 928.
Two stations had working demo of the latest iteration of SmartGlass. While they didn't show off the Windows Phone edition, we still saw the future of how your Xbox One and other devices will work together in the future.
One of the future SmartGlass applications that will work in time for the NFL football season was on display. Microsoft showed off some really interesting features of how they can supplement the game watching experience with SmartGlass delivering updates to Fantasy stats, replays, and more.
The new Xbox One and friends were on display in various glass display throughout the booth. No picture online can do this machine justice. It's sexy in a 1970's kind of way.
Not to be forgotten just yet, the newly redesigned Xbox 360 was on display. And with hundreds of new games coming to the machine over the new year it's hard to forget about it just yet. In terms of design it takes after it's big (younger) brother the Xbox One. You can thank the liquid black, duo-tone color scheme like the Xbox One.
A large stage located near the center of the Microsoft booth was home to the live next-generation Kinect demo. Not exactly sure why they're in that position, but you can use your imagination. The fidelity at which the new Kinect can detect multiple players is incredible and could make Kinect relevant with games.
The new Kinect sensor can detect heart rate and the "status" of player. For example, here you can see the Kinect indicating the expression, engadgetment level, talking status, and mouth state of each player. Developers with access to this info can help tailor unique experiences to players based on bio-feedback.
Project Spark had an impressive display. Live demonstrations of the tera-forming ability through SmartGlass were on display. On the sides players had the chance to try the game out. And what exactly is this game about? Well that's entirely up to the player.
Killer Instinct was welcomed by many fighting fans. Here you see players going head to head with the fighting sticks and Xbox One. Even non-fighting game fans will find it hard to ignore how fun this one looks. Also notice those little stands for the Kinect? Hopefully those will be available at retail for everyone wanting to game in a tight location. The game will be free to all Xbox One owners and include one free character. You can unlock the rest one-by-one through in-app purchases.
The line for the Xbox One exclusive Ryse: Son of Rome was one of the longest in the Xbox booth.
A close up of the mural in the Ryse area.
Gamers enjoying the Xbox One exclusive Ryse.
Young gamers enjoying the upcoming fith installment in the Forza series.
And finally the Forza section had an impressive McLaren P1 on display.
And now you have a fairly good idea of how Microsoft had their Xbox booth this year. If you were here what game would you be most stoked to play?
Come on everybody, vote for XBOX ONE!
http://www.xboxonevspsfour.com/


For some reason I felt like Ogar and screamed NERDS! When looking through those pics.

I still have my Killer Instinct snes cartridge here next to me! it was an amazing game. i dont think this version, not even KI 2 was as good as 1. but I hope i can get a xbox one because i want to try this KI3. it looks nice! i thought it would be more like SF4.. but nope, it looks really good! hopefully the combos and all, arent changed much. or the combo breaker. the reason it was the best fighting game in those snes days, was because the way you did the combos made it and exciting fighting game. I remember when i first won against Eyedol! haha.

anyway i liked KI and Mclaren! and kinect, it looks nice nice, it will make xbox one really innovative and cool. its nice the tech they put in this kinect 2. oh also project spark looks nice! hopefully more and more games on xbox one will be cool like that with a smartglass integration like that and all.

Xbox One, i want it now!

"the line for the Xbox One exclusive Ryse: Son of Rome was one of the lonest in the Xbox booth"

I assume that this was supposed to mean longest? lol It is one of the games that I am contemplating pre-ordering to go with my Day One Edition.

Als fix the "fith" installment of Forza

It is the fifth installment of Forza. Forza Horizon was a spin off and not part of the main Forza Motorsport series. Think of it like this: Forza Horizon is to the Forza series as Battlefield: Bad Company is to the Battlefield series.

Can I just ask, has anyone else noticed that the Xbox One icon logo is still an orb? I would have expected them to flatten it... it really frustrastes me that's it's still spherical. Why didn't they change it to something like this?... http://www.benhammer.de/wp-content/2012/08/xbox2012-logo.jpg Please say there are others of you that are annoyed by this? Shouldn't the icon be modern like everything else...

The logo on the console is flat, but that orb is really recognisable nowadays with the animation and stuff. I expect it will change overtime but i don't really mind. Perhaps the Windows-part of the console will have the flat orb?

How I hate ppl writing stupid shit about Xbox and MS, I noticed that only Ms games get most dislikes, doesn't matter what it is, so im assuming we are (ms/xbox/wp) fans honestly rate videos, only stupid fuckers press dislike button

Whats more, is that ratings for the X1 on sites like FutureShop and BestBuy, are like 2.5, while PS4 is at 4. The consoles aren't even out yet and people are rating up/down the consoles lol wth.

Seriously, since it runs 'windows' how long before someone hacks Steam onto a One? Also any mention of linking Stores between this and W8 at least?

Having Steam on the One along with the X1 software would be a really rad combination. And not sure about the linking of stores. I think that is their end goal, a unified ecosystem.

Indeed, right now there's a lot of blind hate going on and it's only going to get worse before it gets better. It'll pass with time but if there's one thing the internet has proven it's that the greater internet fuckwad theory posited by Penny Arcade is indeed alive and well.

Blind hate? Yes, some people are overreacting about the X1's flaws, but honestly Microsoft needed up in a lot of areas. At this point I'm personally getting the PS4 as I feel there are too many drawbacks to the X1 and its price tag isn't justifiable. But I could easily change my mind in the future. Either way, it's pretty easy to see why others (and by others I mean people who aren't obsessive fanboys like most users on this sight) aren't taking a liking to the X1.

Titanfall and RYSE would be the Xbox exclusive games I'd want to see.
Dead Rising 3 and PvZ Garden Warfare are Xbox exclusives that look like a lot of fun too.

I would also want to see more about the SmartGlass integration. Will it let you remote play anything on the Xbox One to your smartphone or tablet? Can I watch live TV on my tablet or smartphone? How about remote playing Xbox One games on your tablet/PC with the Xbox One controller hooked up to the tablet via USB? Wi-Fi direct built into the console should support this now.

Damn i cant wait to get my Xbox one. Will look so beautiful next to my surface and Nokia Lumia 925 when T-Mobile decides to release it!

Im curious about the new 360 model. If something happens to my current 360 slim and I want to replace it with the 4GB new model, will I be able to install my old 360 slim hard drive in the new one?

That is one beautiful piece of tech. Give me it now!

Both consoles look great. I love all of the one features and all the check in stuff doesn't bother me at all. But in a gaming ecosystem that is still pretty reliant on physical media, I have to wonder if Microsoft is doing this all a console generation too early. Also how long is the 360 going to be a viable off line option? How long will devs make games for both..

Microsoft said at least for 1 year MS will be launching exclusive games & content for X360 ..
They launched a new X360 shows their dedication for the platform .
Third party publishers would keep on launching games for X360 for at least 2-3 years more

If u are not aware , the new Xbox One UI is also coming for Xbox 360

Yayy yet another gaming article on a windows phone blog...

Then don't click on it! Yet you did that and also commented!

Lol, he loves them really.

As a L920 user and wanting to keep everything in the same ecosystem there's only One choice. You know that Sony will never develop any apps for WP, it will all be android.

I wish ther was a Sony xperia z8 or something lol

Unfortunately, Sony seems to be google's bitch these days.

Not a coincidence that Sony hasn't posted profits since 5 years ..
The managed to make few hundred millions by selling headquarters worth 2 billion lol ..

In some cases neither does microsoft, some MS apps are better on iOS and google. I'm just venting because of the DRM stuff and last night I still couldn't sync a playlist for my mother on her lumia 920 because MS sync tool is garbage! I am seriously going to upgrade her to next iphone at this point I am getting more and more disappointed with this new microsoft. The irony of all this is that I hear itunes actually works with the windows phone 8 sync to move all your playlist...

I want that Ryse game and Killer Instinct :D

I am still saving money for Xbox One .. MS is launching it next year in India
Hopefully I could buy it Day 1 .. :D

Is there any official news when other countries would get it? I'm in Hong Kong and tempted to import one, but afraid it won't work here.

I want some time with Forza 5. Specifically I want to see what the wheel situation is going to be like. Also, KI looks good although it's been so long since the last one I'm not sure how well the game will sell, even if you can download it free and just buy fighters one at a time.

As long as the total amount of all fighters doesn't cost more than $60 I see no issue with KI being F2P.

Great pictures and video. Thnx for the insight WPC! I hope Xbox One will be great, and that does great.

And we have to wait another 5 months! Dammit! I swear all the shit MS has messed up with the Xbox brand I'm still drawn to the damn thing. I can't help it. Something about it makes me a fan for life. Where the PS feels cold, the Xbox just feels warm.

BTW - neowin has a story from a Xbox engineer explaining the DRM issue. They basically want Steam on the xbox one. Great read and I wish this guy was in the PR department.
Good read:

http://www.neowin.net/news/anonymous-xbox-engineer-explains-drm-and-microsofts-xbox-one-intentions


I will be passing on the Xbox One in favor of the PS4, and I have been an Xbox and Xbox 360 fan in the past. Here's why:
1) It's just not worth $100 for the Kinect and the cable integration features. I don't like voice control in any way, shape, or form. WP8 voice recognition is just plain awful (and I speak perfect English), so why do I want to talk to my TV?? I'll take a remote thank you. I also don't like gimmicky motion controls so I'd rather have a system where it is less likely to be forced on me in games. With Xbox One, not only do developers know you have it but the damn thing has to be on all the time so they will put more Kinect features in games.
2) I don't play online anymore so I don't need Xbox Live or PSN Plus, but on Xbox you still need XBL Gold to access any of the video services. PSN you do not. Chalk up $60 per year savings.
3) I pretty much buy used games exclusively these days. Every time GameStop runs the buy 2 get 1 free I clean house.

Not being funny, but you clearly don't speak the English I do. But then I am from England.
I even use voice recognition in the car (speaking SMS texting with the car noise) and it works perfectly.

The voice recognition is so good it even gets "Waitrose" correct, a UK supermarket.
(Not only that, it knew I was near one, and took me to "local" scout page. Clicked WWW link, and Wiatrose website knew I was on mobile, gave me a mobile version of the site, also knew where I was and gave me local store details!!!)
Voice recognition is amazing.
In the game RYSE, you can say "archers forward" and beckon them with your hand and wave to where they should go and they move there. How is that anything but AMAZING !
How about on next gen you can select your Battlefield loadout on your tablet whilst waiting to response? Stream your game to Twitch TV!
Take video recordings of your gaming and clips and share them with friends!
Better voice comms on Live. (10x telephone call quality)
Skype whilst you play or watch. Honestly I don't get why people aren't peeing their pants over how amazing Xbox One is going to be.
Windows Central Newsletter
Get the best of Windows Central in in your inbox, every day!
Thank you for signing up to Windows Central. You will receive a verification email shortly.
There was a problem. Please refresh the page and try again.