Microsoft Translator for Windows Phone picks up support for Serbian, Bosnian, and Croatian
The Microsoft Translator app for Windows Phone received an update today, bringing added support for a few new languages.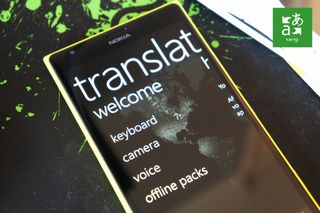 The new languages supported for online translation are Croatian, Bosnian, and Serbian, with the latter also picking up camera translation support.
With today's update, Microsoft notes (opens in new tab) that the number of languages supported by Microsoft Translator is up to a total of 50. Of course, the new languages are also supported elsewhere, as the engine behind the Windows Phone app also performs the heavy lifting for translation in many other Microsoft services such as Bing Translator, Skype Translator, and in Office.
If you have yet to snag the update, you can do so from the store link below. Sretan ažirirajući!
Thanks to everyone who sent in tips!
Download Microsoft Translator for Windows Phone (free)
Windows Central Newsletter
Get the best of Windows Central in your inbox, every day!
Dan Thorp-Lancaster is the former Editor-in-Chief of Windows Central. He began working with Windows Central, Android Central, and iMore as a news writer in 2014 and is obsessed with tech of all sorts. You can follow Dan on Twitter @DthorpL and Instagram @heyitsdtl.
Needs to support Jamaican patwah as well

So submit the Oxford Patwa dictionary to MS for inclusion. I have been to Jamaica several times and I swear you are making it up as you go along.

I second this. Microsoft is obviously listening to user feedback. Let's build this OS together

Thai by voice and offline support

I'll find you. I'll find you and kill you. :)

I'll find you. I'll find you and kick you. :)

hahahaha yeah! when in India? :D

Thanks for your support for joining OUR INDIANS ...... We are deliberately waiting for all Regional languages like Telugu , Kannada , Tamil , Malyalam etc... Instead of sticking only to our National Language HINDI....
.
.
really thanks for your SUPPORT

correction... Hindi is not our National language.. India does not have a national language but it has official languages.. around 20 official languages.. Source: wikipedia but yeah i do wish they supported more Indian languages

Wiki is not a credible source...your professor would beat you with your paper like a sandle if you used wiki as a reference.

well then how about this... Gujurat High Court ruled in 2010 that Hindi is not a National Language... so there you go.. the High Court ruling voids what a professor says

I was going to say you have no idea what you're talking about but then I realized... it wasn't you.

Regarding wiki, it is not reliable. Try using it in academia.... They will laugh you to tears... Then again... It wasn't me...

Wow it must be difficult living in India

Malayalam!! Toughest language to learn!!

No bro... We learn English , Hindi & Regional languages at school. So no prob... If we go to any other state on vacation.... Then people will answer us in Hindi & English

Well I was trying to keep people shut their mouth who said "When in India" ..... But you changed entire theme here

'sretan ažirirajući' hehe
it's actually 'srećno ažuriranje'
Serbian is a tricky one

But, but, what does it mean? ;)

It meeeeaans happy updating :D

It means "Happy updating" :)

Hahahahahaaj... I bet he used the translator C: All we need is Macedonian support now

Jesi probao na Hrv jeziku?

Or(ili) sretno ažuriranje on Croatian ;)

wish they'd have irish on bing translate :(

Inb4 someone says they are the same language :O

yeah, well they pretty much are :D

im from bosnia and more or less thay are the same but still there are differences and serbia uses cyrilic ...

It's like the difference between Jamaican and USA english. So pretty much yeah.

But offline pack not yet available for Indonesia

oh cool, i updated today, but i didn't check what the update was about :) now please do the same for Cortana :)

What about albanian? Bing has even f**king klingon and not one of the oldest languages in the world!

Dude, klingon is a worldwide language everyone understands followed by English ;)

Cry me a river. Albanian is 700 old, at best.

Well that was entertaining.

Would be fine ...going to Albania in my Summer Holidays this year (I'm German). :-)

North or southern Albania? Wohin geht es denn?

Only Albanian language is Dron, lol..

But you still can copy and paste from the app it self .

Slažem se stobom,ja sam čekao 100 godina da dođe!

Dan correct that with 'Srećno/Sretno ažuriranje!' because this is clearly translated over that Translator am i right? also is the Serbian available in both cyrillic and latinic ?

Yeah, both cyrilic and latinic. But live translation (camera) available only for latinic. But that sucks anyway, no use if it.

Now we just need WP to support Serbian Cyrilic keyboard.

Nije lose. But we need serbian swipe keyboard . That would be awsome...

And cyrilic script keyboard.

What about Hindi as offline

Need tamil language though..
Untill then i'll stick with 5translate app

I've been having a lot of problems updating this app, it just doesn't download

This is awesome. Now I'll be able to say more than just Hvala and pevo.

Japanese for vision would be great.

Seriously. The lack of Japanese camera translation is shameful.

I thought for sure that said Cortanian

Where are the alternative meanings of a translated word?

I know Latin is a "dead language" but its precisely why I want it on my phone!
Statues, churches, etc often have dedications etc written in Latin.

You have Cortana for that :)

Before the IOS version? That can't be right.

Still neglecting African languages... Ok Microsoft!!

Soon the app Band Translate http://www.windowsphone.com/en-gb/store/app/band-translate/3acce9a4-d158-48f1-936f-a192e6fdadd8 ,which allows you to Translate languages using your Microsoft Band with Band Translate, will support these languages!

This app requires a new and better design.

Honestly couldn't they integrate this into Cortana how cool would that be, to ask Cortana to translate something and she does it

Wait, aren't these three basically the same thing?

Sretno ažuriranje, srećno ažuriranje...

Now we need Serbian swipe keyboard

When will they add Hawaiian?

I want Chinese with Pinyin!

Still no Macedonian support :c

No... Macedonian will come when they will have no ideas what else to do :))) I'm waiting for the same langugae, from where are you? :)) Just kiding! ;) And there is no reason no reason not to incluse swipe macedonian keyboard but the trueth is we don't have it. "Those" on Android have it for a long time :(

Great...and support for embedded clipboard will arrive when??????

E hvala bogu da ima i Bosanski :)

I think Bangladesh is a huge market for Microsoft Mobile, so where is the translation for Bangla.


Hvala Microsoft!!! Napokon nas se sjetio. :D

Ali ne I nas makedonaca :"c

Vi ste verovatno sledeci :)

VLC has just got an update too

Ironically, all these languages are the same. Same as british, american and australian are...

There are differences, like different words but they all come from the same language tree (Slovenian) and are very similar.

How do you say noice in Serbian

No Jap to English by cam, so sad. Google has it already

For all the people fighting in the comments, (like the Serbs and the Albanians) pls stop this nonsense. We are here for the news on windows not to fight for our cultures. So don't ruin the comments for us pls c:

Hvala Bogu... Thank God...

Pozdrav iz Branicevskog okruga, vidimo se u Vodicama kad dodjem kod prijatelja!

Camera: Japanese -> English. How hard is it to ask?