Microsoft unveils the Xbox One S onesie you'd gladly swap your dignity for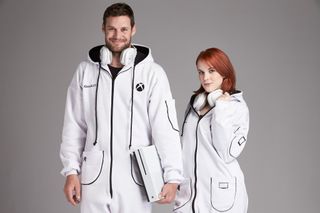 (Image credit: Microsoft)
Microsoft Australia announced (opens in new tab) a new addition to the Microsoft gaming arsenal. It may not be quite what you'd naturally assume. Behold, the new Xbox One S onesie! This new piece of clothing would be the ideal companion for any gaming den, offering not only means to keep one warm during those early morning sessions, but also storage options for that HP Elite x3 you so desperately wish to purchase.
Now, before you get too excited, this onesie — in both black and white variants — is not available for purchase. It's all to help promote the new console, but as noted by Engadget, the company may look to release details soon of limited availability. Here are some of the features sported by the onesie:
Enlarged pockets to fit your Xbox Controller and Media Remotes
Arm pouch to offer quick and easy access to your mobile phone
Roll-able legs and arms to cater for all temperatures and seasons
Forearm grips to prevent slipping on those 'edge of your seat' moments
Extra-large hood to accommodate headsets for the ultimate gaming sessions
Customised Gamertag embroidery
Unfortunately for our black Xbox One onsie, we'd totally order the new S ones without a second thought.
Please, Microsoft. On behalf of everyone within the Microsoft community, launch the onesie in your store. Thank you.
Windows Central Newsletter
Get the best of Windows Central in in your inbox, every day!
Rich Edmonds was formerly a Senior Editor of PC hardware at Windows Central, covering everything related to PC components and NAS. He's been involved in technology for more than a decade and knows a thing or two about the magic inside a PC chassis. You can follow him on Twitter at @RichEdmonds.
Eww, I always disliked onesies growing up.

My kids love them. These do look super comfy

You're not alone, though no such adult baby-grows were even conceived of in the UK when I was younger. These things, for some reason, appal me. Kinda makes my opinion of MS go down for selling them. Perhaps a bit unfair, but for some reason I really react strongly to these monstrosities. Oh well.

Did you not read the full article where is stated that they are NOT selling them?

@Burn - Nah, I got so wigged by the concept I didn't get too far with the article. Well, perhaps MS are off the hook this time then.

You seem like you lead an extremely unhappy life...

Really? You find that your life-happiness is dependent on your relationship to adult baby-grows? Well, I suppose it takes all sorts...

Does it come with a butt-flap?

A butt flap, those things while useful ruin the look of a onesie. This onesie does look pretty cool and love the pockets, awesome for programmers and gamers

Just go, man. This ain't about keeping real friends, just the virtual ones.

Although convenient when used properly, Microsoft didn't want to implement backdoor access, to better reduce the attack surface and vulnerabilities when surrounded by other brand console gamers. Based on the security model of other brands, you might see that feature on competing platforms though, especially given how much they like to show their asses.

I'd feel stupid in it lol.Great though!

Wear this with Hololens for a complete Mars mission experience.

I live in Aus.
Onesie? Not even if I were dead.

YEAH! I would love a white one!

I wonder the if the woman is wearing anything underneath? Lol

What, are you 12 or something?

It is an alien underneath. The woman's head is part of the onesie, head to toe, full coverage.

This is so silly. I wonder how many they end up sellling.

I'm guessing you found the headline to this by talking to Jez? Haha

They should design just the sweater part and maybe send millions, but no this whole body thing, it is something to wear like on halloween or special parties only.

I agree. If these were a sweatshirt or light jacket, that would be good!

Hey look!!! I'm a Xbox guy for Halloween!!!!

It looks large enough that you could wear an adult diaper underneath without anyone knowing. You'd never have to stop playing.

Would love to get one of these... to play on my Wii U in.

Another MS fail. No self respecting adult is gonna buy this lame ***!!!

I see you completely missed the point. Well done.

I see you don't respect yourself or you are a child. Well done!!

You can wear whatever you want in the private of your own home (which I assume is where this will be worn)....just sayin. If someone want's one they can get one. It has nothing to do with self respect or dignity.

We really need this available in all of the bright Nokia colors

Except that doesn't really fit with the XBox theme.

Personally I wouldn't mind a Redstone one

I don't know about the onesies, but, cut the bottom off and make it a hoodie and I'd buy one of each color!

I'd definitely go buy a hoodie version of this

You have a black Xbox One-sie? Where can mere mortals get one?

*swiping credit card into Xbox CD drive.* Cortana, order me one of those please! Posted via the Windows Central App for Android

I don't care what anyone thinks, I'd buy an Xbox onesie, just as long as it's not overpriced.

Hmm, depends: does it come with a cute redhead?


OMG!! I need this for Couch Potato Days!! How awesome I would look on Skype with HoloLens!! Ready to launch Major Tom!!!

I won an Xbox Onesie from MS on twitter a while back - its a fantastically bright green and very comfy!

That's gotta be among the top 3 most potent vagina repellants ive ever seen...

Do they come in XXXL and are they impervious to cheetos stains? Lol Posted via the Windows Central App for Android.. But waiting for the HP Elite so I can get rid of this junkie Galaxy S5...

yoo make Microsoft make an Xbox cotton sweat suit. people will buy em fast

Is there a butt flap on these?

I really don't get the hate...they do not look bad at all. They look very modern; I could see comfort space travel clothing looking like this.

SHUT UP AND TAKE MY MONEY! Posted via my Nexus 5X

... Well my dignity went down 50% thinking about even owning one... But until it allows me to make my Xbox portable, I ain't buying! Btw, does this look a bit like a space suit to u or no?
Windows Central Newsletter
Thank you for signing up to Windows Central. You will receive a verification email shortly.
There was a problem. Please refresh the page and try again.