Microsoft launches new Minecraft in Education program to help kids in school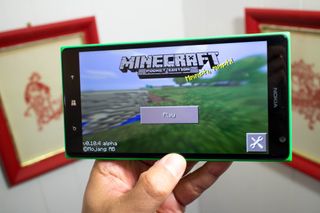 When Microsoft acquired Mojang and its mega-popular Minecraft game in 2014, CEO Satya Nadella stated that one of the reasons for the move was to help children learn more about science and technology by playing the sandbox game. Now Microsoft is increasing its efforts in that area with the newly revealed Minecraft in Education program.
In a blog post, Microsoft says:
Microsoft notes that many educators have already been using Minecraft in their classrooms for a variety of programs and lessons:
Source: Microsoft; Minecraft in Education
At least make Minecraft free for windows phone..so that we can learn science and technology as satya says..

It should be free, because we are on Windows.

Microsoft paid 2.5 billion dollars for Minecraft, why do you think you should get-it for free. Some people have to realize that not too many people are willing to work for $0. You'll have windows 10 for free, so invest some of that saving into Minecraft.

And with achievements please

How about they make the game free on Windows, but you pay for Xbox achievements?

This is biggie good deal... I never care about Achievements and game offer will be enough for me

No dude, might prefer freemium

You are losing your senses, man.

Minecraft should have Xbox achievements for sure, but it should never be given away for free. It's on pace to become the best-selling game of all time. Giving it away free ruins that chance.

How about you man up and pay devs for their work, nothing in this world is free, smh.

So much this. What is it with gamers expecting everything for free =/

Well ask Microsoft to add Debit Card support in Wallet.... I will install this game tomorrow by the Dev for his work......

You could buy an xbox or microsoft gift card at a local store.

usama then tell me how are the majority of apps and games free on the windows phone store?? Have you paid the developers for the work they did on Facebook, WhatsApp, Skype, moli player, vlc, microsoft solitaire, minesweeper, halo, asphalt, the apps of Rudy huyn etc to name a few ?? Stop your silly comments and grow up..why don't you go and thank all the developers individually and pay them from now on..

"why don't you go and thank all the developers individually and pay them from now on.." Ummm.... what? That's exactly what what I do! I think you misunderstood my comment, I said that we should pay devs for their work and fyi, I have spent around $600 on the Windows Phone Store to help/pay devs already, I could upload proof if you want. Moreover, I personally thank them on twitter and via email too (If you need proof, contact Game Troopers about a certain "WinPhanPakistan" on Twitter) - Facebook, Skype, VLC, MS Solitaire, Minesweeper and Whatsapp are free to download, I don't need to pay for them. - Moliplayer: I bought around 3-4 months ago. - Halo Spartan Assault and Spartan Strike: Bought them long ago (SS on launch day) - Asphalt 8: Yeah, I've made iaps in that too. - Apps from Rudy Huyn: I don't use his apps (just don't need them) My recent purchases include Lines: The Game, Monument Valley and Crimsonland. So what exactly is your point? Not sure if you misunderstood me or if you're just being ignorant.

Mobile first, Cloud first world. You know what his definition of mobile first Cloud first is right? Apple and Android......

This plus Hololens integration makes me happy.

The recent explosion makes me sad.

Hololense is really blowing up nower days

It's not old news, actually. The site Microsoft is launching for this initiative isn't even live yet: http://education.minecraft.net/

Maybe because they just introduced it yesterday at ISTE 2015 in Philadelphia?

I wonder what Microsoft thinks of the Minecraft.edu team that goes around to schools and teaches kids with a special version of Minecraft. It has Mojang's official blessing, but that came years ago.

My wife attended the keynote yesterday regarding Minecraft for Education at ISTE 2015 in Philadelphia. So Microsoft appears to be all in

It's a good move. Getting Minecraft into as many classrooms as possible, teaching kids how to learn, and growing the Minecraft (and therefore Microsoft) brand.

I hope this goes past the "nifty" phase... A lot of tools like this are sort of "flash in the pan" type deals. Hopefully the nature of Minecraft keeps the kids hooked enough to have them repeat the learning objectives often enough to retain. A tricky thing to integrate learning into games - a lot times it detracts or reduces the fun of the game, which kills replayability and destroys retention. I could see using this to teach coordinates and geometry with no issues, but history? Religion? Starting to reach there. Stick with math and coding.

I'd like to see MS continue to improve Minecraft by adding more types of motors and levers. Improve the physics so that we could see more complicated contraptions.

My son uses it in his Technology class after first building a Raspberry Pi.

That's really awesome especially since its a very creative and imaginative game where you can let your imaginations go wild! Posted via the Windows Central App on my Lumia 640 XL

Nice news to hear from microsoft. I too like to join them to serve the society. http://sangeetha.com.hk/
Windows Central Newsletter
Thank you for signing up to Windows Central. You will receive a verification email shortly.
There was a problem. Please refresh the page and try again.