Microsoft wants to make creating mobile business apps easier with PowerApps [Update]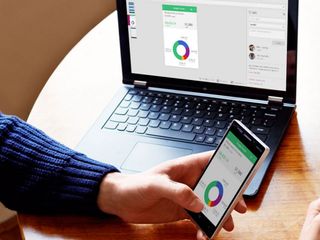 Update Micosoft has now launched the official PowerApps app for Windows 10 in the Windows Store (opens in new tab).
Original story: Microsoft has just announced a new businesses service that it hopes will make it easier for companies to create their own mobile and web-based apps. It's called PowerApps and it has officially launched in a preview version.
Microsoft says that PowerApps will help to solve current problems with creating apps made just for business customers:
Microsoft claims PowerApps will allow employee in a company to make basic apps that will run on iOS, Android and Windows platforms. Here's what they will be able to do:
Quickly create apps that work on any device using a Microsoft Office-like experience, templates to get started quickly and a visual designer to automate workflows.
Use built-in connections, or ones built by your company, to connect PowerApps to cloud services such as Office 365, Dynamics CRM, Salesforce, Dropbox and OneDrive and on-premises systems including SharePoint, SQL Server, Oracle databases, SAP and more.
Share PowerApps like documents. It's as simple as typing an email address and your coworkers can take advantage of an app you created.
IT workers and professional app developers will be able to use PowerApps with some additional features:
PowerApps includes Azure App Service for employee-facing apps, so native web and mobile apps get into employee hands faster than ever.
Build additional data connections and APIs to any existing business systems, thus empowering any users in your organization to create the apps they need.
Data security and privacy controls are respected by PowerApps, so you can manage data access and maintain corporate policies.
Microsoft is not disclosing how much it is charging businesses to use its PowerApps service yet while it is still in preview.
Source: Microsoft (opens in new tab), PowerApps (opens in new tab)
Windows Central Newsletter
Get the best of Windows Central in in your inbox, every day!
Article needs editing. Errors in both the first and second paragraphs. Posted from my Note 5

If the service can also make apps for android and iOS, i really think this post should not be restricted to Windows Central.
Anyway, this is a great initiative by MS. Definitely puts them forth as a productivity solutions provider. :)

I read that as 4th and thought what are you talking about should be 1st!

+1 Posted via the Windows Central App for Android

I wouldn't put much faith in these projects being supported 3 years down the line. See: Microsoft LightSwitch.

@Giddora. What does Xbox have to do with this? Lol.

Yeah what happened to Xbox TV and Xbox Video???

Renamed to Microsoft Films & TV, to fit the new ecosystem of Windows 10 being on all devices.

Cool, so where can we get our hands on the preview SDK? :P.

Click on the link and request an invite

I'm hoping to start making apps for Windows 10 and Android using these tools :)

Besides cross platform, how does this differ from app studio?

PowerApps is targeting business users so it's easier to use than App Studio. As opposed to the App Studio it is also very much data driven and the PowerApps studio feels a little like Access combined with PowerPoint.

Just offer sth exclusive at least for one time

What good would it be if it was Windows exclusive? "Hey look buy this service and you can have cool apps for your business data on your smartphone... only if it's Windows Phone though." I could see every executive in the world laughing at that sales pitch while they use their iPhone to tweet about it.

Now - will this get banks and financial institutions to create adios for the platform!? Badly hope so!

Perhaps for the employees who work for the bank. This isn't a tool for consumer apps. Posted from my Moto X Pure Edition via the Windows Central App for Android

Yes, definitely needs more Spanish pleasantries.

Requested an invite this morning, as a developer in an enterprise financial business maybe I have a good shot of getting an early invite. If I do will post back here with what it's like to actually use.

Edit: Nope, listed as "Full" Downloading now from APP store. Registered yesterday. Guess they said yes. :)
Windows Central Newsletter
Thank you for signing up to Windows Central. You will receive a verification email shortly.
There was a problem. Please refresh the page and try again.