Microsoft wants you to beta test upcoming Office products and services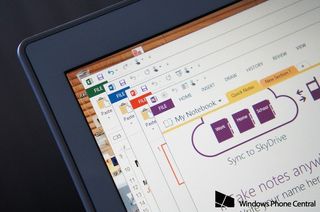 Ever wanted to test out new features before they launch? If so, today's your lucky day as Microsoft is currently looking for beta testers for the Office family of programs and services.
Beta testers will be able to run pre-released software and provide feedback as well as suggest product improvements. The pre-release software includes the Office suite, which features Word, Excel, PowerPoint, OneNote, Visio, Access, Publisher and Outlook, in addition to the enterprise focused Exchange, SharePoint and Project server products and cloud services.
You can either register as an individual or get your company signed up for testing the pre-release software.
Interested? Head on over to the link below to register.
Register for Microsoft's pre-release program
Windows Central Newsletter
Get the best of Windows Central in your inbox, every day!
Harish Jonnalagadda is a Senior Editor overseeing Asia for Android Central, Windows Central's sister site. When not reviewing phones, he's testing PC hardware, including video cards, motherboards, gaming accessories, and keyboards.
Sounds interesting would love to test out a fully touch optimised office!

There's no nothing exciting about a new office

Not agree! :( if it includes Gemini why not!?

Totally disagree with this. Meh.

Lol, what's changed since office 97?
Maybe if Bing Mail and Office Outlook can merge or better sync.

Ribbon interface, new file formats, One drive integration, Office 365 subscription, touch mode in desktop version, just to name a few of the bigger ones. I'm assuming this one might include the touch versions, though if not there will be many new smaller features and tools that need to be tested.

As much as I would love to test new features I really don't think I can risk having some of the most important productivity software on my pc being beta.

Yeah, this caught my family with the 2007 version when the beta version of the new file version wasn't compatible with the release version.

I wanna beta test a new Youtube app Ikari Warriors Metal Slug 2 Raiden Yeah and plenty other apps that we should have had after 2 years.

Just give me my official 8.1 for my phone and ill do whatever haha

Bring it. My body is ready.

Successfully registered :)

I've beta tested both Office 2010 and 2013. Was fun.

Should have told them to keep the black theme in office 2013.... I miss that so much.

I did. There actually was a great general commotion at the time for the lack of a proper dark theme.

Hopefully they'll bring it back in office 2015.

2016*. They update it once every three years.

Are you sure? http://en.wikipedia.org/wiki/History_of_Microsoft_Office Office 2013 was out in 2012, Office 2010 was out in 2010, Office 2007 out in 2007, Office 2003 out in 2003. Would be nice if the release name was the actual year of release

I was using the beta for Office 2010 in 2009.

This site is currently not available... Please try again later :(

I didn't even finish my proper sign-up and the site collapsed. Too many people I guess.

why dont they just send it out even if it distroyes everyones lifes....... isnt this what they are doing to us and WP8.1, skype, surface, music... we have been ginny pigs since wp7.

Seeing how WP 8.1 is DEVELOPER PREVIEW you've downloaded on your device yourself yes, it's very much the same as this, intended for finding bugs and getting things ready for world wide launch. Do everybody a favour and don't participate in this beta, your ignorant whining would drive everybody working on the program nuts.

Beta is not sent out to millions of peoples. Beta should be controlled so that they can fix bugs. The Developers Preview, is the final build. its not a BETA OS. The Develeopers preview, was for Developers to BETA test their apps (on a final build), before world wide launch. And thats not whining, thats sarcasim, i particpate in this ecosystem by freewill, if i dont like it i can leave, though i stay, because its amazing. and i want it to improve. Finally, you need whinny people to joing beta programs. other wise it will fail.

The build from the Developer Preview WAS NOT the final one. Joe Belfiore said it, and you can read that here: http://www.wpcentral.com/joe-belfiore-ama
If it was the final build, then why did we get two updates? But, you're right about the intention of the program: It is for DEVELOPERS to test their apps, not for consumers (Otherwise it would be called Consumer Preview).
Finally, beta testers don't whine. They report bugs, make suggestions and contribute with telemetric data.

It says not available... :sad:

Not available...I'll try again later... :(
I've beta test 2013, it was fun and even it was beta, it's quite stable on me. :)

yeah right, I am not interested anymore because I saw how well they listened to the the feedback of Windows 8 testers

You do have Windows 8.1 and know about the start menu coming back to Windows "Threshold", right?

Of course, but that is much too late. They have stubbornly and arrogantly tried since the beginning of Windows 8 to push the Metro interface through our throats in spite of the fact that a majority said (already during the previews) that they didn't want it (at least not on desktops and laptops).
That is the reason why I will never adopt the Metro interface (not even on a tablet), they ignored the user far and far too much. I have never installed Window 8/8.1 and I will never do.
I will have a look at Windows 9 when it is released but I will not give any remarks, suggestions, etc during previews or beta tests anymore. B.t.w. I have been an fervent MS fan since the nineties (more than 20 years).
MS ruined my addiction to them completely with Windows 8.

Site not working for me on mobile

Tells me the site is unavailable when I click either home or business.

I'm trying to register but it says that "This site is curently not available... Try again later"...

I will love to test the Android version of Office!

Yep, the site is still unavailable. :(

Looks like the site is overrun or shutdown. You cannot enter info about home user.

Should I do this even if I don't use them all regularly?

Link works but the individual link from there is not available.

Link went to pre register site but then said link not working out no current programs or something like that.

'Microsoft wants you to beta test upcoming Office products and services' Doesn't that sum up WP, pretty much?

Obviously a problem of some kind. The site now says they are working on the issue and they will be accepting applications in the coming weeks. oops! Keep trying!

As of 9:30 am EST in the US on 7/6 the site is back up. I registered this morning.