New website goes live for Microsoft WiFi ahead of launch
Microsoft has launched a new website for Microsoft WiFi, an upcoming re-branded version of Skype WiFi enabling consumers to connect to public hotspots around the world.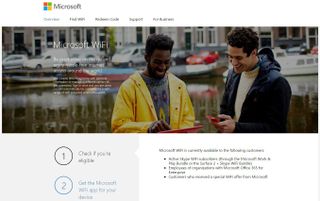 The service, much like Skype WiFi, will likely see subscribers pay for the time connected to public hotspots as opposed to being charged a monthly fee. It's not currently known how Microsoft will go about charging those who opt to use the new service, so we'll have to wait until Microsoft official launches the service to learn more.
The company boasts more than 10 million hotspots in the WiFi catalogue, covering 130 countries at supporting airports, hotels, restaurants, among other public spaces. As is the case with Microsoft of today, the company is rolling the new service out on all available platforms, meaning you'll be able to utilize the wide selection of hotspots on your PC and/or iPhone.
For businesses, Microsoft will include Microsoft WiFi in Office 365 Enterprise. For the time being, the service is only currently available to the following:
Active Skype WiFi subscribers (through the Microsoft Work & Play Bundle or the Surface 2 + Skype WiFi Bundle)
Employees of organizations with Microsoft Office 365 for Enterprise
Customers who received a special WiFi offer from Microsoft
It's an early build of the website itself with many elements missing or not currently live, but at least we have an insight into how Microsoft plans to proceed with its public WiFi service. Hopefully we'll learn more once Microsoft officially launches the service.
See the Microsoft WiFi website for more details.
Via: Neowin
Windows Central Newsletter
Get the best of Windows Central in in your inbox, every day!
Rich Edmonds was formerly a Senior Editor of PC hardware at Windows Central, covering everything related to PC components and NAS. He's been involved in technology for more than a decade and knows a thing or two about the magic inside a PC chassis. You can follow him on Twitter at @RichEdmonds.
Yes it will never be in India .. Due to security reasons ... Even 360 degree street view by google is not allowed in India...

Street view can be very dangerous do security reasons can lead to terror attacks. But the services like microsoft WiFi, google project fi can be implemented as there are WiFi companies operating in India

Street view can lead to terror attacks? Street view can't see anything that can't already be seen from the street anyway. Sure, it could be used as a tool for all kinds of things, but a person with a camera can accomplish the same thing (and probably do a better job).

It actually already IS available in India. :) It's available in many countries already, but the site was taken down so I guess they will announce it soon.

Last time I checked, it wasn't available in India.

Article says it's a rebranded version of Skype WiFi. If true, then according to this link, it's already in India. Correct? http://wifi.skype.com/maps?zoom=4.481838398813936&lat=21.31824&lon=76.30689

they should have it for free if using windows phone! ;) that would be SOOOOO awesome!! :D

Or Windows 10 for phones.

Yes, that could definitely make people interested in buying phones with Windows 10 on them.

Is there any love for Indonesia? People here needs a fast Internet access too!

DO NOT. EVER. EVER. HOPE FOR SOMETHING IMPOSSIBLE. Mr. Sembiring said that it's useless to have fast internet connection. MEH.

IN the US the wifi access points are mainly in hotels. So its useless unless you visit a lot of hotels. Even then a lot of hotels give you free wifi if your a guest. Plus here on long island we have cablevisions optimum wifi everywhere .

Why do people insist on calling things "useless"? There are plenty of hot spots in the US that are not in hotels. My neighborhood pub has WiFi. My gym has WiFi. The airports I've been to mostly have WiFi. Starbucks has WiFi. McDonald's has WiFi. Is on way more places than hotels and definitely a useful idea, to fill in the gaps in other places that do not have WiFi. It would be an added value if they included hotels, but still potentially useful without.

Theres a wifi app for this aswell http://www.windowsphone.com/s?appid=ed44716f-ddeb-4066-9dbe-d00dd4887a89 though only useful right now in Seattle center

It would be nice if available on planes.

Snakes were available on planes once. I heard it was a horrible combination.

Wow, this service is already available in Bangladesh! http://i.imgur.com/MKOVMPN.png

I looked at the map and it looks like they are just piggy-backing on already existing WiFi connections at hotels. Comcast Xfinity is also listed.

Available for the Philippines. Though I'd never use it locally, it will come handy when I'm elsewhere. The Windows phone version is useless if you're outside the reach of Seattle Center, Seattle, WA.

Is it available in India or not?

yes, it's available in India , doreamon just confirmed it

Meh, we have so many free WiFi areas this is rather pointless.

I wonder if that's what the new Network Beta app is for in the new build 10130 of Windows 10?

"...meaning you'll be able to utilize the wide selection of hotspots on your PC and/or iPhone mobile phone." FTFY Edit: Imagine, if you will, a strikeout through the word 'iPhone'... (Not sure why the editor alllows this, but then it doesn't render as formatted...)

Yeah! Skype Wi-Fi is nice when travelling. Looking forward to even better reach. Like the rebranding.

Did they take the site down? I can't access it.

Same. It seems to have been taken down.

Here is the First look of the Microsoft WiFi service, :D check it out http://bit.ly/MicrosoftWiFi

I have this, but never understood how it is useful. I can connect to free WiFi already, why would I want to pay for it? Someone explain it to me?! Lol
Windows Central Newsletter
Thank you for signing up to Windows Central. You will receive a verification email shortly.
There was a problem. Please refresh the page and try again.