Microsoft will reveal what's next for their cloud business on October 20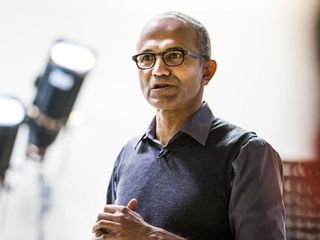 Microsoft is sending invites to the press to attend yet another event in San Francisco, but this one is centered on Microsoft's cloud business and will feature CEO Satya Nadella in attendance.
The event will be held on October 20 and will also feature Scott Guthrie, the Executive Vice President for Microsoft's Cloud and Enterprise division. Unlike the Windows 10 press event that was held last week, this new media gathering will be livestreamed over the Internet for anyone else to check out.
While this press event will concentrate on revealing news that will be of interest primarily to enterprise customers, it will be interesting to see if Nadella or Guthrie will mention anything new about Windows 10 in their presentation. What do you expect will be revealed at this October 20th gathering?
Get the Windows Central Newsletter
All the latest news, reviews, and guides for Windows and Xbox diehards.
Why can't Satya do this for windows phone too?

I know, right? I'm losing hope

Where have you been, heck, the presentation is even mentioned in the article. The sep 30 press event talked about Windows 10, which is Windows Phone's successor.

Wait, what? Afaik Satya was not speaking at the Win10 event.

Unlikely, considering this is for cloud, not hardware.

More like Windows Server on ARM, AMD is shipping ARM servers this year.

Why would AMD ship an ARM server? ARM is a totally different company... It would be like Intel shipping an AMD server, or Microsoft shipping a surface with Apple OS on it...

AMD will be shipping out an ARM based processor this year, the Opteron Series, I am unsure if they are targeted towards servers though. But then you would be right, it would not be ARM realeasing, it would a company like HP, Cisco or Dell. I know HP was ambitious about building an ARM based server series. I don't know if they plan on using this chip.

I worded that poorly... AMD is shipping ARM SOCs this year. http://www.cnet.com/news/amds-first-arm-processor-is-8-core-and-64-bit/ "The AMD Opteron A1100 series -- targeted at servers -- can integrate 8 processor cores and will be one of the first ARM chips to be 64-bit." Windows Server on ARM would be really great because the new releases of Windows Server are practically killing SANs... an ARM-based clustered storage space would be cheap, effective, and not break any compatibility with x86-64 based server environments.

Better integration between Xbox Music and Onedrive would be amazing. In fact, fixing the back end of Xbox Music in any way would be good.

They got to add features from the browser music app to the win8 app for use with a mouse. Its so much better in a browser for album view

Definitely. I want something similar to Google Play where you can upload your own collection of music that hasn't been "matched" to the Xbox Music library. While there's not a lot of it: I do have a few songs that aren't available on Xbox Music, but I would still like them to be synced via the cloud. I have 1TB of OneDrive storage, I would love to use just a little bit of that to have my non-Xbox Music tracks sync via the cloud. That'd be beautiful.

When will the smartwatch be announced?

Did you know they already had one released? Look up Microsft SPOT smartwatch, they were first in the smartwatch race ha ha

We need to see what windows 10 will bring to mobile

That's at least another 6 months for now .. probably 12 until we get it as an update.

Satya seems to be prioritizing business products right now. Consumer stuff like Xbox music, Windows Phone and OneDrive are secondary in the eyes of this CEO. Sadly when he says mobile first cloud first, I don't think that necessarily means Windows Phone and OneDrive.

Microsoft is enterprise first. Always remember

Showing the focus on enterprise this seems right

Just be patient for windows 10 to succeed they need to win over the enterprise users and business users first. That's there biggest clients and the biggest percentage of market share then she the time is right and the made enterprise user happy the they will focus on the consumer side MS need to get windows 10 on as many computers as possible for there new strategy to work you know the one OS for all screens so every enterprises user and consumer alike will be part of one big market share not just for PC but phone and table as well when the time is right they will announce the consumer side they are just sitting there i and crossing there Ts this time around.

It'll be mostly about Azure and Office 365 (which does contain OneDrive I suppose).

In fairness: All the money comes from enterprise.

Yea and What is next for the Windows Phone (Lumia)? Waiting to hear what's next Lumia phones are coming I need an upgrade soon from my Lumia 925.

Why do they hold so many different events? They could have talked this earlier with windows event. Just increasing costs.

When a new version is released for windows phone 8.1 ( GDR2 )

No.. Nobody cares about that enough for MS to send out invites..

Probably more new features/improvements to Office 365 and OneDrive. Maybe news on Windows 10 integration with OneDrive, Office 365, etc. It'd be nice to see something about that oft-rumored/hoped-for Xbox Music Locker service.

Are they going to save anything for TechEd Europe keynote on the 28th October?!??

Where is the Surface 3 event? Is Microsoft killing the ARM based Surface's? :/

Yeah to Surface 3.....but no news!

I would much rather see a Surface Pro 3 with broadwell + LTE instead of an ARM based one

How to add this event to wp calendar....

Ask Cortana to do it.. ;)

How about some phones bitches. Jesus I swear if I don't get a flagship before the holidays it'll be a sad Xmas. Idc how many updates you push out. I want a bigger phone. Fuckers.

Office 365 and a big change to office that was in the news last week? Along with some azure stuff?

Let me guess... Updated once drive app for business, more capacity for less money and deeper integration for the next version of Windows... Stay tuned

This ongoing lack of a flagship is worrying :(

Why ? Its not like it would matter.. the iPhone 6 is the phone most people want right now, they might as well wait out the craze a bit

Perhaps but the 10 million peeps who bought the iPhone 6 are probably all from the States and apparently iOS 8 adoption rates aren't great because of the bugginess which would make it a perfect time to showcase a flagship but once again MS has missed the boat!!!

Actually the release was in many countries so the 10 Million orders was from all the launch countries. Also, there was one major bug in iOS 8.0.1 that Apple fixed in 24 hours with release 8.0.2. Of course not everything I perfect and as expected there I an 8.1 release coming soon. Adoption of iOS 8 is actually on par with iOS 7 at the same time after its release. Last number I heard was that it is already in 47% of eligible devices.

Well we've obviously read different articles coz the one I read said that adoption rates have only increased by 1% over the last month

Actually, it was 1% over the last two weeks. Doubtless the 8.0.1 bug has some cautious and others are waiting for 8.1. Still others are waiting to get their new devices so they may not even need to upgrade. I have little doubt that iOS adoption will be on par or better this year than in previous years. And 47% is still far better then Android or even Windows Phone. I still don't think most Verizon Windows Phone users have gotten their upgrades for Windows Phone 8.1.

Oooh yeah, Surface 3 RT is on the way with some new chipset. Oozing thinness and sleekness. Be prepared :)

Co-owned folders please, so I can ditch DropBox completely.

Family Rooms/Groups in WP/OneDrive

Speed! Hope they fix the Speed of One Drive, it's terribly slow compared to other clouds (300kb/s).
And they should improve the windows phone cloud apps like OneNote and OneDrive. Their android versions are much better.

Please bring back login and out option in one drive WP app the fastly needed thing is that...

Guys, ScottGu is the Azure guy. I strongly suspect the event has to do with Cloud Computing....

I just hope the cloud services they provide runs smooth and SECURE!

This pic makes me scared...

would be funny if Satya at the end of this event says one more thing then pulls out a 1030... (and says here is your key to the cloud)

Now, that would be awesome!!!!!.. I could dig it❕

More OneDrive storage announcement incoming!

Does "cloud" mean Azure or does "cloud" mean Office 365, Outlook.com, OneDrive and XBox music in this context? Since Satya is going to be there and they are focused on Enterprise I'm betting the topic will be Azure, Dynamics, Sharepoint, OneDrive for Business, Yammer and Office 365.

Why do you always use this same pic of the CEO? He looks animated in this pic.

My guess is that they will show how Windows 10 is cloud-enabled right out of the box with your Office365 subscription. Right now, it can be a bit clunky getting OneDrive for Business and SharePoint resources truly integrated with Windows 7 and Windows 8. You have to know the tricks to get it ask working and syncing correctly. Windows 10 is likely just going to have all of the cloud resources easily integrated and accessible... With settings much more deeply synced across all devices. Enterprise "ease off deployment" and enhanced security for cloud-based resources are likely to be a focus. My two cents. Hoping Windows 10 on mobile devices can become what BlackBerry once was to giant companies like Coca Cola. That's where you win the mobile/cloud war, by giving enterprise a viable option to replace a sea of square iPad and iPhone devices wedged into a Windows circular hole. One platform... One OS... One Windows.

ding ding ding. productivity is key. Gates just made public comments about Office needing improvement. That could've just been a primer; an attention getter..

One problem with your idea. The future is BYOD, and users by in large, prefer iOS and Android devices. It doesn't matter anymore what IT thinks or tries to dictate. Those days are over. Why do you think that even MSFT's mobile apps run better on iOS and Android then they do on Windows Phone?

I use and support Office365 at work. I am impressed so far with Windows Azure and Office 365. I am looking forward to seeing what the next version of these products, services, and platforms can bring to the table. I would love to see full virtualization of the AD and file server functions as part of Azure. Also hosted IIS and SQL services would be a cool addition. I suspect before long, all of MSFT's products and services will be delivered and managed the way Office 365 is.

Well if MS got their act together I would have spent even more than I already have on them (I have SP3, L930 and Xbox 1) but unfortunately they don't have ANY flagships upcoming except their "affordable" ones lol if they aren't careful they might end up losing customers like me who have to have the latest n greatest n I'm sure there are quite a few out there!