Microsoft working on fix for Xbox issue causing games to install past 100%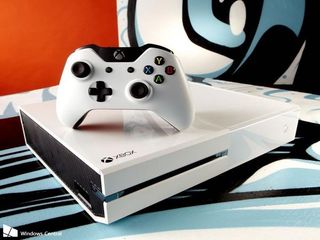 Microsoft has acknowledged a small error on the Xbox One that causes games to display that they are installing past 100%. Currently it seems to impact games that have title updates awaiting them, including Halo 5 and Grand Theft Auto.
According to an Xbox staff member, Microsoft is working on a fix:
It should be noted that this issue doesn't appear to cause any actual problems with the games themselves.
Source: Microsoft (opens in new tab)
Windows Central Newsletter
Get the best of Windows Central in in your inbox, every day!
I had this with Halo 5. Currently at 227%. :)

Alot of game for the money:)

You could sell half and still have all of it

You just installed Halo 10.135

227% means you have Halo 7.2 pre-installed and waiting for Digital activation in 2017. It s not a bug.

Wouldn't that be Halo 6.2? Since it's two Halos, 5, then 6. And the quarter extra. So, maybe Halo 5, and 6, with a Beta for Halo 7? 343 is really knocking these out Ubi style.

Lol. Wierd bug. Not seen it myself. At least it doesn't affect the actual game code at all.

Pretty easy to have this big actually. Sounds like when they determine the total download size for the purposes of the progress bar, they are only looking at the original game size. But they are downloading the game with all updates, so the calculation simply goes over. One out my projects was making some generic progress bar code, and this would be a very easy issue to have (and should be easy to fix as well).

That doesn't seem right. The game ships around 50 GB and has a patch that's about 9 GB of content. That wouldn't equate to the first comment's report of seeing 227% installation progress. IF anything, it could be the opposite, with the 9 GB being treated as the 100% and the 50 GB being the excess that's thrown on top. Regardless, I have a feeling it might be comething more complex than that.

Are the downloads compressed? Perhaps it might be something to do with that?

No idea how htey handle it. Like, with Windows Phone, you actually had to have FOUR TIMES the space an app actually took up before you could install it. Maybe it's compressed, but I don't believe any DL compression would be able to make this read as 227% because when you compress it that heavily (50%+), you'd suffer quality loss in the actual DL (like with low-bitrate music).

Well ive noticed with mw10 even installing apps/games sometimes it sit in the queue even though its finished so I end up having to close store completely

Xbox.... "always give 110%"

Damn it, I wanted to make that joke. :'(

I feel bad for the gamers still having issues with NXOE especially now that Halo 5 is Nigh.

Had the issue today that the GTA5 update did not install. Says there is a problem and installation seems interrupted but installed correctly. Posted via the Windows Central App for Android

The Terry Crews Old Spice install?

I have weird problem where Forza 2 does not open up. It asks whether you own the game, which i do. Then it asks me to check if i have signed into Xbox live, which i have. Otherwise it tells me to go to the store to purchase it!

Report it to msft. I had an issue similar on the 360. They resolved it for me.

Didn't know they made it compatible when did that happen?

I haven't noticed any problems with my digital games. What I did notice is the Xbox in the picture...it is SO Stormtrooper!

I went with physical copy for Halo 5.

I did as well sadly bb was to slow to hand off to post so will have to wait till Tuesday. Wish I would've preordered in store as they had better preorder incentive

Must be because xbox is essentially a pc now. As many problems as windows updates has caused over the years.

We're gonna need a new "100" emoji...

I just had this problem with fallout4 please someone help!

Halo 5 is currently on 43,894% on my Xbox...

My gta v is on 525% plz can someone help

Wwe2k16 currently at 3,046% still not sure why it went past 100%

My WWE 2k16 went over to 1,339.

My GTA 5 update is at 470% its been going for a day how can I make it go faster and why is it still going
Windows Central Newsletter
Thank you for signing up to Windows Central. You will receive a verification email shortly.
There was a problem. Please refresh the page and try again.