Microsoft working on Photos Companion app for iOS and Android
Moving photos from your phone to your PC is about to get a little easier.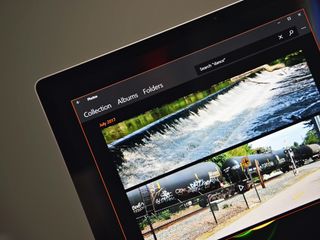 (Image credit: Windows Central)
Microsoft is working on a Photos Companion app for iOS and Android. Discovered by Italian blog Aggiornamenti Lumia, the app will apparently allow you to wirelessly transfer photos directly from your phone to a PC on the same Wi-Fi network. The same thing can currently be accomplished by taking advantage of OneDrive's ability to upload new photos and sync them with the Photos app, but Photos Companion will give anyone not currently using OneDrive a way to get their photos onto a PC.
In addition to Photos Companion, Aggiornamenti Lumia also spotted some new features headed to the Windows 10 Photos app in future releases. Those additions will include premium content, like themes, music and special effects, as well as stickers for photos and videos, and more. The features are currently being tested internally, but Windows Insiders, and eventually the public, should get access to them in the future.
The Photos app has seen quite a bit of focus in recent months, with Microsoft pouring work into Story Remix features, which opens up more editing features for photos and videos. The release of a Photos Companion app on iOS and Android is likely intended to get more people taking advantage of Photos' features on their PC by easing the movement of photos between devices. That's something that makes much more sense now that Microsoft has all but abandoned its own mobile platform in favor of bolstering its efforts to populate Android and iOS with its apps and services.
See at Microsoft (opens in new tab)
Windows Central Newsletter
Get the best of Windows Central in in your inbox, every day!
Dan Thorp-Lancaster is the former Editor-in-Chief of Windows Central. He began working with Windows Central, Android Central, and iMore as a news writer in 2014 and is obsessed with tech of all sorts. You can follow Dan on Twitter @DthorpL and Instagram @heyitsdtl.
When will there be a photos app for android and iOS? How do I play my living images? Or MS wants users to use OneDrive? Because google photos won't sync OneDrive stuff. With image recognition and machine learning gaining importance, there should be a photos app on the way...

People still use living images? I thought that faded out soon after Apple "invented" it?

I still use them on my 950. I think they are a cool feature.

They were/are, but I found them to be kind of a pain when just trying to take a photo, so I disabled them when I used my 925. I just figured that they weren't all that popular since you don't see add for them anymore.

They are a total gimic but I do love them: I have a great one of a family friend getting a clout off of his mother seconds before what turned out to be a beautiful family portrait. Without the live photo that background could have been lost.

Yeah, it would be nice to be able link One Drive to Android photo app. If MS ever decides to create an official Photo app, it should have the option to link to either or both, if users want that. I would also appreciate a Movie & TV app for Android. It would be nice to be able to stream or download movies to my Note 8. For now, I have to watch them on PC, Xbox or my 950 XL. With MS officially killing of Windows 10 Mobile, this shouldn't be something that we are still waiting on. They knew that they were killing of phones, before stating it publicly. They should have had these apps already pushed out in Beta, at least.

I have my onedrive linked to my iphone photo app.

Android is sooo lacking of good photos app, this would be real score if to trust italians.

Google Photos is amazing and I am sure there are several other options for photos. Android has no lack of great photos apps at all.

I'll second that and agree completely with Bleached. Google Photos is right up there and there's plenty more right behind it

Google Photos might be my favorite app.

Doesn't sync OneDrive = no go for me 😁

I love QuickPic. And as others have pointed out, Google Photos is also excellent.

You know what, I like Google Photo's but I am a Microsoft ecosystem person and try to use Microsoft apps as much as possible (unless they are real bad). So having Photos from Microsoft is just another check mark to get away from Google and using Microsoft app, so not really a need but more of a nice want. BTW Edge on Chrome is great!!!

This is a pretty good addition, but having the whole Windows 10 Photos app on Android would be also appreciated.

Who needs an app to transfer photos from phone to PC?

Sometimes I'm at home... I remember I took a photo... sure would be nice to zap it to my computer without pulling out cables, embedding it in an email and emailing it to myself or putting it up on onedrive, waiting for it to sync... then pull it down on the other device... I was always frustrated that you couldn't file share over a WorkGroup or HomeGroup from a Windows 10 Phone to a Windows 10 PC... or couldn't setup a quick ad-hoc peer to peer transfer (easily) using Bluethooth or even better... WIFI... (Bluetooth sharing from PC to Phone in Windows10 is just aweful!!). Anyway... FIGURES that it will work with IOS and Android.... Satya, Terry and Joe couldn't be bothered with making that work for WIndows10 Mobile....

Apple created AirDrop for that purpose. If Microsoft put as much effort into device interop as Apple did in place of App converters and redesigns, the sheer convenience of using Windows Mobile with Windows does would have made up a lot of the app gap and drew in more users... Making Their Mobile Platform more attractive to developers in the process. The biggest issue with Windows Phone was always that it was really no better with desktop Windows than an iPhone or Android devjce, while those devices were clearly the better choice for desktop form factors in their own ecosystem. This is all useless to me as an iPhone user. Bloat up your phone with duplicative apps and services for what? I just make sure one of my PCs is a Mac and use my gaming laptop with a local account. I have up on Microsoft's ecosystem because Apple and Google offer a superior end to end exoerience, and have more complete service coverage. Microsoft is 3 years behind Apple to this, and their mobile platform died in the process. Apple solved this issue in 2014. This is a solution in search of a problem.

Apple controls both iOS and MacOS and thus are in a far better position to create flawless integration between their mobile and desktop platforms. So obviously they are ahead on this particular issue. As a former Windows Phone diehard, despite the fact that I'm still saddened by the harsh truth that Microsoft failed to gain a firm foothold as a thirth platform in the mobile space, I'm actually excited to feel the benefits of the Microsoftification of Android. My Galaxy Note 8 is powered by the Microsoft Launcher and all Microsoft services (Edge, Outlook, One Drive, MS Office). And it talks nice with my other Windows 10 devices while still providing me with all the benefits of being in Google amazing (mobile) ecosystem. Recently bought a chromecast 2, wonderful little device that made my media habits so much easier. Can pay with my phone's NFC in stores (my bank didn't support that on Windows Phone and doesn't on iOS either) and every store or smartservice is supported. It changed my life. I wished Microsoft had the cloud (pun intended) in mobile that made them a viable contender in the smartphone market, but they don't. I'm glad I bought in to another platform and I'm glad Microsoft plays with it. Because as long as they do? Windows 10 on desktop stays relevant in this mobile first age. They will never catch up to Apple or Google in app support by the developer community and without the things the people 'need' in this day and age? People will never mass adopt your platform. The current course of things is the logical conclusion of years of trying doing it on their own. When you can't beat them? Join them! To anyone still holding on to Windows 10 Mobile? I can only say, let it go! It is time!
And yes the grass is really greener over here 😎

Would love to see a Movies & TV app for Android.

I wish there would be a free unlimited photos storage from MS. I love MS but stuck storing photos on Google since they are free.

This doesn't seem too different from auto uploading to OneDrive and then viewing the photos anywhere. I guess it could be useful if it lets me send a photo to someone else's computer, but isn't that what email does?
Windows Central Newsletter
Thank you for signing up to Windows Central. You will receive a verification email shortly.
There was a problem. Please refresh the page and try again.