Microsoft working on Skype bot that could turn anyone into an NFL fantasy football pro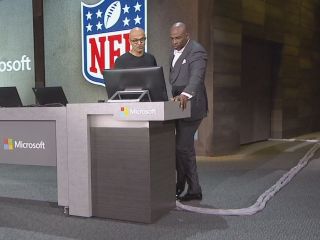 Microsoft announced it is in the early stage of working on a Skype bot that will allow users to make changes to their fantasy football team based on data collected from the NFL.
Microsoft first announced support for AI-driven bots in Skype earlier this year. Today, as part of the Innovation keynote at the Microsoft Ignite conference in Atlanta, Microsoft CEO Satya Nadella showed off an early version of the NFL fantasy football bot with the help of former player, and current CNS and NFL Network anaylst, Deion Sanders
The demo showed that people can bring up the bot in Skype to see their current fantasy football team. Then they can click on a "recommendations" menu choice to see if the bot has any ideas for changes to that team. In this demo, it recommended that Saunders trade Atlanta Falcons quarterback Matt Ryan for New Orleans Saints' Drew Brees. Saunders was skeptical of that choice, but the bot also brought up comparisons between the two quarterbacks, giving the edge to Brees.
Microsoft plans to launch this Skype NFL fantasy football bot sometime in 2017.
Windows Central Newsletter
Get the best of Windows Central in your inbox, every day!
I need this.. Yesterday. Posted via the Windows Central App for Android

I suck too! I'm guessing that it will only link to the NFL.com fantasy though.

In any case it won't be available until next season (that's what Satya said before getting Deion on stage) so it won't help you suck less for a while

How about update the stupid NFL.com fantasy football app for Windows Mobile. Like yesterday already! Its pathetic that the IOS and Android apps already got updated to a new app yet the Windows Mobile app sucks despite Microsoft having a hella big contract with the NFL.

Just about to write this.

Well that's what happens when a company considers their own platform as an afterthought......

I thought I read somewhere the Windows app was being discontinued?

You are really lucky there is even an app, and it works! ESPN pulled their app recently and it didn't even work for weeks before that.

I sent a report to Customer Service app the app. It's broken for me on my 950xl! I can't change my lineup, add, or drop players. They responded with ways I can get the website working, including refreshing and deleting the cookies. I replied back that I was talking about the app. Got another email reply talking about the webpage. Ty his one included recommended browsers...smh

Actually droid users in my league were complaining this last weekend about app not working for them either

Very hard to stay motivated and stick with Windows mobile. between apps not getting timely updates and Skype mobile being a total joke still, don't know why i have fought the change for so long sigh :/

can they first work on releasing the new skpe? with no eveyday bugs?

They work. But it would be silly to read an article on WC about their work. For now just know that "they work".
I'm very happy with the new Skype UWP App and I know it's improving with every update :)

​Still not understanding the whole bot thing, but why wouldn't they put this in Cortana? Cortana has become much less useful on my WM10950xl than WP8.1 on 1520....smh

Was die Welt nicht braucht.
Oṣhi, iranu, abasha radarada.
Please make it US only, rubbish!