Microsoft introduces its own Linux distro for Azure with a particularly dull name
Azure Linux container host for Azure Kubernetes Service rolls right off the tongue.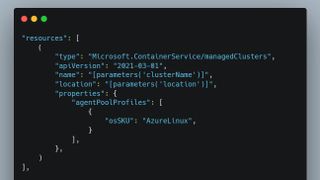 (Image credit: Microsoft)
What you need to know
Microsoft recently released a Linux distribution for Azure server environments.
The Azure Linux Container host was designed to be lightweight, secure, and reliable.
While Azure Linux container host for AKS is built for servers and not desktops, it is still noteworthy that Microsoft made its own Linux distribution.
---
Yes, in a typical Microsoft naming fashion, the title of Microsoft's first Linux Distribution isn't "Fedora" or "Ubuntu," but rather something very descriptive. While technically a Linux distribution, it is not intended for desktop use but rather serves a specialized role in Azure server environments.
To provide some context, Kubernetes is a tool that helps manage and deploy applications in a more efficient way. It helps developers focus on writing code rather than worrying about the underlying infrastructure. Previously, it would be normal for developers to either learn how to set up a server, a database, and a lot more besides just focusing on coding or to have a dedicated person in-house who would set it all up for them.
Many years later, developers can now pull up a few "LEGO" pieces together as Kubernetes's containers, and voila, the system is ready for development. Naturally, both the containers (Docker) and the Kubernetes orchestration engine also need to sit on something, namely an operating system, and that is where Linux is needed.
The newly named Azure Linux Container host is a barebone Linux distribution completely made in-house by Microsoft and is specialized for use on Azure. Key points are lightweight, secure, and reliable. While this is another big step for Azure, don't expect a desktop Linux distribution from Microsoft anytime soon.
For a thorough breakdown, check out Microsoft's full introduction to the Azure Linux container host for AKS.
Get the Windows Central Newsletter
All the latest news, reviews, and guides for Windows and Xbox diehards.
Just another piece of evidence - as if any more was needed - that MS knows where the future is. That future does not include Windows.

Everything else on the planet is already Unix-based. MacOS. iPhones. iPads. Android. Linux servers are already running everything. All phones are running Unix. You can run Linux and Android apps on Windows today. Unix runs on everything from mainframes to watches.

Windows 15 (or whatever) is going to be based on Linux, using the above distro. Count on it. When we see Office For Linux, we will know that Windows is officially done.

Reply