Microsoft's Cortana digital assistant was first announced two years ago today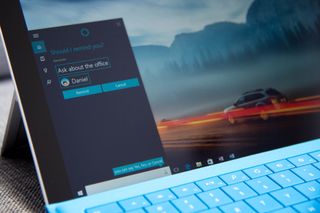 On April 2, 2014, Microsoft officially announced the existence of Cortana, its digital assistant, at its Build developer conference. Cortana has since become one on Microsoft biggest properties, expanding to several platforms and adding new features, with more on the way.
Cortana team member Shane Landry noted the two-year anniversary on his Twitter account:
Rumors about Cortana started several months earlier. thanks to a leak of a developer device that showed references to "zCortana" in the code. Cortana, which was named after the A.I. assistant to Master Chief in Microsoft's Halo game series, was officially released to the outside world on April 14, with the launch of the Developer Preview for Windows Phone 8.1.
Cortana has since expanded to Windows 10 and Windows 10 Mobile as an integrated part of the OS. Microsoft has also launched Cortana apps for iOS and Android, although their functionality are not as extensive as found on Windows. At Build 2016 this week, Microsoft announced some upcoming improvements to Cortana, including proactive notifications and lock screen support for Windows 10. It will also be added to the Xbox One later this summer.
Two years and you still cant SET A TIMER! Such a basic thing, and what I miss from the iPhone the most....

You should have taught her.

Off topic: I received a video via Bluetooth but i can't find the video.z if anyone can guide me

You can set a timer from the clock & alarms app

Just say set an alarm in five minutes...

"alarm on five minutes" will do the trick Posted from WC 920, 1520, 920, 635, 640 or 950XL

in Posted from WC 920, 1520, 920, 635, 640 or 950XL

"Cortana has become one on Microsoft's biggest properties..." Should be "of" fix pls John C.

What do you expect from a MS BS thing?

I'm outside the US, I have Cortana. Unlike Siri, she very rarely speaks.....(which turns out to be a blessing as she is in fact a he)....., but takes you to a web page, zzzzzzzzz. She should be talking and interacting with us MUCH more often, but when she does eventually speak, she has James 's voice! WTF??!!!!!
MS, FIX THAT FK UP NOW, GIVE US CORTANA FROM HALO, IT'S JUST SO WRONG IN IT'S CURRENT FORMAT.
Like everything MS, good idea, poor implementation and years and years of beta testing. How come Apple and Shitdroid can get most stuff right first time, with MS everything is a never ending work in progress.
So frustrating being a fan of MS !! Their moto, "Do it once, do it right"......BWHAHAHAHAHA

More like two years and can't do simple things without the internet. Want to set a reminder? Nope. Need internet for that..

Same here. Why it needs internet for that?!

Because speech recognition.

aaand still not available in Brazil :|

This is where people get genuinely frustrated with Microsoft (and rightly so) in that their services aren't available globally. So far behind Apple in that respect. Siri works in Brazil I presume?

yep, especially because they promised us Cortana for last year. WP is somewhat popular here (for now) and we want to try Cortana out. Btw Siri does work, but it was only made available on iOS 8.3. But Apple indeed doesn't make consumers wait forever for something they said would be coming "soon".

No doubt Cortana is awesome but this is the massive downside, country availability is very slow to push. Looks like Microsoft really needs to sort out more than Cortana here, they really have to do something about their localization aspects and other things outside US, heck even on western world some Microsoft services is still missing something or almost non-existent. Cortana is greatly affected with this rather slow nor poor regional push. They really have to at least push most essential features that Cortana have and they have to stop relying only with Cortana for certain features for now, as it will only make those features with very low userbase. Google on the other hand is just keep getting more aggressive pushing Google Now everywhere faster than Cortana. Though they always have their headstart, thanks to their already massive big-data and global availability of their service already, which is their specialty in the first place.

Can't make out what message you are trying to pass to Microsoft.

I believe he is talking about specific features that only Cortana has.. for example, if you have Cortana you can set your phone Quiet Hours... even though that's a Cortana Notebook feature, it's not like you have to ask Cortana to set your phone on a daily basis, it's a rule and that's that. So the rest of the planet, missing Cortana, is also measing this feature

I still can't use "Hey Cortana" on my 930 here in Germany. But it does work on PC.

Was this 'Hey Cortana' region specific? Thought as long as Cortana was available 'Hey Cortana' would work depending on the device.

It seems so. It says that "Hey Cortana" isn't available in my region. But on PC it works without problems. Seems to me that Microsoft would just have to push the activate button.

If you speak American English then you can change your phone region to get her. I say American English because it's easier for her to understand if you put on an American accent lol. She's clearly still in her infancy ;)

Most of them are retards, try ask if they even know their mother language.

I found the same lol! Talk like a stereotypical Bush American and you get understood flawlessly :D

Well still waiting in other platforms ( xbox one ) Sent from Lumia 550, HTC Desire 816 or Dell Inspiron 5122

wuuut no way Posted via the Windows Central App for Android

And still not available in more than half of Europe. To me, Cortana means nothing. It's a character from a game I don't play. That's it. Maybe 2 years from now that'll have changed. Probably not.

Yeah... 2 years and still not officially available in my country (Belgium)... I speak French, Cortana understand French and understand me very well but because I live in Belgium, I must say bye to Cortana for France... What a **** ! Microsoft, first send Cortana to everyone so that everybody in the world has REALLY the same experience like you say always you want to do ! xD

According to Ash you will coming AnniversaryUpdate/Summer. http://tweakers.net/nieuws/109829/nederlandstalige-cortana-is-nog-ver-we...

If they do indeed uncouple language and region settings, that would be a huge step forward, but ultimately still half-assed. All language and region settings should be fully seperate. If I want to I should be able to have Windows in Flemish, Cortana in French, download apps in English and movies in English, German and French all at the same time. Microsoft seems to be utterly unaware of this thing called multilingualism and it's getting more and more annoying the longer this ignorance lasts.

It should also know the difference between two languages in a sentence. Like "remind me about the key when I see my äiti" (mom in Finnish) Posted from WC 920, 1520, 920, 635, 640 or 950XL

At least know how my contacts' makes are pronounced Posted from WC 920, 1520, 920, 635, 640 or 950XL

In a perfect world she would understand several languages in one sentence, but when I tried her out a year ago I couldn't even get her to pronounce my name correctly. I'll be happy when Microsoft realises that it can let me make my own damn choices, even if they look strange or unusual from the Great Monolingual and Monocultural Ivory Tower of Redmond.

Go Siri for better experience

Spot on DJCBS. Its Microsoft, the half way company, I expect no Cortana. And that makes me mad because they put taken stuff from WP and put it in to her so now we get even less on this new Lumias.

It means a lot to me and many other people...i don't care if it's not available in my region, when i can change my region easily and get it to work!

And loose the store because payment methods are bound to a region. Well losing the store might not be a big issue as it is out of merchandise.

She said, 'Thanks, how thoughtful you remember.'

what did u told her to get that reply? ~DheeraJ~

And it performed + looked better those days

Nice. But sometimes it drives me crazy when I TRY search something. I and end up speaking to Google app This one... It always gets what I say, much better than Cortana
http://www.windowsphone.com/s?appid=220bfbf2-ee02-496c-a656-651a6c0c6518

And it still isn't available in Mexico (nor any other latinamerican country)

In South Africa previously used a 920, upgraded to a 950 two weeks back and still no digital assistant..... #welldoneMS

Still not available in Russia even if I wouldn't mind it being in English

2 years later and people are like how do i get this off my pc. Met that guy last week. He had a point.

Try telling Cortana a happy birthday ;)

I did, on my L920, it crashed and took me back to the main screen

Two years on and the feature list is pretty craptacular outside the US!

Kaksi pitkää vuotta,etkä vieläkään puhu suomea.aikani on rajallista en jaksa kovin kauan enää odottaa sitä hetkeä,kun kuulen sinun puhuvan suomea.mutta silti toivotan sinulle HYVÄÄ SYNTYMÄPÄIVÄÄ.toivon sydämestäni että pian sanot jotain suomeksi

Olen samaa mieltä. However, Finnish is not a world language. Cortana should be available in a Finnish, but this is an English site ☺

And it STILL doesn't work for EN-AU on a 8.1 vintage phone (L930, L640, L1520).

Good for you, 'Courtana'... Sent from Nokia Lumia Martini.

Two years and not in NZ Posted from an Oric-1

Which is isn't funny since Oz got Cortana already for quite some time, NZ and Oz are just neighbors. Cortana's availability isn't even that strong on western world. Looks like we might able to reach 1 billion Windows 10 users soon before Cortana make it available to most countries.

We can reach one billion wp users befire she becomes global.:P

Not even sure if that's a good news or bad one. I'll go with neutral. :P

If it can handle the Aussie acent then no reason it can't handle Kiwi.

I even tested Cortana with some of my friends who are not even native english speaker with different accent and Cortana picks up (as long as it's not noisy). Their voice recognition is already quite surprisingly good, not perfect but surprisingly works. So I don't even get why this shortcoming. I don't even think it's even cultural difference, this is just classic MS poor localization support.

Still not available in Singapore.

cortana is still a toddler but her voice is so mature, i dont understand :)

It might be that perfectly circular mouth, that implies an abnormally large voicebox. Source: WebMD (lol)

Still cant understand basic commands in india....

And even "ok google" available on basic android phones...but "hey cortana" not working well evn on L930....hahaha,,,may be this is also under "coming soon"(in 2020) tag

The availability of Cortana isn't based on the device, but regional setting, lol...

Um.. He's talking about the "hey Cortana" which is a hardware specific feature, so yeah it is based on the device and not on the regional setting.

Cool right... Treacean is a picture of how wp fanboy are... Retards who doesn't know about 'their' system but need to try 'corret' others for their own sake even being wrong... Look them "oh cortana is amazing" when siri does a better work..

I'm not going to go into an in-depth explanation of how Cortana does more than Siri, but please compare the features of the two to see how Cortana is much more useful.

And based on the region too. In Germany you can't use it even if your device supports it

Let me help.
"When in (state country names below)??"
*sigh* And to think such an awesome PA isn't available in my country. Dammit, Microsoft, quickly bring her to everyone!

Instead of celebrating people here are only discussing about the cons of Cortana....i think that,s how they celebrate birthdays in their countries...#growup

People are never happy with what they have. They will cry if microsoft announces the death of Cortana.
I love cortana

@Sohum Manchanda how can we celebrate what we have when cortana isn't available in our respective regions??

Well, since there AREN'T ANY PROS...! But I guess that's how you value everyone else in your country...

how do you expect us to celebrate when two years down the line, its not yet available in my region? we have been requesting MS to make an international version that doesn't require the user to change their region but MS is ignoring us, so what do you want me to celebrate for?????

So when one of your friend dont give you a birthday party on his birthday,what do you do....dont you at least wish him....#grow up

Your similes are wrong on so many levels... Let me give you a hint: Do you celebrate the birthday of a nonexistent person?
Maybe YOU grow up.

Since ure a fanboy is you, and only you who need to grow up

That nonexistent word also applies to those who died...so yes i still celebrate the birth of mahatma gandhi or shri krishna and many more

The only one who needs growing up is you.

I can feel your frustration...;-)

Yeah cuz even being a fanboy, inside, deep inside he knows that wp and everything else is dying

And so are you too :P :D Posted with the Windows Central app for Windows 10 on HP 250 G1 notebook. It is a scary old monster, I think :D

Two years and 70% of the world can't use Cortana in their native language

I would be happy to use it in english without fuc*** up my regional and language settings. But nooo... comming soon i guess in 2534...

What does it fuc@%£ up? If it's app availability (lol) then you can change your region back, download the app then change it again. I've been using Cortana since day one with US region and I haven't noticed any problems or significant changes.

which country are u from? ~DheeraJ~

According to Ash region lock will be removed coming AnniversaryUpdate/Summer.

why do they want in their native language?? ~DheeraJ~

Say happy birthday to Cortana and see what happens

Nothing. Other than it's bringing out Stevie Wonder

Cortana has only been integrated partly across the OS. There are still many markets where cortana is not supported in any shape or form in the windows 10 OS. It is noticeable since its inception as the feature sets are powerful. People are talking and using cortana yet its difficult to discuss it because to date it is still not part of the global conversation as it is only supported in selected markets and there is no news this will change in the forseaable future.

There is news. Dutch will take quit some time still, but region lock will be removed coming AnniversaryUpdate/Summer. So we Dutch can use Cortana with everything set to Dutch, except for the language. http://tweakers.net/nieuws/109829/nederlandstalige-cortana-is-nog-ver-we.... In een aanvullend gesprek met Tweakers heeft Ash opheldering gegeven over de komst van Cortana naar Nederland en België. Wie de taalinstellingen van Windows op Engels of een andere reeds ondersteunde taal heeft staan, kan vanaf de Anniversary Update wel van Cortana gebruikmaken. Microsoft laat de geografische eis voor ondersteuning namelijk vallen, maar de eis voor taalinstellingen blijft intact. Gebruikers in het Franstalige deel van België kunnen dan ook van de Franstalige Cortana gebruikmaken als ze dat willen.

That sounds great. only the article mentions that it won't have significant value due to the language barrier. Glad to hear microsft be more transparent about the reasons behind the language support delay. Although, if they can support chinees, which has complex phonetics and language construction I find it hard to believe they can't support Dutch sooner.I think there are likely other arguments at play. I think it is more closely related to that than the technical challenges. I dont see a reason why they can't open dutch azure and BI learning channel for nl-nl and build a dynamic learning library now for insider builds for Cortana. Perhaps that could speed up the the learning curve and language challenges. Microsoft is most likely doing this for bing translate already and dutch is supported here! And there is also a built in ink to text learning library for dutch samples built into windows that is user accessible to improve ink predictions ased on your language! It's only planning and ranking that is holding language support back. planning is under microsoft's control, but I think ranking for language should be "disabled".

Cortana India really sucks. Speaks in an unnatural robotic pseudo 'Indian' voice and doesn't have enough features and capabilities. MS are you listening?

How do enable cortana on Android? I have the app but it's not available in India. I have also tried mock location but not luck. Posted via the Windows Central App for Android

Two years, and nowhere in sight... Meanwhile Siri and Google Now are busy harvesting customers.

But ms/cortana fanboys will say they are better

Still not available in the Netherlands

Zie link naar Tweakers.net. In een aanvullend gesprek met Tweakers heeft Ash opheldering gegeven over de komst van Cortana naar Nederland en België. Wie de taalinstellingen van Windows op Engels of een andere reeds ondersteunde taal heeft staan, kan vanaf de Anniversary Update wel van Cortana gebruikmaken. Microsoft laat de geografische eis voor ondersteuning namelijk vallen, maar de eis voor taalinstellingen blijft intact. Gebruikers in het Franstalige deel van België kunnen dan ook van de Franstalige Cortana gebruikmaken als ze dat willen.

According to Ash it will coming AnniversaryUpdate/Summer. Albeit in English or any other supported language. http://tweakers.net/nieuws/109829/nederlandstalige-cortana-is-nog-ver-we...

Ok, so why no native Dutch support?

Happy birthday! But when in Belgium ?

AND TWO YEARS DOWN THE LINE, NOTHING FOR FOR US WHO ARE NOT IN THOSE FEW MOJOR COUNTRIES, AND IN OTHER TO HAVE HEAR YOU ARE FORCED TO CHANGE YOUR REGION, A MOVE THAT ALSO AFFECT APPLICATIONS IN THE STORE!!! HAA HA-A HA-A !!! I WONDER!!!!!!

Think the Cortana team need to be given a little slack here, she's available in a dozen countries with uniquely tailored features and usually voices, she recently jumped to desktop, then to Android/iOS, and soon to Xbox.
They've done a lot in two years, adding new regions onto that must have been quite difficult.

Yeah that's good and all, but when they gate stuff behind Cortana, getting her spread out to their customers should be first priority.

My version of Cortana (uk, insider os14295) seems to have gone backward. Can't even use the remind me feature.

And has tantrums like most two year olds. Do this, no I'll go to Google instead. Open an app, no I won't because there's no internet. It's an app, it's on my phone. Waaaaaaaah! Posted on a L950XL with Fingers 10

Although Microsoft are a very large company I doubt very much they have the resources to localise Cortana in every region and maintain it's development on an ongoing basis in each region. Culturally and language wise Ireland and Great Britain are very similar but Cortana is still not available in Ireland.

loving Cortana!! :D ~DheeraJ~

Although a small thing, keeping the name 'Cortana' after listening to its users shows how Microsoft is dedicated to their users.

For all the things Microsoft did right with Windows 10, Cortana is one of the things they messed up. I'm speaking strictly of availability and project planning, as I can't even access her to test the features. What they should have done, in my opinion, is develop the basic features of Cortana (in English) and release her worldwide immediately, with the caveat that you needed to speak English with her. Then over time, they could have gradually added features like local information, languages and dialects, improving her with every year. As it stands, I feel locked out from half of the OS. Heck, on my Lumia 950 XL I can't even enable Quiet Hours because it requires Cortana.

Yeah, two years ago. ...And still not available in dozens of languages. Pathetic.

They need to make a "Cortana light". Make a limited version for "everyone else" that simply gives us the features such as quiet hours, message syncing, notification sync, reminders etc. They keep making "basic" phone features a part of Cortana and they speak of it like it's available to everyone, it's a sucker punch from MSFT to rest of world.

Cortana 'beta' was a great tool on 8.1 in the UK. Tracked flights, packages, football scores etc, and updated live tile. No need to go hunting. Now, w10m, is worse than an alpha! No tracking at all. No football scores. No sports stories. Nothing. Despite the fact that interests are set correctly. The only thing she does do, is read / respond to texts. I'm a pretty patient guy, but when it happens on 14 devices, it gets old. If it wasn't for the text facility, I'd switch it off. Oh, just had the final score for my football team, 18 hrs late!!

I hope it will work better than the current voice recognition on the Xbox which only works every 1 in 20 times. It can't even respond reliably to "XBox turn off".

Pathetic. Already 2 years and yet only available in a few countries.

Realistically speaking, in my country, which is the small Latvia, Cortana will not arrive in nearest 5 years, maybe even more. That is way too much for me to even care. As someone here mentioned, they really should have release US Cortana to everyone, while saying that currently only English is supported. But since it is powered by Bing, search results would be... hilarious, judging from my experience.

The worst about Cortana is that Microsoft actually had the gall to translate all the damn advertising about it on it's website with a little footnote about limited availability, it's almost as if the bastards are taunting us on purpose.

Singapore is waiting for Cortana! It's long overdue!!!

Cortana has never been born over here, so definitely no second birthday! Cortana doesn't exist.

Oh and concerning languages...the Dutch store for WP8.1 has been a mess for months now. Why are app descriptions in French if Dutch is unavailable??? French is not our second language, most speak English.

Ah, a fellow Fleming I see :) I can only assume that MS mistakingly believes that all of Belgium is bilingual, rather than consisting of two separate monolingual entities. The same problem exists in the film store as well, and while I'm fluent in French, I'm also allergic to dubbed movies, so no money from me for MS until the damn store is fixed.

Hi Xavier, actually I'm from The Netherlands. But even in The Netherlands a lot of apps in the store suddenly got French descriptions. This problem started months ago. Before that the descriptions were in Dutch or English. Suddenly French became shown prior to English. See this post: Windows Phone Store is een beetje in de war met talen: http://www.mywindows.nl/2015/10/windows-phone-store-is-een-beetje-in-de-...

MS, how about giving us Cortana's voice for those outside the US ! I don't want to hear James voice when the name is Cortana, how fked up is that ! GIVE ME CORTANA'S VOICE FROM HALO, NOW !!

2 years and still not available in South Africa

About Cortana, can someone please tell me how to setup Cortana to respond to "Hey Cortana" on my new pc, I cant remember how, thanks.

Such an insightful post. Have you drafted next year's "article" for the third anniversary of the announcement of Cortana?

2 years and still no hey cortana support in Germany. Even though they update it regularly for my 1520.

Just asked Cortana to identify the troll in this thread. She come up with decarcalho83... Not bad..

Ugh, let them please uncouple language and region settings before this summer in insider builds. Because it's just ridiculous that cortana still isn't available int the netherlands or more then half the countries in the world for that matter... Posted from the WC app for w10 using lumia 1520

And still almost nowhere really available.

Cortana? I want Ender's Jane!

2 years and STILL not in Australia.....yeah, great work Cortana :\

You don't want it. It's utterly useless.

Its still good to have one

But we don't have one in Australia

http://forums.windowscentral.com/windows-10-mobile-insider-preview/408932-whats-preventing-cortana-coming-other-countries-where-same-language-spoken.html

Still waiting is arrival to Latin America two years later!!! Posted via the Windows Central App for Android
Windows Central Newsletter
Get the best of Windows Central in in your inbox, every day!
Thank you for signing up to Windows Central. You will receive a verification email shortly.
There was a problem. Please refresh the page and try again.