Microsoft's Cortana gets refined search results in Windows 10 for PC with filters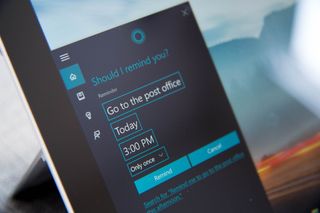 It looks like the Cortana team is continuing to update and improve search results using Cortana in Windows 10. A cursory glance at local search results using Windows 10 for PC (not mobile) reveals that search strings can now break down the results by category such as apps, files, settings, and the web. Those categories can thing work as filters letting you narrow down the results you are searching.
Previously, Cortana just displayed results with only a general 'My Stuff' and 'Web' categories near the bottom. Those remain but the new filters will be available at the top of the results page.
As many users have noticed Cortana can be updated from the backend since the data presented is just a web page. That's the good news. The bad news many Windows Phone fans are still not a fan of the UI layout, which seems to have lost some of its finesse between 8.1 and 10. Of course, one other reason for the design change is so Cortana can work across devices including on Android and now iOS.
It is not clear exactly when this update happened, but users who are in the few regions where Cortana is available should notice the refresh coming through. For reference, we are still not seeing the update on our end.
You now may return to your previous and inevitable favorite topic of discussion: 'When will Cortana become available in your country' instead of deliberating the news presented here. Or, you could just let us know if you see the changes as well.
Thanks, Farshad, for the tip
Windows Central Newsletter
Get the best of Windows Central in in your inbox, every day!
Daniel Rubino is the Editor-in-chief of Windows Central, head reviewer, podcast co-host, and analyst. He has been covering Microsoft since 2007 when this site was called WMExperts (and later Windows Phone Central). His interests include Windows, laptops, next-gen computing, and for some reason, watches. Before all this tech stuff, he worked on a Ph.D. in linguistics, watched people sleep (for medical purposes!), and ran the projectors at movie theaters because it was fun.
Yesss when cortana will available in Indonesia?

Cortana is still in beta form in WP8.1. They haven't updated it since last 1.5 year.
We can just dream about things to get better.

When will Cortana be available in Antarctica? Us penguins like to keep up to date with the best feeding grounds too!

Wtf man what about us Martians. We love searching for conspiracy theories earthlings make about us.

I hear they're building a Microsoft store there, any updates on that?

I also heard Microsoft will build spacecraft with Cortana AI on board for the mission. I hope the Covenant will not find out about it.

Will BSOD and therefore explode long before they find out :P (or it could be a self-destruct feature to keep it a secret :P)

The BSOD is not available in your region.

Not quite sure I would journey just yet in an MS-equipped spacecraft.

How about an Apple® Spacecraft™ then? It has less fuel, less power and less oxygen than the MS one, but comes equipped with a shiny aluminum Apple, tons of marketing, and a heftier price tag!

An Apple Spacecraft with Office apps! :D

Just wish the tiles on large phones were full width. They are on an iPhone 6s Plus, why not the 1520 or 950XL?

Since when does iOS have tiles??

I think he meant the Cortana UI. On big screen you will have 2 stupid black bar in the left and right sides of the screen, which is extremely retarded.

Yeah. I think they really should consider having multi-column Cortana UI instead of restricting it to one long column. It would make sense for tablet and even for PC usability when resized. While at it, they could reimplement Hero Search UX from Windows 8.1 with its features minus horizontal scrolling.

@aXross I agree regarding two-column layout - or something else that makes better use of a larger screen. For instance, they could make Cortana into an app in its own right. That would also allow them to update it more frequently and independently from them OS. I get that much of it comes from the web, but I am talking about the parts that don't- if there are any. I think the bigger issue is that the Windows 10 design language lacks the refinement and attention to detail that Metro had. And I am not talking specifically about hamburger menus vs pivots or any other UI constructs. I mean look at Google's Material design. It might look pretty simple, but in reality it is pretty powerful as it really guides how one should approach the design of an app. Google now, to me, works just a tad better in terms of how info presented than Cortana does. Cortana should really present its results in tiles and make those tiles three dimensional in the sense that they could be stackable, aso. Much like "cards". It seems to me that Microsoft itself is not done figuring out the details of the Windows 10 design language. I mean when do you use the hamburger menu and when do you use the pivot control? And where do you put settings, in the hamburger menu or behind a wrench in the bottom menu? Or should it be a top menu? Microsoft's own apps are not consistent in this regard, but really, it is overdue getting them there.

Agree with having a more consistent UI. Like using WC app, swipe left and right is sooooo easy to go through the menus. Some MS apps have swipe in the hamburger menu and some don't. Swipe everywhere would be truly better. Hamburger only on larger screens is still a pain and then sometimes it's on the left then sometimes on the right. 8 and 8.1 on mobile was intuitive and simple. Though I do understand there will be compromises to achieve W10 on all devices.

Swipe navigation is indeed easier especially for touch, heck it even works in mouse and keyboard too since it can act just like a scrollable Tab bar. There really should be a combination of both if it's logical. Some apps are suited only for Hamburger and some may only be suited with only Pivot (even this is inconsistent in Windows 10 which some are text only and some with icons ala iOS but on top). Office apps for example are suited for Hamburger only and even Calculator. Apps like Groove should have combination of Hamburger and Pivot since its got more complex navigation. Problem with MDL in Windows 10 is being its unfinished specifications and without a clear goal of design. End result would be messy and inconsistencies without even talking about aesthetics (which can be subjective but not all). This compromise isn't that impossible to solve, we just have it because it is rushed at the moment. I think we need another year to get these sorted out.

Hmmm....I think Cortana is fine being as being not like an app (though it acts like a bad 3rd-party app just how slow and buggy it is now). Cortana is surprisingly updatable even not using Windows Store or Windows Update, the only part really that is not updatable are the OS-level functionality such as Hey Cortana. Sure, they should consider making it as an app in the future but for now they should focus on making it super snappy and responsive to use which is more easier to do if baked in that is able to access lower-level OS-level API that might not be available for UWP. Anyways they really need to make Cortana UI optimize for larger screen and make use of it elegantly. Multi-column is a first step. Another I propose is to bring the ideas and rich presentation from Hero Search UI from Windows 8.1 for advance search results. It's a shame they just flush those things in the toilet without even considering great potential it will bring. Windows 10 design language or what they officially call Microsoft Design Language is indeed unfished design specification that still I don't know what is trying to be and its approach. MDL is still not clear as a design spec and pretty rushed up, and that reflects with their apps and even to Windows. There is so much inconsistencies and half-baked implementations everywhere. Hamburger Menus are fine but Microsoft simply adopt that UI construct at its very basic level as if were still 2007. They only "realize" in recent Groove Music update that Hamburger needs swipe gesture to access it for example, while Google and even 3rd-party developers understands much better how to use Hamburger Menu for a long time and Microsoft didn't even consider those. Google Music app for example use Hamburger Menu and Pivot Navigation logically and elegantly, which I think thanks to clear design spec of Material Design what is trying to achieve. I agree about Material Design that it's got pretty powerful and it really guides the developer on how one should approach on designing an app, that what should Design Language should be, a CLEAR GUIDELINE and design specification. Metro Design Language used to be like this, too bad everything related to WP7 and Windows 8 perceive as a failure and Microsoft approached it too literally. Google manage to be good at design which they're not known for. I still remember earlier days of Android before ICS on how messy it is, and its sad that Microsoft unknowingly going like Pre-ICS Android not just on W10M but in Windows 10 in general. Hamburger implementation in Windows 10 is really messy and they just throw everything in there. Heck it's also inconsistent between Microsoft owned apps. Groove Music and Movies & TV app have icons for example while the rest doesn't. My take would be Hamburger should only be used for main app navigation and functionalities. Don't throw every navigation over there nor throw everything in Pivot Navigation. Example for Groove Music: Hamburger should only have Explore, Collections, Recents, Playlist, Radio, Settings (additional for PC like CD RIP, Burn, and Devices for syncing) and Account. Under Collections would be a Pivot navigation for Artist, Albums, Songs, Genre. So Pivots are used for main sub-navigation and Hamburger for main navigation.

Sounds like we're pretty much in agreement then :) Did you see this one btw: https://www.behance.net/gallery/32664259/Windows-10-Mobile-Thinking-abou... Pretty interesting take. It's like Aero 2.0! It is definitely more visual styling than usability and function, but there is some of the latter in there as well. I could definitely see Microsoft go back to this or at least offer it as an optional "skin" on more powerful hardware. I mean transparency makes a lot of sense in an OS called Windows, right? Tiles become little slices of glass that you can move around, stack, etc. But they need to figure out the basics first.

I agree with you. I'm glad that I'm not alone with similar take on what's Microsoft missing. :D I think I've seen this concept from Behance and these are ones that Microsoft should seriously consider. I want to call it Modern Aero. XD What I like about these concepts is that they're realistic in a sense from what is currently implement but designers refined and showcase what's the best implementation we can do with the OS without drastic changes. Example in this concept, there is no need for any big redesign (except the blur transparency), just complete polish. The only few thing I don't agree with this concept is the widget on Action Center which is redundant to Live Tiles, takes another persistent resources and it follows iOS too much. I rather let them focus on evolving Live Tiles into powerful Interactive Live Tiles which is now the new identity of Windows. Aside from that, still this is over 9000 way better than what Microsoft is currently doing. Regardless of aesthetics, these concepts show how polish it is making it beautiful. The spacing, alignments, typography, size, colors, consistency, and the "soul". Windows 10 and W10M lack of those at the moment, and its been several months and these tiny things but irritates people with attention to details hasn't addressed. Indeed, they need to sort out the basics first. Even without glass effect they can make it look great if they really care about design. Animations, consistency, spacing, alignments, etc. are most needed to address. Also yeah, have you seen this Groove Music concept: https://www.behance.net/gallery/27325339/Music-app-concept-for-Windows-1...

It's possibly due to the resolution. iPhone has a smaller rez than the 950XL, so it takes less to fill up the screen.

you can up the disply size

Yeah, changing DPI settings is not a solution for a design problem. DPI settings is not meant to fix that anyways.

So is Cortana officially half as good as it was in 8.1 yet? Talking Mobile anyway since I don't have much use for it on the desktop. I want dark theme and location data fixed. Tired of seeing weather and local news stories for Detroit Michigan when I live in Rhode Island!

Very little in 10 is even half as good as it was in 8.1. 8.1 may not have been a very good OS, but MS has managed to make 10 so much worse.

I see the sarcasm is strong around here.

I have to disagree with you. I'm 'productive like a boss' with W10M on my 640 XL. It works amazing and I can do actual work. The OS just needs to work better on lowerend hardware, and further optimize app integration into the OS (which is why Cortana isn't as great as it should be).

I disabled it until its fixed

I see the change in Canada

You can also search by typing: web: <any text> apps: <any text> files: <any text> settings: <any text>

THIS!!! It would be great if can take advantage of metatags too.

Epic! We need more useful comments like this instead of the bickering and crying ones that usually go on around here.

When on Mars?? Posted via the Windows Central App for Android

When Martian Mobile companies will make a WP/WM or Uncle Gates will visit Mars in future.
If you want to taste it, Come to Earth. Lol

Yup, Power BI integration is also displayed in its own category (if you've enabled your datasets for it).

It would be great if Cortana have flexible 3rd-party integration for apps and services. At the moment its very limited and I still haven't seen the Viber integration that they've promised (or maybe I missed it).

Bear in mind Cortana is still "young" and dev teams are working feverishly on a ton of things. Remember Windows 10 is unified platform so they're pumping out updates and breakneck speed while trying to make sure it works across everything. I'm sure as platform develops more hooks will open up for developers, just need to give it time. If also like to iterate that while I'm a Microsoft employee my thoughts and statements here aren't to be taken as official by any means, just my own opinions and views

So, official statement is Coming Soon :/s

It's gonna be exciting if they finally open this up to 3rd-party developers to integrate their apps and services with Cortana. This is really the potential we're waiting for. Indeed is Cortana is quite "young" and only been introduced with WP8.1, they have yet to solve regional availability issues which is tough but very important for adoption. I just wish that it won't take too long since the Google is aggressive at pushing Google Now everywhere. Cortana needs more key country availability and marketing about Cortana to let people know they have useful new service on their Windows 10 PC and also with their smartphone. We don't want wonderful new service sidelined because it lacks large userbase (like WP/W10M).

Cortana's ability to parse queries and do context searches is driven by numerous, and complex, R-based algorithms. It takes along time to do it for one language (and train the model properly, hence we open the app to as many users as possible to help improve this), let alone many languages.

Uhm... Either I have had this already (I think I noticed it a week ago), or there is no "new" layout, just an expanded-by-default "Best match" section...

I do miss the panorama that search displayed in 8.1. Very elegant. However, not seeing the update yet in my PC.

It is, though they could make it in Windows 10 but vertically to be consistent with new UX. The features and richness of Windows 8.1 Search is great and would be a perfect combination with Cortana.

Pivots are still consistent with Windows 10. The only difference is the font should be smaller, and it should not be used for Navigational elements, but for categories/sub-pages only (i.e. like in Weather, News, Store, etc.). Given that there's only 4 categories (Apps, Files, Settings, Web), it's still valid to use pivots here and keep all the navigational elements (Notebook, Settings, etc.) in the hamburger menu.

Saw this on Thursday night.

Cortana sucks on win 10. Huge regressions on just about every front vs 8.1

I agree. Cortana has gotten worse in almost every way and better in none. From the ugly UI to the fact that she rings virtually no native knowledge and instead acts as basically a voice search for Bing results. It's so disappointing because I was a big fan of Cortana at the beginning on 8.1 and thought it had so much potential. Now, it's just embarrassingly bad--although I will say Cortana has good voice recognition and sets reminders efficiently. That's about it though. MS should look at what Amazon has done with Alexa and lament what could have been.

Especially that in W10M, Cortana web search is lazily just a literal web page Bing results which is sucks on touch. It wasn't as fluid and snappy to use as the integrated Search UX from WP8.1 (even from Windows 8.1 Hero Search UX). I can't use Cortana in W10M for quick web search simply because of poor Search UX, not to mention its way slower top open and tends to crash randomly. It feels like a bad 3rd-party app rather than as an OS integrated feature. WP8.1 Cortana was fluid and snappy to use yet still updatable that doesn't even feel like an app.

I get sometimes even different responses on searching by speech and by typed in text (of course exact same spelling). Does anybody had same experience? Also Cortana is sometimes so slow. I see the searching ring over 10 seconds... for setting my alarm... (ok this might be a problem with my 920).

Sometimes it happens to me but more likely because I just use the built-in laptop mic and web cam mic on my desktop, which are not well designed for speech recognition. I think its time for Microsoft help manufactures and push "Optimized for Cortana" peripherals that are 90% better that normal ones. But yeah, the speech recognition of Cortana in W10M and W10 is way slower and tend to miss than WP8.1. About the alarm, I haven't noticed the problem in my case.

You're not allowed to say that here!

It is completely broken for the last two builds for phone in India and is still not working in the latest build! I can't figure what's the problem! :-\

Bing it on, Bing it on baby!

When in southern hemisphere?

It makes zero sense that MS had to change the UI of Cortana on W10M to make it more compatible on iOS and Android. The fact is, Cortana sucks as is and nobody on iOS or Android will want to use it anyway. So we all lose.

It has nothing to do with Ios or Android. It has more to do with Windows for PC.

Yeah, it's not about iOS/Android... not sure why Dan would say that. To me it looks like a rushed layout for it to render on multiple screen types (i.e. phone, PC, etc.). Cortana needs a major UI overall. I wonder what happened to this leak that Tom Warren posted before: https://twitter.com/tomwarren/status/577598909150818304

Cortana is great so far, compared to the other assistances Cortana is young

Microsoft said Cortana for Mexico and Brazil at the end of the year! Lie!!! They just don't care to expand Cortana in more countries. And the worst thing is if they release it it will be just an alpha version.

stop making crap up... nobody ever said anything officially. you think you can make a better job making Cortana to understand and give you proper answers in spanish that is not from terrible spain. ​Stop taking article as facts and you will stop sounding ridiculous on internet. I am sorry but Microsoft never said anything officially, and they will have it soon someday, so stop crying. Cortana is a cool thing but it's not a super killer feature, if you speak spanish, then use spain version... end. And even if it wasn't on alpha, or beta or whatever version you will complain. so what do you care if it's released or not?

MS SAID this in an official blog post, is true. Just search in the web and you will find it.

Nd still crashesh on my Lumia 730

I also noticed this changes for a while and it's pretty great they finally implement it. I hope we will get the richer search experience similar to what they did in Windows 8.1 "Hero" Search UX. It was a great concept and alot of potential especially when combined with Cortana. Rich Visual Search + Cortana would be perfect combination. Especially that Windows 8.1 Search are content aware and provides richer results and quick actions which is overall great, they just need to extend it more for 3rd-party potential through new APIs. They could've done this even in Windows 10, only vertical instead of horizontal UX in Windows 8.1. Search in Cortana isn't that bad but it's Windows 8.1 Search was better which is shame that the idea is gone (at least for now) in Windows 10. The after effect of Windows 8's bad perception affects several good ideas which didn't continue and evolve in Windows 10. Some are returned in November update like the Snap Resizing (which is only limited in Modern Apps in Windows 8.1) which is works in desktop apps too finally.

But.... Still no Cortana in The Netherlands, looks like it wil never come.... Sure i can choose a different region and so but comeon MS...

True, but it does find some local results.

I hate hearing about Cortana. Plz stop posting about her.

When will it appear in The Netherlands?

Make the same OPTIONS available on phone too.

THIS!!! While at it we really need dedicated Search UI just like from WP8.1, not the web page of Bing.

I see this option when I press on the three dots in right top corner.

Having a native app framework doesn't mean it can't be updated through servers. Cortana in WP8.1 can still be updated through a server side upgrade. Microsoft really needs to code natively for cortana/search and people hub integration in w10/w10m. The web based cards look so misplaced and don't offer a better user experience.

The screenshot named "old style" shows some arrows at the top of each category and three dots next to "Best match" but I don'​t even have those.

I noticed that as well, i'm on build 11082

I think most people will be more interested in making Cortana better in mobile version

Off topic. Hey Dan, little feedback on the Windows Central app for Android. Maybe you could forward it to the appropriate team? 1.) Please add support for receiving push notifications for new headlines and responses to comments. 2.) For some reason, when I navigate to Windows Central in my browser (forgetting the app is installed), the banner doesn't detect that the app is installed. It shows install and dismiss buttons instead of the open in app button. 3.) When I tap a Windows Central link from my browser or from Twitter, it doesn't open in the app. Could you guys fix this? Thanks in advance.

AND make a damn iMore app for Windows.

cortana is just plain horrible in performance and has essentially become a bing web wrapper in windows 10 mobile. I say play a song, it shows me the bing search...i mean WTH? The loading time is very high and the animations are so slow. Microsoft have made coratna on W10M as horrible as possible compared to WP8.1.

"Not available in your region" but it dosn't seem like I'm missing out.

Cortana, just like most Microsoft services are US centric, and Microsoft still cannot understand why Windows Phone failed so miserably. Until Microsoft goes global like Google, it will continue to fail in consumer space.

Well, you do realize WP is doing much better in Europe than in the US, where Cortana is either not released or simply not on par with the US version?

Windows Phone is declining in Europe just like everywhere else. Even Blackberry(with Android) is selliing More phones in the UK than Lumia now.

Can you show me a statistic for that?

Im from Greece and the people here (90%) buy lumia phones for 1reason:NOKIA
and im so scared what will happen at 2017 when NOKIA realese android phones.

Yet cortana is broken in the 950. The search randomly crashes.

She behaves like an app on Windows 10 mobile, she was more integrated into 8.1 then windows 10 mobile

When in Vegas? I'm not seeing this Cortana update. Quite cool though.

You can tell when the article is written by Rubino when it ends which just a little hint of an attitude ;-) I am not in front of my computer right now so I can't see whether I see the changes or not.

Greece needs Cortana and 1 more Euro Cup

I think Greece is in need of bigger things than Cortana and Euro Cups.

I wonder what happened to the leaked Cortana UI in Windows 10 that Tom Warren tweeted a few months ago. This looks way better than what it is currently: https://twitter.com/tomwarren/status/577598909150818304

I could understand that it might take som time to release Cortana for new languages, but why the **** do MS have to block the service based on regional settings?

Finnaly s1 said the truth.

Don't mean dogpoop if you run in roaming profiles in a network with the Dec. build, since Edge and Cortana don't function in that environment, currently.
Windows Central Newsletter
Thank you for signing up to Windows Central. You will receive a verification email shortly.
There was a problem. Please refresh the page and try again.