Halo Limited Edition Wireless Mobile Mouse 3500 gives us Master Chief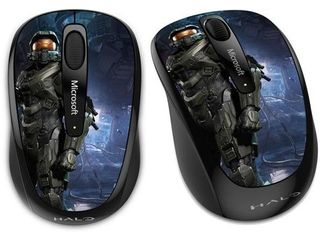 Microsoft continues to expand its efforts to market its Halo gaming franchise with the newly revealed Halo Limited Edition Wireless Mobile Mouse 3500, which features the sci-fi shooter series' main character Master Chief.
Yes, if you own a laptop, you can have a small wireless mouse that shows your fanboy devotion to Halo in general and Master Chief and his MJOLNIR Powered Assault Armor in particular. The mouse itself contains BlueTrack optical technology that allows it to be used on nearly any surface,
You can pre-order the mouse today on GameStop's website and it will go on sale in October for $29.99 at the Microsoft Store along with other retailers, just a few weeks before Halo: The Master Chief Collection is released for the Xbox One console in November.
Will you be buying this new version of Microsoft's mobile mouse to show your support of Halo?
Source: Microsoft
Windows Central Newsletter
Get the best of Windows Central in your inbox, every day!
I Want an arc touch mouse with this design :)

Hahaha, I do too! I LOVE my arc mouse.

Best portable mouse ever!

Kind of a mediocre graphic, nothing too impressive. The price isn't bad though, if you need a portable mouse.

Agreed. Some razer mice look more MJOLNIRish than this handmade-looking print.
Maybe if I needed a new mouse for some reason I would've considered this, but here comes the lack of Bluetooth. My surface got only one USB.

I'd rather have the master chief collection for pc

Agreed, but ain't gonna happen because of MS trying to push Xbone onto PC gamers.

MS trying to push PC gamers? How?

I THINK he means converting PC gamers to the One, but I'm not really sure.

Good luck with that. Never gonna happen.

Damn right.. This mouse looks cheap.. They need something high quality looking like the Corsair M65 and use a better graphic design, this looks like a cheap Chinese knock off

The Wireless 3500 mouse is actually a decent mouse. I've owned a standard one for three or four years now and it's been perfect. Yeah it's no gaming mouse but it good enough for a small laptop mouse.

Yes please. I can't stand fps games on controllers its like trying to drive with oval tires.

There's been things going around saying it very well might come to PC, 343 has been saying things like "Where listing to our PV fans and will give them what they want". So we never know.

So a microsoft mouse with a sticker then?

I was thinking more in the line of, "There must be some sexual curiosities involved for a man to spend his entire day rubbing his finger against Master Chief!"

Want one with Cortana.. The circle.. In blue.. Should be lit up.. Kinda like the Razer models

Yeah a slap in the face really.

Wtf halo not on PC anyways

Halo 1, 2 and saprtain assault are on PC.

Halo accessories for PC but no Halo games for PC. Nice fail, Microsoft.

Maybe its a sign! Ha who am I kidding

Halo 1, 2 and saprtain assault are on PC. Maybe they're planning on supporting PC again, like they keep on primising all the time, but who am I kidding?

I'll buy one if there's a Bluetooth option. I need a mouse to go with the Dell Venue 8 Pro I received from the wonderful and amazing staff at WP Central.

I use a regular wireless mouse via an OTG dongle with my Venue 8 Pro. Works great. :)

Doesn't the dongle dangling mess up the port? If not, I already own a Microsoft wireless mobile mouse 4000 that I was using with my XPS 17.

Doesn't seem to, but I've only used it about 3 times on the road so far for about an hour each time. The OTG dongle is pretty light. Made by Anker, got it on Amazon for about $5. Also got one of their mini BT keyboards to go with for about $20 iirc.

OMG. I have my universal Logitech dongle managing both a mouse and a trackball for my notebook. Then this comes out. *argh*

Wow a mouse to play an Xbox exclusive game! Sounds fun!! I want 2, no make that 3....!!

Maybe they'll make it one compatible!

It's useless. Make it a 5 button mouse and I might just buy it. Any mouse with less than 5 buttons is useless. I cannot imagine ever going back to clicking back and foward with a mouse cursor.

I feel like MS has just been stumbling along just coming up with ideas out of the blue and saying yeah, that sounds good, lets do that, without even considering if it would be beneficial to them as a company or not.

I think I'll stick with my regular 3500. It's survived four years of my abuse so it's still fine

Mouse-ter Chief... *ba-dum-bum-chhh* ;)

Nobody should buy it until they start making halo for PC again!!!

Worst mouse i ever used... Battery draining heavily