Microsoft's 'HoloLens 2' set to be an Always Connected PC with Qualcomm CPU on board
Microsoft's next Augmented Reality device is set to be an Always Connected PC with 4G LTE connectivity and instant-on capabilities using Qualcomm processors.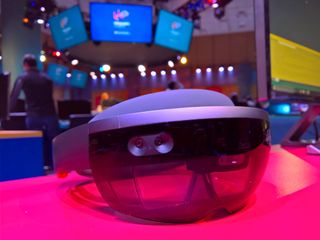 Microsoft is working on a new HoloLens, that much is already known from various leaks and words from Microsoft. While there was talk about the next HoloLens being a standalone PC with its own Qualcomm processor, it has now been confirmed by new sources that this is indeed the case and Microsoft is set to use the Snapdragon 850.
As reported by Neowin, this is the same processor found in the Lenovo Yoga C630 and Samsung Galaxy Book. In our testing of the aforementioned Windows 10 hardware, we found the processor to be speedy enough for casual computing.
Having the HoloLens rock an ARM processor means it'll be an Always Connected PC. You'll be able to turn on the device and carry on where you left off almost instantly, something more powerful (and power-hungry) Intel processors cannot achieve. Then there's the additional X20 4G LTE modem from Qualcomm, which offers true wireless capabilities.
That's pretty much all we know thus far, aside from Windows Core OS being the software that will power everything on the new device. It's expected Microsoft will announce and release the next HoloLens in 2019.
Rich Edmonds is Senior Editor of PC hardware at Windows Central, covering everything related to PC components and NAS. He's been involved in technology for more than a decade and knows a thing or two about the magic inside a PC chassis. You can follow him over on Twitter at @RichEdmonds.
Why the 850 instead of the newly announced 8cx?

My guess is that the new HoloLens will be released before the 8cx is released.

It will never be released if they keep waiting for the next gen chip, even if they did release it with the newest announced one then there would probably be a new announcement of the next gen chip around the same time.

8cx likely has larger thermo requirements then the form factor Hololense would provide.

My personal thought is that 8cx is still a work in progress and not yet ready for prime time.

chromium will surely make it run beautifully

Now it just remains to be seen if they can get the price down to a reasonable level and get developers on board. At the very least find some key niche categories where it could truly stand out...!

I'm guessing Hololens will be a premium product and priced like Surface... and the cheaper ones will come from OEMs.

Well they can do a Hololens all access plan, where you pay a cheap monthly fee for the hardware and services.

Can the adreno gpu handle holographic computing or is still going to have a separate hpu?

Didn't even know anyone who bought the Hololens 1, or if it was ever on sale before

It's a bit early to expect AR with Xbox Scarlet, AR is a few years behind VR in terms of technology maturity, consumers' interest and affordability (price drop).
On top of that, immersive headsets are better for non-casual games, as the narrative usually transports you into another environment, and making a game interact with arbitrary (user-dependent) furniture is much more complex and unpredictable. If we're lucky, Microsoft will have included a front USB type-C and 60 GHz wireless to support both wired VirtualLink and wireless VR headsets.
An Xbox-branded headset probably won't happen before they can make it wireless, as they target the console at the general consumer market and don't want a peripheral with a wire across the living-room that grandma or the dog can trip over, but supporting PC VirtualLink headsets could let enthusiasts and indie developers start early, probably with UWP games. As for the compatibility between HoloLens v.Next and Xbox Scarlet, HoloLens is a self-contained (all-in-one) computer, so it doesn't need a PC or Xbox to work.
However, the previous version could be used as a remoting target from a desktop app. Basically acting as a Wi-Fi AR headset (sensors and displays) with the app running on a PC or Xbox.
That scenario doesn't require specific hardware on the host side and is already documented as working on the Xbox One, as it's achieved with a "holographic remoting" library for UWP apps.
Keep in mind though that this adds latency, so a wired or wireless headset would be better than a remoted app.
("Holographic remoting allows your app to target a HoloLens with holographic content hosted on a desktop PC or on a UWP device such as the Xbox One" on https://docs.microsoft.com/en-us/windows/mixed-reality/add-holographic-r... )
Windows Central Newsletter
Thank you for signing up to Windows Central. You will receive a verification email shortly.
There was a problem. Please refresh the page and try again.