Microsoft's 'How Old' face recognition feature is rolling out in Bing image searches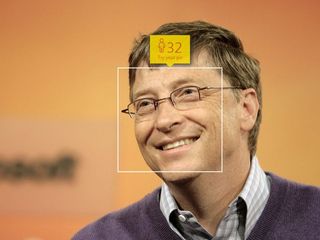 A month ago at Build 2015, Microsoft officially revealed its "How-Old.net" website, which uses new face recognition APIs to guess the age of a person based on a photo. Now that feature is being slowly rolled out onto the company's Bing image search engine.
Microsoft has yet to announce this new feature, but it is definitely available for at least some Bing users. Basically, they can search for a person's image in Bing and then a logo with the words "#HowOldRobot" should appear on the right side of the photo. Clicking on the logo brings up the "How Old" age guess. A message that pops up after this happens states, "Sorry if we didn't get it quite right, we're still improving this feature."
Again, this feature is still rolling out so it may not be available worldwide for all Bing users yet. In the meantime the "How-Old.net" website is still up and running, and it's also available as a Windows Phone app.
Via: VentureBeat
Windows Central Newsletter
Get the best of Windows Central in in your inbox, every day!
Bill Gates is 32 years old?

Just did a Bing search. He's 59 actually.

You do know that's on older photo of Bill, right? So while I don't think he's quite 32 in that one, it's not as fat off. After all, if you look at Bill today, he has not aged well.

If you use the webpage and get this photo it will guess 45 years, not 32 like its showing there. http://how-old.net/?q=bill+gates+today#results (this picture is to the right, about 7 picures) Besides this photo was taken in 2006, by that time Bill Gates was about 49-50 years. Not really far from what anyone would guess since Bill Gates actually looks a bit older than he really is.

Age discounts for MS ex CEO

How come it calls me a 36 yo when I'm only 20 and gates 34 when he's 60!? Not cool lol

I wonder why don't they add useful features to Bing search, of nothing try copying Google to match their features. Offer better search features outside of the states.

Is this a joke.
I tried app and it was showing 16 year old 42 years old. Even if it was a joke. It's not even laughable

Chill. It's in the early stages, it is still something cool and shows us how technology will become more advanced in the future. Microsoft should've added the option for the user to tell your actual age once it guessed, though.

These are the little features MS should roll out to make them cool. Bing predictions, Image search, How Old, Cortana on Edge browser etc.

You mean stupid not cool ? A feature which results are wrong in most cases. How can this make them cool?

I'm sure they will work to improve it. It will drive traffic towards bing.com, hopefully.

Yes, I am again with same thought

Some people fail to understand that this is a GUESS, much like your own. There is no way to determine the age of someone by a photo, it depends on so many factors, light, color, definition , angle of the photo, etc. Then by the person itself, plastic surgery, genetics, etc The APP isnt trying to guess the exact age of everyone, it is just trying to guess it BETTER than humans and im pretty sure it does that already. This is an amazing technology thats bein underestimated by haters.

Seriously, this app guess age better than human???? LOL! You made my day.
Anything else you want to tell about this nonsense app..

Yes it does. You cant really try to compare a machine analysing one single picture of someone that it has no idea who´s on it with one person, like yourself, that already knows the age of a famous person (like Bill Gates) or at least has a clue of the decade he was born and have seen thousands of pictures of him. I would bet anything this app could guess better than you the age in a list of 100 unknow persons. But i guess you will never try it out and will continue to just lol to everyone without knowing what you are talking about.

Thanks for the laugh.
It's always very hilarious to see MS fans who believe believe in apps more than himself.
Height of fanism Please tell me more about it.
The more I read your comment the more it's laughable

I love looking at MS fanboys

Maybe it's supposed to tell how old you are in spirit....
My niece is 3yrs old and the result was 42 yrs....

Lol. I'm 18 but I'm apparently 49 and of the opposite sex.

To this web (now app) showed me that I am 32 year old while I am 17.... I think it has to do something with specs

This feature can make ladies happy! Haha

I'm 31, and it told me I was 19. I smiled for a bit, but sounds like it has a bit of work to be done.

Stephen Hawking is 32? *wowface

This is not Stephen Hawking. LOL!

How old someone looks is quite subjective, most of the time. I'm in my thirties, but people often mistaken me for early twenties or younger. And I know many people in similar situations, even where the reverse happens--younger people mistaken to be older. With that said, no robot is gonna get any good consistent accuracy.

"but it is definately available"

*definitely :o)

This feature is totally worthless. I tried it on myself, my mom, dad and brother and got us all off my more than 10 years. Posted via the Windows Central App for Android

It's a GUESS! its never gonna be accurate

This is a beginning you know.

It got both my daughters the accurate age (5 and 7) and me and my wife for 1-2 years dif. Then in another picture of my wife it missed by over 10 years. It depends on the resolution of the image, the lightning on the picture, etc. As we are all saying, its a guess, and looking at only one picture without knowing anything else from that person. Thats far from worthless. I could see it being very usefull in a near future blocking adult websites from kids or fighting pedophilia. This kind of technology need support, not people criticizing a version 1.0 of it.

BILL GATES IS NOT 32 YRS OLD

No shit, this is the beginning of a future. Saying that its gets the age wrong is part of research. This is a computer. Maybe some day you'll see. *cough* Apple Fanboy *Cough*

I though Bill is 18 only?

It was a year younger with me, but over 10 years older for my wife. People always think that she is 10 years younger and not just trying to be nice
Windows Central Newsletter
Thank you for signing up to Windows Central. You will receive a verification email shortly.
There was a problem. Please refresh the page and try again.