Pricing for Microsoft's Lumia 535, 532, 435 leak out ahead of Brazil launches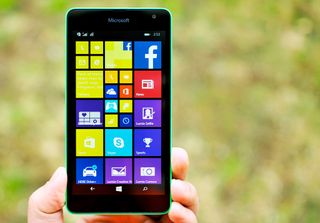 The Lumia 535, 532 and 435 have been priced in Brazil. Information obtained by local source Windows Mania show the new Windows Phones to be priced accordingly in the region, which is what many were hoping since we're talking about low- and mid-range hardware.
First up is the Lumia 435, which is expected to arrive at some point (availability for the region not yet known), but when it does it will set purchasers back R$ 299 ($110). It's the more affordable option of the three handsets we're covering in this article, sporting 1GB RAM, 4-inch display and 8GB of internal storage (with microSD support).
With new information pointing to February launches, the Lumia 532 and selfie-shooting Lumia 535 are set to be priced at R$ 399 ($150) and R$ 599 ($230) respectively. These Windows Phones will also sport 1GB RAM and 8GB of internal storage (with microSD support).
Note that these prices aren't officially confirmed, but do provide us with an idea as to what they will likely cost. Will you be picking on up when they launch?
Source: WindowsMania.br
Rich Edmonds is Senior Editor of PC hardware at Windows Central, covering everything related to PC components and NAS. He's been involved in technology for more than a decade and knows a thing or two about the magic inside a PC chassis. You can follow him over on Twitter at @RichEdmonds.
The price looks little bit higher maybe due to tax

yep. The tax here in Brazil is stunning. Many gadgets, eletronics, games, etc arrive with about 6 times the original price.

Didn't the PS4 cost like 2 grand or something?

Yes, PS4 arrived by 4k in Brazil money

yes, but this was a special case, since it was entirely a Sony decision, maybe to screw things up for the goverment with people smuggling the product instead of buying the officially imported.
The Wii U here, which was imported, was about U$740, so the PS4 shold have been around U$1k, not 2 like they made it be.

@Design Price: Microsoft lumia 535 is worst then Nokia,may be designer are the same but microsoft making fool giving worst touchpads,so problems in internal issues.I advise don't buy it,Instead of it you can use old Lumia 630 / 730,that cell phones are far better than microsoft Lumia 535.

PS4 started at R$4.000,00..

The launch price was R$ 4.000,00 (about US$ 1.500,00).

Not for smartphones, mlourenconeto. Smartphones have a several discounts on taxes here in Brazil.

It's actually a good price to start here in Brazil. Remembering it's the carrier-free price, with no contract.

yeah in brazil the tax from mobile, games and eletronics are higher than weapons haha.

Don't worry. In Argentina it's much, much worse. For example the iphone is $ 30000 (3000 US dollars)

Yes, it relatively high if I compared Lumia 535 price in Indonesia.
In Indonesia Lumia 535 is only Rp 1.699.000, that's about $135, so if I do a calculation now 532 will be about $90 USD, and 435 would be about $66.

Taxes in Brasil are abusive.

Lumia 435 and Lumia 532 has hardware button, why not Lumia 530, Lumia 535, Lumia 630, Lumia 635, Lumia 636, Lumia 638, Lumia 730, Lumia 735?

MS has their stuff together now

I'd like to see leaks about flagship phones, not these shizit budget phones that can barely turn itself on with such low power. Throw this shit away like the ET games Atari buried.

I have 3 Lumia 521 devices on T-mobile here in the states, and they work just fine. These that are being introduced in Brazil have higher specs than that model, so they will work even better. My 13, 12, and nine year old kids use them endlessly for gaming,text, messaging, etc, and they prefer their 521s to their higher end Android phones that their mom gave them. ​

Paul, I'm just trolling, ignore me. On the flip side, thanks for going against the missus, I know that can be like the battle of Stalingrad.

Lumia 530, Lumia 535, Lumia 630, Lumia 635, Lumia 636, Lumia 638, Lumia 730, Lumia 735 = Nokia Lumia. Lumia 435 and Lumia 532 = Microsoft Lumia.

Lumia 535 is Microsoft Lumia, not Nokia Lumia

Maybe it's about the screen size. I dunno.

Lumia 530 has the same size of Lumia 435 and Lumia 532

535 is Microsoft as well..

Maybe they figured it out that the Lumia 530 screen gets too small with those keys.

435&532 were made with Nokia X series phone designs....... So they got that hardware buttons.. But its really bad in absence of camera shutter button on recent low end phones

It's simply matter of cost and quality. Software buttons are generally preferred, but it's much cheaper to source 800x480 display of acceptable quality than to source 854x480 display of the same quality. This has been shown by the attrocious display in Lumia 530. Also, the designs of Lumia 435 and 532 are based on abandoned Nokia X products which used hardware buttons.

Personally I prefer the software buttons. Software buttons change when you turn the phone into landscape and can disappear altogether. Also it is possible to change the buttons with software or add additional buttons like LG do on their G3. Posted via the Windows Central App for Android

So many low end phones being released....

I am pretty sure that at least the Lumia 535 price is wrong...

Yeap. They're guessing. It's about 499,00.

Like its said on GuiaWindows.com

For what, target practice? Remember, this is the U.S., we are all millionaires. (psst..don't tell anyone you've got to work for it though)

Lol, its funny people have that perception of us. I see TONS of low ends here in the US.

I'm a director at a nursing school, lots of minorities trying to make their way up, god bless em, I came from nothing (not my fault, it is my responsibly to get out though, and I did), I see many with bargain Lumia.. Then I break out the breast (meant beast, figured I'd leave it, someone may get a laugh)..1520

The price of 535 is too Way expensive to call a device like that "affordable". For R$ 520 we can get The lumia 730

The correct price for this smartphone is 499 like said in GuiaWindows.com

The 535 is only £89 in the UK. Posted via the Windows Central App for Android

Just to curiosity: The Lumias 930 and the Lumias 830 are often sold here for a great price compared to other markets: R$ 1200 (460 U$) and R$ 999 (385 U$).

I bought Lumia 830 at Lojas Americanas for R$850,00.

I bought the Lumia 930 for R$879,00 at Submarino !

I like that "Microsoft" title up there!

I hate logos on the front of a device, regardless of who made it.

Boo hoo, all manufacturers do it. It's something we business folk call brand recognition. You want me WP share to grow, labels, hello. Ever watch NFL? Notice they have a blue case saying MS surface.

well damn that was a little harsh

I'm sorry. I edited it for niceness!

In the end iPhone series will join low end market, haha

230$ for the Lumia 535...? That's about 200€, which is almost double the price in Germany... Couldn't be right!

Can get a 730 here for that $230 in Cambodia. I even thought it was a typo.

It costs 103€ In Lithuania

Humm you can find the Lumia 630 for less than R$399,00 (around U$144) so the 535 price can't go that high so retailers can work do drop it a little.

No, I'm not. Waiting for the W10 flagship! : ) And, brazilian prices aren't good references in my humble opinion. Generally, products' prices here are equivalent to US' plus an average of 40% taxes. Smartphones markups tend to vary a lot, adding uncertainty to the calculus. 2 cents.

Well I bought my on black Friday last year knowing that no MSFT Lumia flagship would be launched before W10 come around, which I guess after October/2015. Almost a year that I couldn't wait with my old but still great 925!

É a questão da necessidade (utilidade) em função do tempo (Risos. Economia pura). Os planos da Microsoft são imensos, a implementação, difícil. Muita gente não entende isso. Nós então, consumidores finais, sofremos com a questão do hardware. Contudo, tenho lido muito por aí, após a aquisição da Nokia, o ritmo das coisas deve mudar pra melhor. Beleza pura! Abração, WPit. +925+930=1855! Oh wait.. nonsense! ; )

This source is with wrong info! The correct price for R$499 like its said on these websites: http://urlbig.co/lumia535 http://urlbig.co/lumiaprices

Seems about right. After a few months the price will drop to match market references of segments!

But honestly, all Lumias have beast princes in Brazil. I bought my 930 for around 358 dollars, with no contract with carries and unlocked. The Icon/930 isn't cheaper than that in USA!

Rumors says that will come with Digital TV.

Ouch. For $230 I can get a 730 here in Cambodia.

The same here in Brazil.... Those guys are retarded

535 in Philippines is around $135

I don't get all the complaining about mid/low end phone. Yes - Microsoft needs a flagship - we all know that - but there is still a place for cheaper phones. I know in much of the world they pay full price - not everyone wants to pay 5-600 dollars for a phone. Also - my contract now makes me pay full price(though it can be spread out over 24 months). I'm happy with my new 635. I need to be able to check my email and social media once in a while(and, gasp! make a phone call!). I do heavy computing at home - I'm a photographer - so I don't need a good camera phone(I just switch my micro-sd from my dslr over and upload) and I don't play games. The latest a greatest isn't necessary for eveyone - figure that out - Microsoft did.

It's like a pyramid.. To be on top, you must step from the bottom.. That's what microsoft is doing.. Gaining popularity from below to the top..

The price of Lumia 535 is 6k higher than indian price

Wait, what? 6 thousands? It can't be right... Unless the currency is like iens or something, which thousands are like 10 dollars. Rupee right?

Indian price of 535 is ₹9000 ....1$=60₹

When will it come to India...ok, I will let myself out.

Retail prices and street prices are never the same.

When MS gets grown soon, they might runs the market very well BUT just NOT right now, keep it up.

These prices should be all wrong. Lumia 530 can be found for just R$ 275,00 and Lumia 630 with dual sim or Digital TV for just R$ 350,00. It these prices are correct they will all miss. Souce: https://www.cissamagazine.com.br/smartphones/nokia

Phones in Brazil costs too much! ,
In my country the 535 costs just 130$ after taxes and subsidies !
Nearly a double !

In general the prices of things in south America are higher when got my phone the 820 coated 369,00 USD CLP 199,990 I don't, know the reality in other countries in Argentina, are awful expensive electronics even people from that country comes to Chile to purchase electronics even paying the taxes in the custom already it's cheap to them in comparison with Argentina and Brazil

And where are the high-end devices we have been waiting for?

I just bought the Lumia 535 as my test phone for the Windows 10 preview. Yay! And by the way, the Lumia 535 price in Dubai right now is 128 USD only the phone and bundle offer of 136 USD and comes with selfie stick and a black flip cover casing!
Windows Central Newsletter
Thank you for signing up to Windows Central. You will receive a verification email shortly.
There was a problem. Please refresh the page and try again.