Microsoft's 'Miami Street' could be among the first Surface 'Andromeda OS' games
Are you ready to tear up the streets of Miami?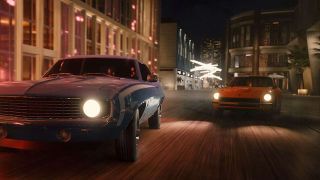 For months now, there have been rumors that developer Electric Square was working in collaboration Microsoft Studios on a "Forza Kart" game. Unfortunately, those rumors turned out to be incorrect.
Judge of Resetera posted a link to "Miami Street" on the forum. lHybridl was kind enough to provide us with the tip.
Miami Street is a free-to-play racing game meant for "all" Windows 10 devices, but don't get your hopes up about a Windows 10 Mobile renaissance here.
We've done some digging, and according to the app package metadata, it seems as though Miami Street is targeting Windows 10 PC and the "Andromeda OS" which is long-expected to be running on the folding Surface "Andromeda" tablet. Though only a PC version is available as of writing.
The description of the game reads as follows.
While it's still a little rough around the edges, especially if you watch gameplay, the title shows a lot of promise. The description speaks of one-on-one competitive racing, and while it makes no mention of mobile devices, it makes absolutely no sense for Microsoft to be making a touch-based free to play racing game just for Windows 10 touch PCs. There's certainly something mysterious at play here, we'll have to wait and see.
See at Microsoft Store (opens in new tab)
Keep an eye on WindowsCentral.com/Gaming for all the latest in Xbox and Windows 10 gaming, accessories, news, and reviews.
Windows Central Newsletter
Get the best of Windows Central in in your inbox, every day!
Asher Madan handles gaming news for Windows Central. Before joining Windows Central in 2017, Asher worked for a number of different gaming outlets. He has a background in medical science and is passionate about all forms of entertainment, cooking, and antiquing.
gameplay video = Invalid source

Sorry about that, the video was removed. Here's a mirror on Twitter. https://twitter.com/some_kitten/status/1000125109800194049

Am I reading the title of this Article, correct? Or am I dreaming? Andromeda OS; Surface device with an exclusive game IS COMING! Take my money 💸

Not available yet but it's not an Andromeda OS exclusive either as I can, potentially, download it on my SP4.

True, well maybe its more like a platform/ecosystem exclusive for Windows devices which may include Xbox too (though seem unlikely since the gameplay feels too casually simplistic). By the looks of it, this could be one of the games that get released alongside Andromeda device. I wish there will be more titles and not just this game.

A lesser HW demanding (e.g. most indie games) ARM64 XPA game should work fine on this device too I think.

Many Indie games might, as long as their game engines are optimized for ARM6, as long as they can take advantage of Snapdragon GPU.

Seems to confirm that the folding tablet will have a gaming focus. Perhaps this will be Microsoft's first portable gaming platform that will also focus on AR along with traditional games. I would have preferred a focus on photography and video editing, but at least the device has a focus other than "Hey look we have a tablet that folds!"

Amazed there is not a competitive battle racer on Xbox by MS. Buy Rocket League IP, and add forward and rear weapons, around a track. Done.

I'm pretty sure you've got a great idea there! By the way, thanks again for the invite to the insiders program all that time ago on Xbox!

Rocket League would be indeed a nice IP to add to Microsoft games portfolio. It's very successful, the gameplay is still really fun, and now it's really an eSports game. Microsoft I think needs more games that are fun and competitive, doesn't need to have the most impressive graphics or even violent games. It just needs to be very fun and have solid gameplay. Though sure they also need some solid single player titles too that are not always Fps which they are lacking.

Maybe they will release something like that together with the new Avatars.

Just as long as they allow me to play it with my Xbox controller on my PC I'm game.

Has anyone figured out which regions it has been soft launched in?

I think it's US only at the moment, I might be wrong about that though.

Nope. Changed my store region to US. No luck.

The link points to the Netherlands version of the Store.

A foldable device could be pretty neat for mobile gaming. Like a DS. Btw a DS emulator for Andromeda would be nice.
But after all the Andromeda device will most likely be a business product. On the other hand OEMs like Samsung and Huawei are gonna release 'regular' smartphones with two screens. I'm pretty sure that developers will make games for those devices and eventually port them to Windows.

Sure, it will be for business, but the surprise here is they're adapting games for it. I think it's great.

I think just having XPA (rebuild with arm64) games running on this thing is good enough for me (and good for indie devs).

Did someone say "Andromeda? 😲😲😲😲😲😲
..........
Where are all the pathetic haters?

It would be nicer if they actually make a separate Forza that is UWP. Why separate? Well current Xbox/PC version of Forza would be too graphically intensive for Snapdragon unless they actually manage to tune its graphics and optimize it for an ARM. What would be nice for Andromeda is to have Xbox titles also, whether it is re-optimized and remastered for mobile or separate edition under the same IP. Imagine having Halo series exclusive for Andromeda also, and any future exclusive titles.

Good idea....only if MS executives read the comments on WC

They just need to offered lowered graphics settings, which they already do, such that it runs on integrated graphics. Really the only thing missing is ARM64 support.

Yeah, if ARM64 support is there, this won't be a problem. Also it doesn't even need a graphical settings as long as the visual elements such as lights and shadows are baked, something that are not harder to calculate by the GPU, and lastly as long as it will make use of Snapdragon GPU which I think is not too shabby. 2007-2010 console graphics are possible I guess.

Wow, so Andromeda will have game support, maybe capable hardware even? Or just leveraging the QC 835 chipset? In any case, good news :)

It better be the flagship SOC at the time of release and not a mid tier SOC. As Win32 emulation is nowhere near the optimisation level to run on a mid tier SOC.

It should use the SD845 at least, but even that isn't going to help much with emulation. They need massive performance improvements for that to work.

Well, the easy answer to that is compiling stuff for ARM64. You don't need emulation when it's compiled for ATM64. And I still wonder which win32 apps is people going to want to run on this kind of device.

Come on Microsoft, my Lumia 650 isn't going to keep working forever... It's about time for whatever comes next!!

Yeah, my 950's gotten to the point where I have Battery Saver kick on at 70% to make it through the day. Been debating buying a new battery or seeing how much a 950 XL is, but buying a new phone right before Andromeda seems silly.

Yeah, I would definitely go for the new battery option at this point.

just swapped out for a new battery in a few minutes. few moment removable battery is cool.

Everlasting batteries would be even cooler! 😁

That's all we can do for now....speculate.

I hope it will run on something powerful, best if custom. Free game with device would be great, but more if it was something like Fortnite, ''Destiny'',wow... thats what is popular now.

I also hope it comes with new futuristic control using gestures, to get sw buttons of the screen away. Tablets included.

But Bleached is still not happy :(

They are actually doing something! It is crazy. Will they actually put some effort into this device or will it just be another Windows on a phone mishap?

It seems like there's a lot going on for this device. There is a lot of potential in a Surface Hub 2 Mini device which is essentially Andromeda

From what we have heard, the only unique thing this might have is support for legacy Windows programs. I am not sure why you would want them on a small device, but I guess that all Microsoft has now. Everything else this is claiming has been done before. Unless their is some crazy marketable feature we haven't seen yet, I don't see how another Microsoft phone running Windows makes a dent.

Yeah, it is now left to how Microsoft will properly market them. It's all about how the overall package works, how polished the product is, overall usefulness, and its ease of use. They just need at least to make it a solid product that despite its few shortcomings which is likely an app gap, its still very enjoyable to use for many people. Especially that expected price would be high, so it needs to justify that. Aside from ability to run desktop legacy apps which is still unknown if Andromeda will have it out-of-the-box, the device being more focus for note taking is one marketable feature. Galaxy Note does this which the only Android phablet that I would get to justify its size, but Samsung themselves doesn't seem to heavily focused on that being a digital notebook, not to mention that Android itself is still don't have enhanced support on the pen except on what Samsung adds. We will really see if how it will all play out. A device running Windows isn't enough anymore. Modern smartphones already evolved to be pretty powerful and general-purpose as desktop PCs for most people.

Agreed. The device needs to be a real game changer with great standard (MS) apps. If it makes a great first impression, third party apps will come!

'First Impression' is really a key here which makes me nervous at times since Microsoft are not good at this, though Surface team do manage so there is hope.

True. Let's just hope Nadella and the other big guys have the Surface Teams back (financially) when it's time for this thing to be launched!

A Surface Hub 2 mini would just be an iPad, really. Andromeda Is more rumored to be TWO nano-sized Surface Hubs 2 devices that are permanently linked.

It wouldn't hurt for Microsoft to give whatever Andromeda is a bare minimum spec high enough to play Xbox Original and Xbox 360 games with ease. Sure, pushing these new Indie titles days would be great on a device like this, but Microsoft already has a rich gaming eco system...being able to just download many titles, maybe ones I've already bought and play it on the go on this. Voodoo Vince, Halo 3, KotOR...it would be great.

That wouldn't end well, I would imagine. You're asking a new type of hardware on a new type of OS with an incompatible SoC architecture to play console games through emulation, something that is VERY resource-intensive, and this is on mobile hardware?

We will have to see. Maybe Microsoft's game streaming solution comes into play here. I would like to see them leverage their superior gaming catalog either way for this device...something beyond what you find on an iPhone or Android tab

Just take an Snapdragon 845 and you are set for Xbox/Xbox360 emulation. You need to keep in mind that the CPU performance of a Snapdragon 845 is much faster compared to what´s in Xbox One - which apparently supports emulation. GPU is slower of course, but emulation should be mostly limited by CPU performance as long as the GPU is at least as fast as the system to emulate.

I don't think they should / can do that. If MS stat offering xbOg and xb360 games on their own device, they will have to offer'em to OEM's. A tamper-able system will def attract many 1 stars. * Vulkan on Galaxy S8 gives devs black screen. Who should be responsible? Game dev, OEM or user themselves?
Sure, dev should run their QA properly (but if you are an indie... what's you budget for new devices each year? How many hours / people should you spend on QA?) but OEM and users are not the innocent one here too.
Create a dedicate xbOG and xb360 handheld is the better way.
1. nostalgia
2. game saves syncs with xbox ones.

Not sure how interesting this sounds. A 1v1 racing game sounds like a fun "rival" experience, but I'd imagine a majority of the races end up one-sided and over in the first 30 seconds because of an enemy wreck or a clipped wall. We've got a lot more to see before saying it won't be fun, but I'm not sure this is the kind of game I would want to hop on and play on a phone. I very much enjoyed Asphalt 7 on my Lumia 920 though, so maybe it'll be worth playing.

Store says it's currently not available.
Windows Central Newsletter
Thank you for signing up to Windows Central. You will receive a verification email shortly.
There was a problem. Please refresh the page and try again.