Microsoft's new FindTime add-in for Outlook is designed to schedule meetings faster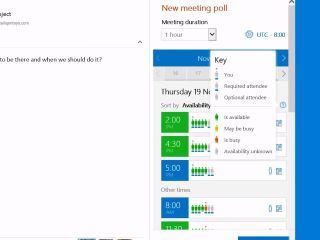 Microsoft is offering Office 365 users a new way to schedule meetings via a free Outlook add-in called FindTime. Launched as part of the Microsoft Garage division, FindTime gives business workers a say in when they can "find time" to have a meeting.
Microsoft states:
The FindTime add-in is available for Office 365 subscribers who are using Outlook 2013 or Outlook 2016. It can also be accessed by those used on the web version of Oultook.
Source: Microsoft (opens in new tab)
I can't use it, everytime i go to the website and click install it tells me that my 365 email is not registered. Concerning the company can't even get it's own customer accounts from one end to another.

Well do you subscribe to Office 365?

FindTime is incredibly useful. What should be clarified in this post before people say it doesn't work is that you don't just have to "subscribe to Office 365" to send a meeting poll; rather, your mailbox has to be hosted in Exchange Online to take advantage of this. You can have it automatically send the invite with or without a Skype meeting once a consensus is reached, or you can look at the polling at any time and force a time which it will schedule. Your invitees don't need to have mailboxes in Exchange Online, just the organizer. Hugely valuable for coordinating with customers since you usually can't see their free/busy.

The only time there is a complete "consensus" on a meeting time is on Fridays meet-ups for Happy Hour, 2-for-1s.

Just installed on my work account; can't wait to try it. :)

How do you get it at work? I couldn't find it when I went looking for it. We've got Office 365 for Business, but I've no idea where its at.

A few concerns restricting our use: 1) the Privacy Agreement you are required to accept is the MS Consumer agreement, which governs Outlook.com email and MS access (contradicts the privacy agreement in place with the E4 Trust - although Exchange online is not listed as a Service), and 2) you agree to provide access to email and all calendar events scheduled with this add-in. Both 1 and 2 potentially conflict with NDAs we have in place. Would love community feedback/debate on these points..
Windows Central Newsletter
Get the best of Windows Central in in your inbox, every day!
Thank you for signing up to Windows Central. You will receive a verification email shortly.
There was a problem. Please refresh the page and try again.