Microsoft's new Skype bot Project Murphy can merge two things into one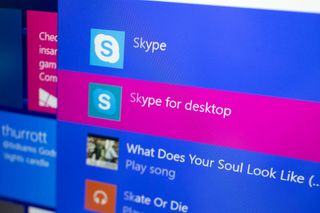 Microsoft launched support for text chat bots in Skype earlier this week and now a new bot made by the company is showing off what these AI creations can do. "Project Murphy" adds a new bot to your Skype contacts and then you can ask it "What if..." questions. The end result is a merging of two images that attempts to answer that question.
Microsoft says that "Project Murphy" was a result of combining several of the company's services, such as Bing Image Search, Microsoft Bot Framework, Azure Stream Analytics, Azure Data Lake and PowerBI. The idea behind it was to make an AI that could have some imaginative atributes:
The Murphy chatbot is now available for Skype on iOS, Android and Windows desktop users.
Add the Project Murphy chatbot to your Skype contacts
Windows Central Newsletter
Get the best of Windows Central in your inbox, every day!
That's fantastic. Good job MS

What if Daniel was Devine?

I don't really care this isn't on Windows 10 Mobile, but I don't get why it isn't.....this is just a bot that responds to text messages so should be able to work with all versions of Skype I would have thought. Equally don't get why Mac isn't available either

Just wait for skype uwp +640/Win10

It did look on good form in the keynote. Looking forward to it

Exactly. This is why there will be a Skype uwp

Best guess is that they have to update the application with the Bots button, and maybe since they're in the process of developing the UWP they decided to just put it there instead of also changing the old Windows phone skype app.

Don't work on skype in UK, so no hope for mobile.

awesome....MS is now actually shining Posted from Windows Central for Windows 10

MS is sick this beyond technology

Now available for Skype on iOS, Android and Windows desktop....windows desktop.....windows desktop....cries. Posted from my Lumia 950XL

Its on IOS and Android already :/ oh shucks.

I love that fact that i had to be humiliated in front of my friend with a galaxy S4 to see this in action. My 640XL is still under an ice pack.

I ordered the S7 Edge last night. I've had enough.

Was going to get that. But, decided to go for something cheaper. I'll be getting the Moto Nexus 6. It's pretty cheap going around $250 on ebay. For the specs alone, that's a steal.

Just say "Available on every relevant mobile platform". At this point in time, MS is apparently beyond even trying to pretend.

Coming soon to Windows Phone..

Mobile? Mobile?? Windows mobile, oh what's the use

Skype is in a real mess on Windows 10. Simplify it and for God's sake, make a single app instead of separate apps for calling and messages. They can do the same for smartphones as well. Merge calling and messaging apps into a single "Communication" app. It should have 2 screens. left one should show the threads like call lists, messages, videos messages etc on LIVE tiles! Sliding the screen to the right will take us to the "ALL CONTACTS" section arranged in the same manner as "All Apps".

I don't see much use in these bots. I still feel clicking a button to order a pizza is faster than starting a conversation about it. You would have to write dozens of lines to get trough the whole procedure. I think a GUI is in a lot of cases more efficient. Also I do t like the idea of adding bots. You would get a really really long list and in-between normal people you skype with. It would be better if the bots lived in the backend and would automatically invade a 'normal' chat you would be having with a normal person. Lets say you're writing your girl hey wanna get a pizza later? And then the pizza bots would present themselves. Well we'll see how this plays out but this feels like toying around with IRC bots. Who remembers those? Its fun but also very limited. AI is simply to weak and it will be freaking stupid for years to come. Lookup 'weak AI' on wikipedia.

The idea is that bots are the backend, and digital assistants, like Cortana, are the web browser. So you wouldn't add thousands of contacts. You would just ask Cortana: "Order me a 15 inch Margherita", and she would then be the messenger between you and Domino's bot.

Bots not working ofr me - try to add as a contact, says request sent - and nothing.

I had to quit skype and open it up again. Murphy showed up as a contact right after I did that. I quit and restarted Skype about 3 minutes after sending the request cause I was wondering why nothing was happening as well.

WP user : No support for windows mobile? WTF
android user : Another thing to waste time
iOS user : What's the use of it after all..
..

what is concrafter was bibisbeautypalace ?