Microsoft's universal take on 'touch' tech makes Apple's look terrible
From ATMs, beverage dispensers and Windows 10 PCs, touchscreens are everywhere .... except on Apple's MacBooks and iMacs. And that's just odd.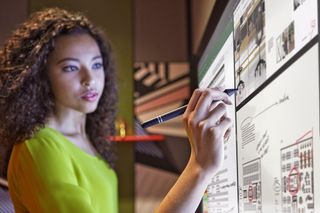 Touchscreens are so integral to modern technology that my toddler daughter used to touch the television screen expecting the Netflix icons to respond.
I even sometimes touch old PCs thinking they'll register the input. Sadly not all PCs, not even modern MacBooks and iMacs, are created equal. Apple's CEO Tim Cook adamantly asserts that bringing touch to its PC platform is like merging a refrigerator and toaster.
Still, while touch is common on tablets, smartphones, Windows PCs and many modern computing UIs, Apple's touch philosophy seems paradoxically rooted in the past. Particularly since Apple's iPhone mainstreamed touch mobile computing.
Can't touch this
Apple's Chief Design Officer Jony Ive said, that the company explored putting touch into a Mac but rejected that idea "many, many years ago." Apple execs further assert "it doesn't feel natural to reach out to touch a computer screen." The argument is that one's arm would get tired due to frequently interacting with the display.
This is an odd stance since Apple's touch-centric, iOS-powered iPad Pro paired with a keyboard is aggressively positioned against Windows PCs as the computer redefined. Ironically, Apple doesn't apply its "arm getting tired" concern to the mouseless, iPad Pro which demands to be touched while it pretends to be a "computer."
In fact, iPad Pro users must use touch more frequently than Windows 10 users, who can choose between touch or mouse and trackpad to navigate the OS. Guess whose arm is more likely to tire?
When it comes to cognitive dissonance, Apple is "touched"
Former Apple CEO Steve Jobs introduces the iPhone with a focus on touch.
There's a fundamental conflict in Apple's touch philosophy. For Mac and MacBook, Apple claims touch in desktop scenarios isn't ideal. For touch-centric iPad Pros in the same context, the purported shortcomings of touch are ignored as iPad Pro with a keyboard is pushed as a superior "computer" to a Windows PC.
For the company whose former CEO, Steve Jobs, lauded the benefits of touch as a natural way of interacting with technology, Apple's conflicting positions on touch are confusing.
Apple's Phil Schiller, senior vice president of worldwide marketing, provided the following context for what some consider a woefully inadequate concession by Apple to bring touch to MacBook Pro, via a touch strip:
The "convenience" of a narrow strip on the keyboard introduces the inconvenience of requiring that users look away from the display and at the keyboard to get things done. Reaching out to the screen one is already looking at is less disruptive to one's workflow and a more natural experience. It's also consistent with the touch philosophy that helped propel iPhone's success.
For Microsoft, touch is natural and immersive
We naturally interact with the physical world through fine and gross motor movements. Companies have sought to seamlessly weave those innate skills into our interactions with digital content.
From fingers on our touchscreens to broad movements that help us navigate virtual and augmented reality, the future of computing is touch. Microsoft's OneCore enables touch across all Windows 10 form factors from the diminutive Surface Go, to the wall-dominating Surface Hub and the future-focused HoloLens. Touch and inking (and voice and gaze) are integrated across Microsoft's context-conforming device family. This is a very different approach than Apple's polarized touch philosophy.
Microsoft's implementation, though unique and ambitious, is also imperfect. Windows 10's touch-focused Tablet Mode leaves much to be desired. This imperfect execution allows Apple to leverage a strategy for which it is infamous and which Ive referenced:
Apple is out of touch
Image 1 of 10
Apple is notorious for criticizing other company's risks, claiming disinterest, until it debuts a "better" take on the tech. Large-screen smartphones, a stylus called an Apple Pencil, and mini-tablets are some examples. It seems inevitable that Apple's goal is to join the rest of the world by bringing touch to Macs and MacBooks. But Apple won't do that until it feels it can do touch on PC better than Microsoft.
With Mac and MacBook refreshes rumored for September 12, 2018, now seems a good time for Apple to join the touch revolution it started. If not, Apple may forever remain out of touch while Microsoft's touch-centric philosophy leads us into the future.
Get the Windows Central Newsletter
All the latest news, reviews, and guides for Windows and Xbox diehards.
Jason L Ward is a columnist at Windows Central. He provides unique big picture analysis of the complex world of Microsoft. Jason takes the small clues and gives you an insightful big picture perspective through storytelling that you won't find *anywhere* else. Seriously, this dude thinks outside the box. Follow him on Twitter at @JLTechWord. He's doing the "write" thing!