Microsoft's 'Your Phone' app now lets anyone make and receive calls from their PC
Your Phone calling is now generally available to all.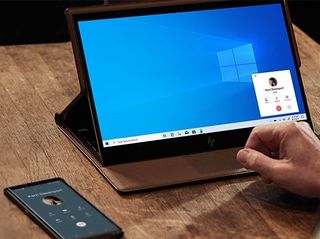 (Image credit: Microsoft)
What you need to know
Your Phone calling is now generally available to everyone.
The feature allows you to make and receive calls from your PC.
The feature underwent months of testing with Insiders ahead of general availability.
Microsoft's Your Phone app is finally ready to add one of its biggest missing features: calling. The app already allows you to relay text messages, sync notifications, and share images between your phone and PC. Starting today, you'll also be able to make and receive calls with a PC that's connected to your Android phone.
Within the Your Phone app on your PC, you'll now be able to dial a number of search contacts to make a call. You should also be able to check out your call history and transfer calls from your PC back to your phone. Combined with the rest of Your Phone's features, you'll essentially never have to pull your phone out of your pocket while working at your PC.
The Your Phone app has undergone quite an evolution in prior months, gradually building out its feature set. The ultimate goal is to make your PC capable of taking care of anything you'd normally do on your phone without distracting you from your PC workflow. It's likely we'll continue to see Microsoft introduce more features for the Your Phone app in the coming months, particularly as Microsoft has been keen to work closely with Samsung on things like screen mirroring.
Windows Central Newsletter
Get the best of Windows Central in in your inbox, every day!
Dan Thorp-Lancaster is the former Editor-in-Chief of Windows Central. He began working with Windows Central, Android Central, and iMore as a news writer in 2014 and is obsessed with tech of all sorts. You can follow Dan on Twitter @DthorpL and Instagram @heyitsdtl.
Will the feature literally work FOR ALL SMARTPHONE DEVICES? A pity screen mirroring is only supported for select Samsung devices. Kind of a small user base.

Any phone supposedly running Android 7.0 or later. The crazy part is I do not think you can even do this from Chrome OS lol.

Jesus, everything really is coming up Andrew.

Just got the update and my Galaxy S10+ only added Phone Screen (mirroring) no call support.

The app on the PC has to update too. Which is gradually rolling out...

And you know this how? I've read elsewhere that the call feature is working for some using v 1.19111.85.0 which has been out in the wild awhile, so it "might" be some sort of regional server side update, but that's just a SWAG. I'm in Chicagoland and I'm not seeing the call feature yet. I do have a BT connection between my Android phone and Surface with the latest updates, etc.

Just got the update on PC that enables calls, v1.19112.111.0

I have the latest Your Phone app on Win10. No call option. Is this region specific?

I have no idea at this point. The Calls option is gone for me, as of this morning. My phone got an update over the weekend so who knows if that broke it or if the PC app needs to catch up. Classic MS, they'll frustrate us, advocates, to the point where we simply won't try any longer and then they'll use all their great "telemetry" to decide to kill it b/c no one uses it.

Got a Your Phone update on my OP 7T but I don't see the Calls option in the PC app. Does it need an update? I checked but it didn't find one. Anyone have a list of supported phones and/or know if I'm missing something? The MS support page hasn't been updated since 10/29, has nothing about Calls, and for general Your Phone support, it simply says "most Android phones".

again...The app on the PC has to update too. Which is gradually rolling out...

Chances are this feature is only for high end phones. So I'm out. That is of course assuming you managed to get the app to connect with your phone to start with.

I think it'll work on just about any Android phone running android 7 or later. All software magic aside, its essentially just a Bluetooth connection

I think it uses the Bluetooth connection to work. Might depend on how new your PC is and phone.

Same here. S8+. Got the app update but no calls feature. Guess my phone is now a has been... 😁

Yes, BT needs to be enabled & phone connected to PC for Calls to come up. I get the message "You have apps installed that prevent you from making calls" Which apps?? How can I get this corrected? Thanks

Can we make it work over a usb cable instead off wireless only? When my pc at work is plugged in, I am logged in over.ethernet cable. Your phone does not work unless.phone and pc are on same network

Shouldn't it work if you have the "sync over mobile data" setting on?

I can never get the app to work reliably on my laptop. It works once then when you next use the laptop it just hangs. Sad because when it works it's good.

Same here. First attempt: Could establish a Bluetooth connection to my desktop (from Galaxy Note10), and I could make a call.
Disconnected and tried to reconnect (Bluetooth). Impossible....

Pssst.....this isn't Microsoft ;)

I told my co-worker, who has a Note 9, about this. He installed the Your Phone app on his new laptop, but all he could see was Messages, Notifications and Photos. I guess this must be a slow rollout. I just told him to be patient and give it some time.

I had all the latest functionality, but I could not get the Bluetooth connection to work after I successfully had made one call. So I uninstalled Your Phone and re-installed from the Store. Now - all I can see is Messages, Notifications and Photo ... Looks like I got V0.1 .... Fantastic.

... and on my laptop Your Phone just shows a blank screen... No Setup, no nothing ...

It would be nice to see - somewhere - what version of Your Phone is needed to support the call function.

Totally agree, for a feature with this much potential, MS is doing their classic vague messaging.

Note10, BT connected (which no one bothered mentioning) ... no phone calls. Clearly there's some rollout, and it's not "generally available" yet (unless that implies some kind of rollout). Did WC test this "general availability"? Or ask MS what's up?

Too locked down. Buy a Mac if you want that integration.

It's working with my S8 and my Surface Pro 7 and my old Surface Pro 2 on the Slow insider build channel. But I still haven't seen the update show up on any of my non-insider devices on 1909.

First, it is so cute that Microsoft believes that everyone with a phone is sitting in front of a Windows 10 PC. This is not 2010. Windows PCs are no longer the center of everyone's computing life. Second, the last thing I want are my personal phone calls and texts appearing on my work PC, which is the only PC I use for enough time each day for this to be even remotely useable. Third, who is asking for this functionality? Is all of this hassle really easier than just picking up the phone?

Clearly it's not meant for you and that's ok. But it doesn't mean that there aren't people out there who would find this useful and it's not an insignificant number (or at least how much you imply it to be)

He didn't say they weren't being used for important work, but that they aren't the center point in people's lives anymore, especially outside work. You don't need a PC at home at all anymore, unless you have specific use cases for one. Of you want this on your iPhone, you are going to need to buy a Mac or find a third party solution. It will be interesting to see if Microsoft is able to implement these features on iPhone without using unapproved (by Apple) means.

Sooner or Later someone is going to build a Desktop PC or Laptop with a builtin 4 -5 G Cell
phone that sounds crazy but there are use cases for such devices. In fact a Tech reporter
has wrote the 2020 Microsoft "Neo" a coming foldable 2 separate screen Tablet can be
made with a builtin Cell phone & of course if it has this app the "Neo" will have
telephony capability

If you want to make and receive calls from your PC, there are several options available. I use Google Voice so my PC and phone ring at the same time and at work our numbers are through Skype for Business. You don't need a cellular radio in the PC, that is just going to make it expensive as you have to pay for service.

I am still not receiving the update..😭😭😟
Windows Central Newsletter
Thank you for signing up to Windows Central. You will receive a verification email shortly.
There was a problem. Please refresh the page and try again.