Millions are now running the Windows 10 Creators Update, says Microsoft
The Creators Update rollout phase is going well, says Microsoft. And with "millions" already using the update, we can see why.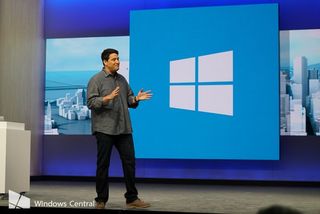 In case you were wondering if the Windows 10 Creators Update is doing well during its slow rollout phase, Microsoft has today provided an update for you. According to the Redmond giant, the first few weeks of the Creators Update rollout phase has gone really well, and they've received lots of useful feedback from customers.
What's more, Microsoft says there are now "millions" of users running the Creators Update already, which means the update is already on a large amount of machines. Microsoft hasn't given us an exact number of people running the Creators Update, but somewhere in the "millions" is impressive nonetheless.
Microsoft has also detailed how it's currently choosing who gets the Creators Update first. Based on feedback, if users are reporting issues on a certain device model, Microsoft can "block" the Creators Update until that issue is resolved, whether that be via the hardware maker releasing driver updates, or Microsoft issuing patches.
Of course, if a user wants to bypass said block, they can manually install the Creators Update with the Microsoft-provided Software Download Tool. Keep in mind however that installing the Creators Update this way bypasses all the checks Microsoft receives to help determine whether a particular machine is good to go with the Creators Update.
Microsoft appears to be very pleased with the rollout of the Creators Update so far, with more devices scheduled to start receiving the update over the next several weeks and months. Starting today, the Creators Update for Mobile will begin its rollout too for eligible handsets, so stay tuned for that!
Windows Central Newsletter
Get the best of Windows Central in your inbox, every day!
Zac Bowden is a Senior Editor at Windows Central. Bringing you exclusive coverage into the world of Windows on PCs, tablets, phones, and more. Also an avid collector of rare Microsoft prototype devices! Keep in touch on Twitter: @zacbowden.
Why? It is a good update.

It's my goodbye to windows

Why? It was literally the most boring update I've ever had. I didn't notice any changes except "Night Light"

Off topic: build 15063.251 for windows 10 mobile available in release preview.

Sorry but i havent this build.. and i am in release preview.. :(

Read the article please. It explains why.

Hey didn't receive anything,idiot

actually got build 15063.342 for release preview

Im on release preview,don't receive anything

Yep the transition to creators update from anniversary update was butter smooth...those numbers doesnt seem shocking.

Please @ZacBowden please use Terry's new photo cause he is so skinny now.

Hey i m on release preview ring

Hey i m on release preview ring ,

Who cares, he should be losing weight like he's caused W10M to lose users for to lack of feeding the mobile OS!

In all due respect, Zac, Millions were running Creators Update before 11 April, when it first shipped. That's the joy of the Insider Programme. Still, if their claim is that millions of non-Insiders are on CU, that's great. I still haven't received it automatically on any of my systems, so I'm just opting for manually installing it. Anything to do my part!

I haven't received the update yet. I am going to wait for it, too. I will be happy to get it, but nothing I can't wait to get from MS via update.

Why is he wearing a dress?

They must be Excited at Microsoft...... Like always. Pfffff.

The entitled child needs to complain about something...... Like always. Pfffff.

My machine is having some issues to turn on/off Geolocation configuration, other than that Creators Update is running perfectly well. Love Edge's new tab memory feature since it opens my tabs I need for work automatically.

I had to roll my SP4 back - DOC mode 5 in IE was dropped and Hyperion needs that for compatibility mode to work. The first update I am unable to use and it will be a long time before we can fit an upgrade to Hyperion into our "need to do" list. I'm ok with Edge being forward thinking but business use cases need support for older standards or the solution simply can't be used.
I would just add to this article that this information is a bit biased. Only users of Pro and Enterprise can avoid the update. So saying everyone is "using" it is a bit like saying people are using gasoline. When they don't have a choice is that still a bullet point of accomplishment?

Weren't MS targeting billion devices? I don't see how it would get there, PCs, laptops,desktops and 2in1s won't do it, it needs another sort of device, one that people lug around every single day of their lives. The mobile hole needs some serious patching up. Then only, they might hit close to a billion devices.

MS should have kept the Windows 10 upgrade free until they hit 1 billion users.

Yes a big mistake that msft does over and over

I can't install CU on my work PC because it's asking to uninstall McAfee which i'm not going to do, because i can't be asked as it's taking ages to pull through using GP..i've upgraded to windows 10 without any issues, and with McAfee being active in the background.

Downloaded it 2 days ago. Luckily no hick-ups during install and everything seems to be running fine. Surface Pro 3 i5.