Minecraft is the best selling paid game in the Windows Store for Windows 10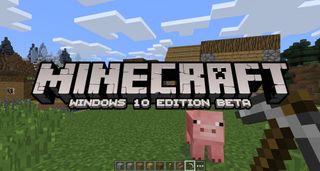 Minecraft continues to be a highly popular game, and that extends to its Windows 10 version. Microsoft has announced that the Windows 10 Edition Beta of the sandbox game has been the "number one grossing paid game in the Windows 10 store" since if first launched alongside the OS in late July 2015.
While Microsoft didn't offer any specific sales numbers for the $9.99 Windows 10 version of Minecraft, it did state:
Microsoft says it will continue to update Minecraft for Windows 10 in 2016, but specific details were not announced.
Download Minecraft Windows 10 Edition Beta from the Windows Store (opens in new tab) ($9.99 or free if you have purchased the PC version)
Source: Xbox Wire (opens in new tab)
Windows Central Newsletter
Get the best of Windows Central in your inbox, every day!
Has it made $2,500,000,000.00 yet?

best and cheapest ms acquisition​ since a decade. won't even take long to make that 2.5billion pricetag back.

Totally agree. Plus the indirect effects it can have by bringing people to the Windows Store, etc.

Even with it's low price tag, royalties and not requiring in-app purchases, it won't be long before their investment is paid off.

Software sales are only a small part of the revenue for Minecraft. I guess they make more selling merchandise or royalties for Minecraft merchandise. A foam pickaxe costs about 30$ where I live, and kids go bananas for them.

Impressive. Might pick it up

Not to be negative but I mean are there any other big name titles on the windows store? All I can think is maybe gta sa but even that isn't very great selling anyway.

GTA SA is not optimized for W10. Button layout is bugged on my 950XL.

Can't you move the buttons about in settings? GTASA plays wonderfully on my 950, but yeah, it's definitely not optimised. It was never truly optimised.

This video best describes my problems - https://www.youtube.com/watch?v=buLvN3v5n6U

Yeah, I get that bug occasionally as well, though it can be fixed by restarting the app.

Minecraft: Story mode, both Halo games, Project Spark, Disney Infinity 3.0, Tomb Raider and ReCore are coming soon.

'Can't wait for the final version to arrive. The beta version works great, but since it's still missing stuff I don't want to play too much right now since I know I'll have to start to zero in a new world once the final version arrives. Would be great to have local multiplayer also!

It does have local multiplayer

I really wish Store apps would get mainstream.

They should do eventually... You just need to wait for all of the consumers still running Win7 to upgrade :(

Microsoft should get mobile gaming companies like warner bros to keep games on par with windows mobile. But its really not those games. Its mainly facebook apps and I guess snap chat. If snap chat comes to Windows mobile and provide regular support to wp users then I'm sure 1 million ppl might jump immediately to windows mobile. We have an excellent camera we just need snap chat, instagram and its regular support.

Don't bother with the official Instagram BETA app. It's crap and seriously outdated and lacking. Get 6tag by Rudy Huyn instead

I love the Rudys apps. That's haven't left wp yet.

Minecraft being the highest grossing game while also being given away for free to 1 million people speaks volumes for how bad the Windows Store situation is right now.

Shhh. Don't talk sense man. Just don't.

Is it? Really? Minecraft is one of the highest grossing mobile games on any platform. Isn't it an exceptional title that even with one million free downloads it still remains the Windows 10 Store's biggest hit? Most other games are free btw... Minecraft isn't having a lot of competition in the payed mobile game space... As most mobile games are following a 'get them to love it for free and then make them pay to win' -strategy. When one comes to think of it, anything huge in the mobile app industry is 'free', with the exception of Minecraft and a hand full of other apps/games.

Or it speaks to how popular Minecraft is. That said, Microsoft has done an abysmal job of getting content into the Store, particularly Xbox games. With "200 million installations", and an open ID@Xbox program, we should surely have a lot more Xbox games in the Windows 10 Store after five months.

The frameworks aren't there yet. Until Project Centennial hits you have to pretty much build from the ground up for UWP, so 5 months is a really short time to do that kind of dev work. Xbox games aren't built on the UWP framework, at least not yet; Windows 10 only hit the Xbox in November and the app dev story is not complete there. So public availability for the tooling to do quick ports between XB1 (or Win32) and the Windows Store just isn't there yet; I'm sure the Tomb Raider and internal MS teams have had early access. That will start to change this year, but it's not going to be super quick.

But it is not yet a UWP app. I wonder if they are working on that, it is kind of silly to buy this app in the Windows Store and then buy it also for the pocket edition for Windows phone... being a Microsoft game. I have an Xbox and imagine paying 3 times for the same game... I'm still waiting for news in cross platform of Microsoft ecosystems. I know that you can have Windows and pocket collaborative but those are two buys and different price points.

An app can be a UWA and still require you to buy it multiple times. It's up to the developer on how they want to price things. Being a UWA just means that they share the same code, which they do.

Not really whats silly is having a compulsive need to play it 14 or so hrs. in the day

Why does one owning it on multiple platforms translate into a need to play 14 hours in a day?

What's frustrating is that it's not even one of Microsoft's often-touted Universal Apps. Worse yet, it's based off of the Pocket Edition. So despite it being based off of what's meant to run on my Windows Phone, I'd have to shell out more money for that privilege.

They share the same code, so it is a Universal App. What you're wanting is for the developer to give you something for free.

No, I'm simply observing what Microsoft has done with other applications and games, like Halo, and assumed they would follow the same model. Nothing says they have to, but the hope was there. But thanks for the assumptions. You're consistent if nothing else.

That's life. Why would they if it would make them money theres no motivation for them to lose money. So if you cant justify paying full price again wait for it to go on sale

That makes a little bit more sense with some of that good old-fashioned punctuation added into your response, yet still misses the mark. Nice try though.

They need to add mod support... Then I will consider playing it instead of the Java version.

Agreed. The Windows 10 version is amazingly well optimised for me with modern DirectX rather than legacy OpenGL

I like it but all I want to do is trade with villagers!

Minecraft is a gold mine for MS. So many ways the evolve the brand. Minecraft story mode being the first.

I'll never understand the appeal of Minecraft.

Play it for a few hours and you will get it. I bought it for my kids but I play it frequently.

I used to feel the same way. Until I played it. It's quite an amazing game actually.

Well my son bought minecraft directly when he had windows 7, then he upgraded to windows 10 and the game he bought paid $30 for in windows 7 doesn't work right, everything is limited, so he shouldn't have to buy it again for an app just bc he upgraded, think that's wrong, not happy about it

You get the Win10 edition free if you had the Java version. If you have problems with the game after upgrading check that you have the right graphics drivers and are using Java 8 64bit. Microsoft would never intentionally break the java version of Minecraft just because you upgraded to Windows 10 - that would just discourage people from upgrading to Windows 10

He doesn't have to buy it again. If you'll read the article you'll notice it says the Windows 10 version is free for those who already own the PC version.

I thought the game might've been past it's prime when they bought it, but maybe I was wrong.

Now MS needs to find a way to force Lumias onto all Minecraft users and there you have it...

You know, I'm not sire if you're joking or not, but an exclusive companion app would likely garner some sales for windows mobile.

My daughters got me hooked on this damn game, always asking me to find diamond ore for them and they tag along(I'm the cave digger). Either way MS got my 27 dollars for 3 copies of the game, and IMO its worth the experience I have with my kids.